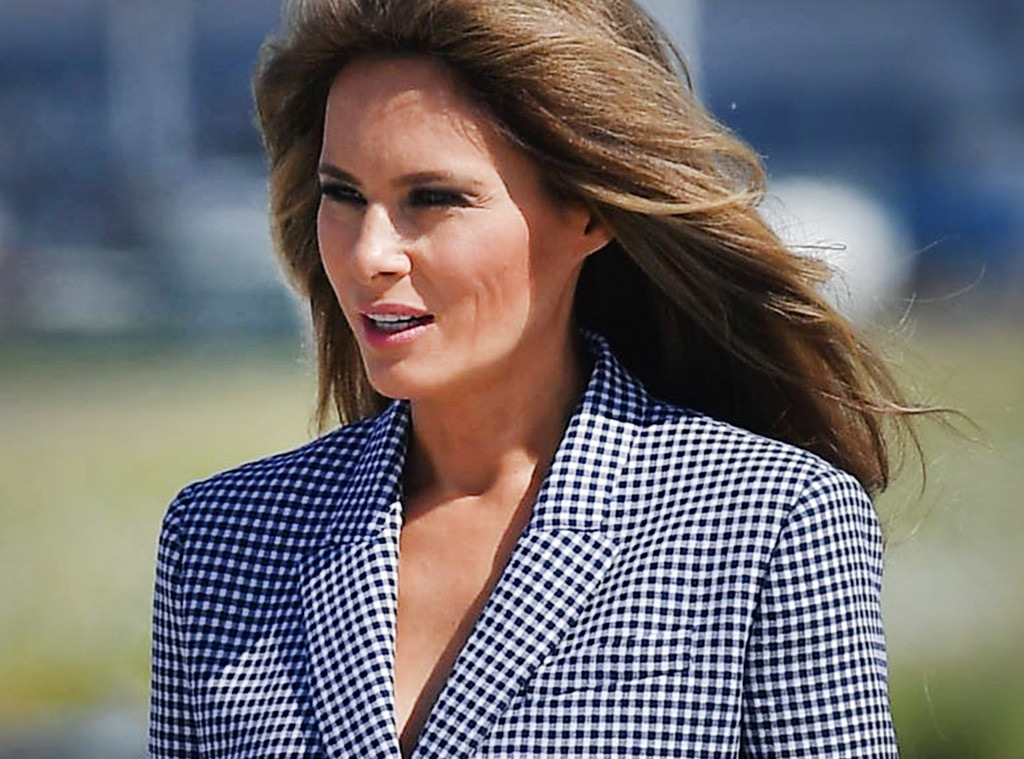 MANDEL NGAN/AFP/Getty Images
Of all the people whose 2017 involved a move to the White House, Melania Trump is easily the most popular.
The first lady's approval rating soared to 54 percent last month, while only one-third of Americans said they had an "unfavorable" view of her, according to the results of a Gallup poll released Dec. 15. Thirteen percent claimed to have no opinion on the matter. She even captured a thumbs-up from 35 percent of Democrats polled, while only 8 percent of that group had a "favorable" view of President Donald Trump. 
And it's not a big leap to think that a number of those who say they don't care for Melania Trump are thinking more about her husband when they say that. Because on her own, Melania Trump hasn't engaged in any controversial behavior—aside from supporting the president, his critics would say—or really any headline-making behavior at all other than the requisite "the first lady went here, said this and wore that" stories.
On her own she's your basic boring celebrity—which isn't necessarily a bad thing. She always looks impeccably pulled together, and there are numerous blogs and Instagram accounts dedicated to chronicling her style. Her fashion choices have continued to be high-end and higher-end, with the handful of designers who stated early on that they wouldn't dress her not making a dent in her wardrobe full of Dior, Dolce & Gabbana, Valentino and Christian Louboutin. She chose Hervé Pierre, who also designed for first ladies Hillary Clinton, Laura Bush and Michelle Obama, as her fashion advisor. The French-American designer, who crafted Melania's ivory Inauguration Ball gown last year, said in an interview, "In the news, we speak a lot of politics, so if for a moment we can forget about it and enjoy something else, why not?"
Her glamorous aesthetic has won Melania Trump comparisons to Jacqueline Kennedy in the annals of first lady style, a compliment she presumably has welcomed since years ago she surmised that, should she ever be first lady, she'd be "very traditional," like Kennedy or Betty Ford.
Chip Somodevilla/Getty Images
Her own social media accounts are all about tweeting the proper sentiment on the proper occasion, chronicling the appearances she makes as first lady (aside from local D.C.-area engagements, she was in the Middle East, Europe and Asia last year) and showing off innocuous things that people are interested in, like Christmas decorations.
She doesn't share personal photos, either of her son Barron Trump or of her husband, other than pictures of them taken together at public appearances.
Basically, however, her approach to social media hasn't changed a whole lot since before the 2016 presidential campaign. Melania Trump has always been a fiercely private public figure, especially since becoming a mother almost 12 years ago, carefully managing her image and not going against the family grain—like her husband's adult children—but not planting fiery flags in the sand and going on the offensive, either (unlike some of his adult children).
She dipped her toe in the fray exactly once since moving into the White House, and that was early on when, last June, she supported her husband in his beef with Morning Joe hosts Mika Brzezinski and Joe Scarborough.
"As the First Lady has stated publicly...when her husband gets attacked, he will punch back 10 times harder," her office told reporters last summer.
Ron Sachs - Pool/Getty Images
They were also compelled to respond when Ivana Trump, the president's first wife, said she was the first lady while out promoting her new book. FLOTUS' communications director Stephanie Grisham replied, "Mrs Trump has made the White House a home for Barron and the president. She loves living in Washington D.C. and is honored by her role as first lady of the United States. She plans to use her title and role to help children, not sell books. There is clearly no substance to this statement from an ex, this is unfortunately only attention-seeking and self-serving noise."
Aside from having to clap back at her husband's ex, her conduct hasn't strayed outside the traditional first lady box—as planned. And the lack of attention paid to her while the minutiae of Trump and his presidency dominate the headlines suits her just fine.
Of course, that was last year. So far 2018 has been uncomfortably unquiet as far as the Trumps' personal lives are concerned.
Shealah Craighead/Planet Pix via ZUMA Wire
The year kicked off with the publication of Michael Wolff's Fire and Fury: Inside the Trump White House, whose unflattering depiction of the president, his surprise election win and his Keystone-Kops-worthy administration positively thrilled his critics and has yet to cease making headlines. Wolff himself has admitted that the book is largely a compendium of stuff he observed and was told while spending time in the White House, so a number of details are based on his best-educated-guess summation of what the truth is.
But questionable sourcing and a cease-and-desist attempt from a Trump lawyer didn't stop the book from becoming a runaway bestseller. And it pokes into all facets of Trump's life, from describing him as an absentee father (to children one through five, not just Barron), and a distant husband—which apparently Melania hasn't minded—albeit one who deeply cares about having his third wife's approval.
Front and center in the book was the entire Trump campaign's assuredness that he would not win.
Kevin Dietsch - Pool/Getty Images
And yet he did, and there was no turning back. Though Melania reportedly never wavered in telling her husband that he would win, she was said to be in tears of non-joy when he actually won.
Aside from the microscopic analysis of her fashion choices, facial expressions, body language and the handful of remarks she gave in public, Melania Trump's first five months as first lady were notable mainly because she did not move into the White House on Jan. 20, 2017, with the president, but rather stayed in New York at Trump Tower while Barron finished the school year.
She didn't relocate full-time to Washington, D.C., until June, her son and parents in tow. (Viktor and Amalija Knavs remain based at Trump Tower, and despite frequently visiting Washington and Mar-a-Lago, do not live with their daughter and son-in-law.)
Chris Kleponis-Pool/Getty Images
Barron is now midway through his first year at St. Andrew's Episcopal School in Potomac, Md. And President Trump is a quarter of the way through his four-year term, which has been productive or unproductive depending on whom you ask, but which unarguably hasn't slowed down for a second when it comes to controversy.
The fire and fury over Fire and Fury was followed days later by a report—from the Wall Street Journal—that Trump attorney Michael Cohen, weeks before the 2016 election, formed a private company expressly to set up a $130,000 payment to porn star Stormy Daniels in exchange for her silence about an affair she allegedly had with then-civilian Trump in 2006.
The affair rumor wasn't new. Daniels told E! News in 2011, when word first got out via Life & Style, that the story was "bulls--t." In a statement obtained by E! News at the time, Cohen called the story "totally untrue and ridiculous."
He continued, "Correctly, upon seeing that the article was false, all other publications likewise withdrew and did not write their article. Life & Style magazine, however, informed our attorneys that 'it is too late...we have already gone to print and distribution,' even though, in fact, they were properly informed prior to going to print. The Trump Organization and Donald J. Trump will be bringing a lawsuit against the magazine.
"At the same time. Mr. Trump and the Trump Organization would like to thank and commend Stormy Daniels and her attorneys for their honesty and swift actions."
Daniels reiterated in a statement dated Jan. 10—and obtained by CNN from Michael Cohen—that her involvement with Trump "was limited to a few public appearances and nothing more. When I met Donald Trump, he was gracious, professional and a complete gentleman to me and EVERYONE in my presence. Rumors that I have received hush money from Donald Trump are completely false. If indeed I did have a relationship with Donald Trump, trust me, you wouldn't be reading about in the news, you would be reading about it in my book. But the fact of the matter is, these stories are not true."
"These rumors have circulated time and again since 2011," Cohen also told CNN. "President Trump once again vehemently denies any such occurrence as has Ms. Daniels."
On Jan. 19, however, In Touch published excerpts from a purported interview Daniels gave the magazine in 2011 which was not published after they were threatened with litigation.
Daniels is quoted saying, "I actually don't even know why I did it, but I do remember while we were having sex, I was like, 'Please, don't try to pay me.'" She called the sex "textbook generic." The fling allegedly occurred less than four months after Barron was born.
As was the case in 2011, Melania Trump has said nothing about these reports.
Also this month it was reported that Melania was beefing up her own staff, bringing on Reagan Thompson as policy director, Justin Caporale as operations director and Annie LeHardy as communications coordinator. Compared to previous first ladies Obama and Bush, Melania Trump's staff of 13 is on the small side (or she's being economical, valuing "quality over quantity," according to her spokesperson), but the new hires have FLOTUS-watchers speculating on whether she's getting ready to roll out an initiative of her own in 2018.
On Jan. 12 her social media accounts posted, "It was a productive week with meetings, meetings & more meetings! Lots of work to be done in 2018 - looking forward to the year ahead as FLOTUS!" She went with Trump to Mar-a-Lago that night but was not spotted at two dinners he hosted over the weekend at his Palm Beach resort.
AP Photo/Manuel Balce Ceneta
She was last photographed with the president on the evening of Jan. 15, Martin Luther King Jr. Day, returning to the White House from their weekend away.
Aside from a tweet acknowledging MLK Jr. Day, the FLOTUS accounts remained silent until Jan. 20, the one-year anniversary of Trump's inauguration—which they chose to commemorate with a photo of Melania and a military escort.
On Jan. 20, President Trump tweeted, among other things, about the second annual Women's March, writing, "Beautiful weather all over our great country, a perfect day for all Women to March. Get out there now to celebrate the historic milestones and unprecedented economic success and wealth creation that has taken place over the last 12 months. Lowest female unemployment in 18 years!"
Two days later, the Trumps' 13th wedding anniversary came and went with no sightings—not uncommon, as the couple rarely venture out to restaurants in D.C.—or, more noticeably, any celebratory tweets. 
Meanwhile, citing "scheduling and logistical issues," Melania Trump canceled her plan to accompany the president on his trip to Davos, Switzerland, for the World Economic Forum. Trump arrived Thursday and so far has had public sit-downs with British Prime Minister Theresa May—where both stated that the U.S. and U.K.'s historically special relationship is intact—and Israeli Prime Minister Benjamin Netanyahu.
Jeff Malet/Newscom via ZUMA Press
In D.C. today, Melania Trump made a solitary visit to the U.S. Holocaust Memorial Museum, her account posting this afternoon on Instagram, "Thank you @HolocaustMuseum for a powerful & moving tour that honors the millions of innocent lives lost, and educates us on the tragedies and effects of the holocaust. #weremember #askwhy."
Talking to ABC News' Barbara Walters in 2015, during the campaign, when asked what she thought of her husband when they first met, she said, "He was very charming. We had a great sparkle. He came with a date, so he asked me for [my] number and I said, 'I will not give you my number]." So she took his number. "He was known as kind of a ladies man," Melania Trump acknowledged. "But we met a week later...and we had great chemistry the first time."
"We've had great chemistry every since," added Trump, who was sitting alongside her.
Asked if, as the third Mrs. Trump, she was ever concerned their marriage wouldn't work out, Melania said not at all.
"To be with a man as my husband is, you need to know who you are," she said. "You need to have a very independent life as well. And supporting him, you need to be very smart and quick and be there for him when he needs you."
As far as that summation is concerned, nothing has changed. Melania Trump (or her alleged body double, of course) remains the picture of stoicism, inscrutability and, whether the most salacious stories have a seed of truth to them or not, endless patience.
The White House denied an Us Weekly report from last March that the first lady and the president keep separate bedrooms, whichever home they're spending the night at. Wolff's book reiterated that they do indeed have that arrangement in the White House, however. And if they do, it's one more thing Melania Trump has in common with Jackie Kennedy.