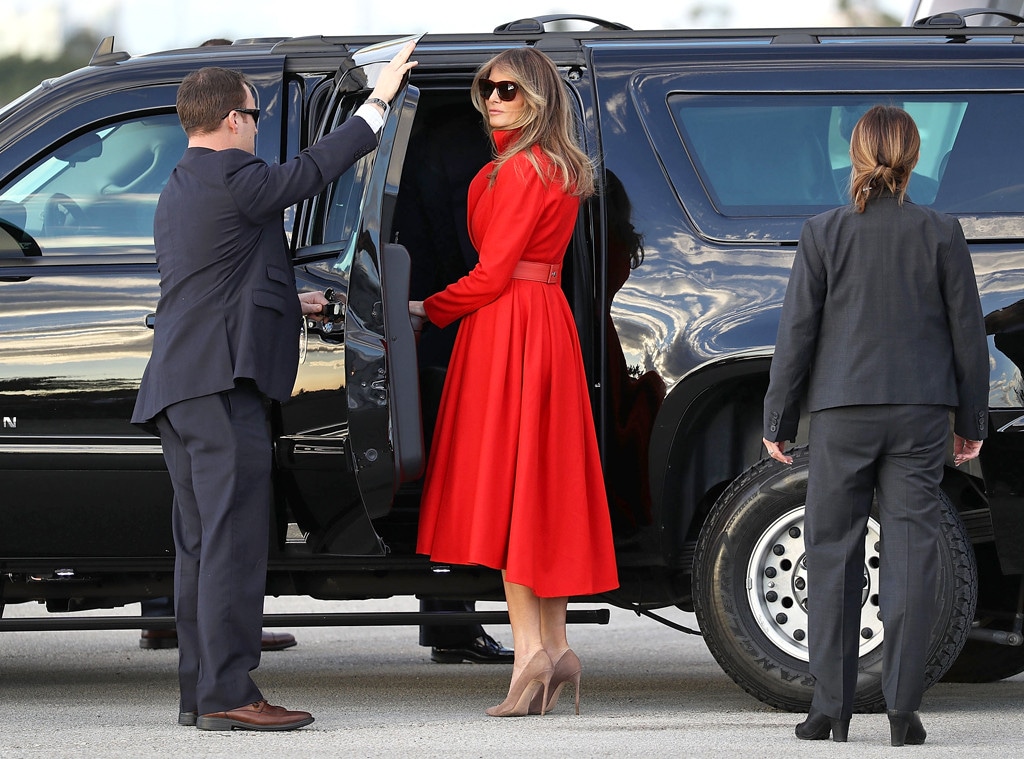 Joe Raedle/Getty Images
Just as surely as the United States has never had a president like Donald Trump before, the same thing can be said about the first lady.
Because Melania Trump is most unprecedented herself.
The Slovenian-born model who found herself the toast of New York society as the wife of one of the most famous businessmen in the world, the family name stamped in gold on every building in his portfolio, is still trying to bridge the gap between her "old life" as a self-described full-time mom and the new life that's expected of her.
And while every first lady who's lived in the White House has had her own unique experience of the place, there are certain behaviors that have bound them all together.
For starters, the whole living in the White House part.
More than two months after her husband was sworn in as the 45th president of the United States, Melania has not moved into 1600 Pennsylvania Avenue yet, instead choosing to remain in their $100 million Trump Tower penthouse so that their 10-year-old son, Barron Trump, could finish out the school year in New York.
Before the inauguration, it was reported that Trump was considering living only part-time in the White House anyway, so attached is he to Trump Tower, but so far his golf resort Mar-a-Lago in Palm Beach, Fla., has proved to be his primary destination of choice when he's not in Washington.
Tim Clayton/Corbis via Getty Images
The Trumps' gold- and marble-bedecked residence sits on the 58th floor of the iconic building, where security was always tight but now is estimated to be costing the city between $127,000 and $146,000 a day to protect Melania and Barron when Trump is not in town. (It reportedly cost $24 million to guard the president-elect and his family between Election and Inauguration Day.)
So though the East Wing of the White House beckons, Melania still wakes up every day to sweeping views of Central Park, all five NYC boroughs and New Jersey across the Hudson River, then cooks Barron breakfast and prepares his lunch.
Then just like a regular mom, only joined by Secret Service (the first lady's code name is "Muse") and NYPD officers, she still takes her son to school every day, Barron currently being in his last year at Columbia Grammar and Preparatory School, a $45,000-per-year private school on Manhattan's Upper West Side. The streets between Trump Tower in midtown and the uptown school are reportedly closed off in a rolling pattern as the caravan makes its way, an effort to prevent traffic from getting too backed up.
AP Photo/Manuel Balce Ceneta
"At that age, it's hard to explain to them," Melania told Us Weekly in January 2016, back when the idea of moving to Washington seemed like a remote possibility. "I tell him: Take it day by day, enjoy your life, live your meaningful life as I like to do...Of course, at that age, every child would worry, especially if they love school, if they love friends, they don't want to lose that. Everything is a new opportunity, and it brings new friends and a new school. You never know, you never know what happens. Enjoy it day by day, live your life and don't stress yourself."
Gustavo Caballero/Getty Images
She has talked proudly about being a hands-on mom, always wanting to be available to help Barron with homework and projects, as well as go to school functions.
"Nobody controls me," she told GQ last spring. "I travel with my husband when I can, when I know that I can go, and I know that my son is OK alone for a few days with the help."
The Trumps, while they have plenty of household staff, also never had a nanny for Barron. "We keep it down to a minimum," Trump told People in September 2015, a few months after launching his presidential campaign. "If you have too much help, you don't get to know your children."
Never one to venture out of Trump Tower all that much, even when she could come and go as she pleased, Melania is said to be a fan of a daily light workout and little tricks like walking around the house wearing ankle weights. Past favorites included Pilates and tennis, and Pilates at least could come to her (no courts at this particular Trump building). For food, she might start the morning off with a smoothie or some oatmeal, and she told GQ she aims to eat seven pieces of fruit a day—but she's not opposed to having a little chocolate as an afternoon snack instead.
She has credited her glowing skin to vitamins and an oxygen-infused moisturizer that she uses diligently. Plus, she always washes her face and makes sure to get plenty of sleep, usually leaving events long before the band packs up. (And for the record, she told GQ last year she's "against Botox" and "against injections." Healthy living is how she keeps it together.)
Chip Somodevilla/Getty Images
So that's why she's always glowing in photographs. But these days, aside from trips to see her husband, Melania has stuck so close to home that even the paparazzi have stopped trying to spot her. #FreeMelania has trended on Twitter.
But the mystery of whether she's as content with her life as she has always claimed to be was always there, long before she became first lady.
Melania has a gold-trimmed desk that's fit for a queen in her home office—a corner office, of course—where she used to draw up plans for her signature QVC jewelry and watches (QVC is no longer affiliated with her brand) and any other profit-making ventures that became nonstarters when her husband ran for president. She was memorably promoting her own caviar-infused skincare line at one point, but the company she signed up with in 2012 to distribute her brand was riddled with internal problems, legal issues ensued and the line was never released.
Now, however, she has a different kind of business to keep up with.
Just yesterday, she was in Washington—a 90-minute helicopter ride away from New York—to give a speech at the State Department's International Women of Courage Awards, one of only a few public appearances she has made as first lady. (And coincidentally coming just two days after the Washington Post called her "invisible.")
AP Photo/Pablo Martinez Monsivais
"Together, we must declare that the era of allowing the brutality against women and children is over while affirming that the time for empowering women around the world is now," Melania said in her address to an audience of female activists. 
"Wherever women are diminished, the entire world is diminished with them. However, wherever women are empowered, towns and villages, schools and economies, are empowered and together, we are all made strong with them."
Chip Somodevilla/Getty Images
Aside from the inevitable speech here and there, it's still unclear just how visible of a first lady Melania will be even when she does move to Washington (supposedly in June, though there's lingering doubt about whether she'll ever make the move full-time). But she has said when, asked what causes most concern her, she wants to tackle online bullying and work to empower women. 
Meanwhile, it's Ivanka Trump, who last week was invited by German Chancellor Angela Merkel to attend a women's economic summit in Berlin, who has been the more visible family presence by the president's side (not including Ivanka's husband, Jared Kushner, a senior adviser to POTUS). Ivanka is now working out of a West Wing office as a newly official, yet still unpaid, adviser to her father.
Melania, who hasn't personally tweeted since November, does have a FLOTUS Twitter and Instagram now, but it also remains to be seen if she'll use the currently staff-managed accounts to provide an insider perspective to a day in the life of the first lady; so far, Ivanka's Instagram remains as carefully curated as ever, her own experiences in Washington sharing space with cute pics of her kids.
Melania had predicted all the way back in 1999, six years before she was even married to Trump, that she'd be a "traditional" first lady, akin to Jacqueline Kennedy or Betty Ford. In 2012, she told Refinery 29 she was too busy to think about it. And last year, she told Anderson Cooper, "We are in the 21st century. I will be me. I will be different than any other first ladies. I will help women. I will help children. They are the future."
On a rare FLOTUS outing in New York this month, she read Dr. Seuss' "Oh, the Places You'll Go!" to children at a Manhattan hospital and a few days later she hosted a luncheon for International Women's Day at the White House.
Karen LeFrak, a friend who attended the luncheon, told the Washington Post that Melania "didn't do the lunch for publicity" and she "does not seek attention." But she is "carving out an important role to support women and children" and is busy "redecorating" the White House residence.
What Melania already has in common with at least two of her predecessors, however, is her flair for fashion. Jackie Kennedy's style remains a cultural touchstone to this day, while Michelle Obama turned FLOTUS fashion on its head, deftly mixing high-end and off-the-rack pieces in an inimitable way.
Obama was also known for putting up-and-coming designers on the map whenever she wore one of their dresses.
While some of fashion's biggest names aren't racing to dress the new first lady as a way of protesting her husband's politics, Melania hasn't had any trouble looking impeccable and appropriately (and even cheekily at times) dressed for every occasion.
Kevin Dietsch - Pool/Getty Images
She paid homage to the classic Kennedy style at the inauguration in a sky-blue Ralph Lauren cashmere suit; she then took a cue from the Obama era by wearing a gown by Hervé Pierre, a former creative director at Carolina Herrera who had worked on clothes behind the scenes for Michelle Obama and Laura Bush but counts the first lady's dress as his first major solo commission.
SAUL LOEB/AFP/Getty Images
"Mrs. Trump will be moving to D.C. and settling in to the White House at the end of the school year, splitting her time between New York and DC in the meantime," Melania's senior adviser, Stephanie Winston Wolkoff, said in a statement last week. "Mrs. Trump is honored to serve this country and is taking the role and responsibilities of first lady very seriously. It has only been a short time since the inauguration and the first lady is going to go about her role in a pragmatic and thoughtful way that is unique and authentic to her."
In her own words...
"I'm my own person. I'm not a yes person. So I tell it as it is," Melania told People in September 2015, her first interview since her husband announced his candidacy. "I tell my opinions and I was always like that. So I think [Donald] likes that."
Andrew Harrer-Pool/Getty Images
In the meantime, Melania has traveled to D.C., including for POTUS' first address to Congress on Feb. 28, and Mar-a-Lago numerous times, including two weekends ago when Barron and her parents, Viktor and Amalija Knavs, also made the trip.
The Trumps' first visit to Mar-a-Lago as first couple came the first weekend in February, for the 60th annual Red Cross Ball, the opulent theme being "From Venice to Versailles." Melania was also in town a week later when Japanese Prime Minister Shinzo Abe and his wife, Akie Abe, visited—and both ladies were at the dinner table when their husbands learned North Korea had test-fired a missile.
Even five years ago, Melania said that Barron got to spend real quality time with his dad mainly at Mar-a-Lago, where father and son would play golf and the whole family could eat dinner together.
"It's all about what works for you. It's very important to know the person you're with," she said. "And we know our roles. I didn't want him to change the diapers or put Barron to bed. I love every minute of it."
And Melania has maintained that, while she has never been shy about sharing her political opinions with her husband, she won't be airing them publicly.
"Nobody knows and nobody will ever know," she told GQ. "Because that's between me and my husband."