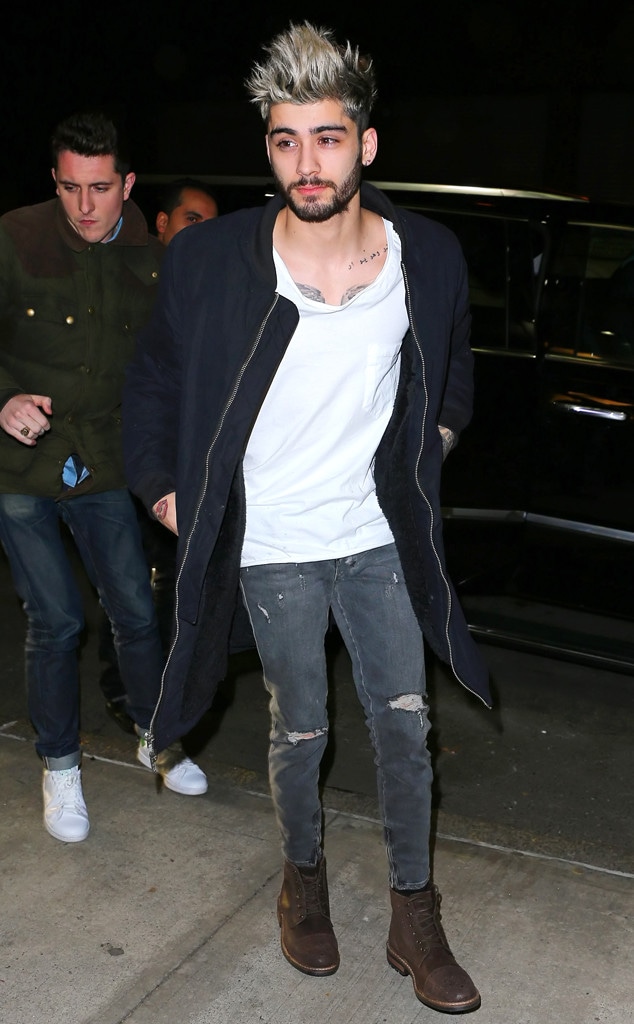 Jackson Lee/Splash News
Compare Zayn Malik's life today and his life one year ago. Dramatically different, right?!
And we're not just talking about his platinum tips.
The Twitter faithful may have stayed the same, despite its varying factions—the Zayniacs who seceded from the One Direction union along with their leader; the 1D purists who will love anyone who was in the group forever, no matter where they should roam to; and the hopefuls, the ones who want Zayn back in the band more than anything. (Literally anything.)
But for the most part, over the past 12 months the young man's life has really experienced a seismic shift not felt since the year One Direction formed. On the occasion of Zayn's 23rd birthday, let's take a look at all the ways in which his life is completely different than it was a year ago.
Ethan Miller/Getty Images for iHeartMedia
First, the obvious: July 22, 2015, was the fifth anniversary of impresario Simon Cowell striking gold by grouping Zayn, Harry Styles, Liam Payne, Niall Horan and Louis Tomlinson together on The X Factor in the U.K. But four months ahead of the momentous date, Zayn left the group. His stress level through the roof, his creativity stifled and his desire to keep up the rigorous pace required of One Direction gone, he announced his departure on March 25, 2015, apologizing to the brokenhearted fans and offering his full moral support to the rest of 1D, his "friends for life."
But while their exchanges since the split have been cordial and Zayn maintains to this day that there's no bad blood, per se, apparently no one is meeting for pints these days.
"I had every intention of remaining friends with everybody, but I guess certain phone numbers have changed and I haven't received calls from a lot of people," Zayn told Billboard recently. "I've reached out to a few of them and not got a reply. Certain people have pride issues, but it's stuff you overcome in time."
So, unlike the case on his 22nd birthday, Zayn is spending his 23rd as a solo artist, no longer a member of the most in-demand quintet in the world but free to explore his own musical interests. So far, we're still not entirely sure what those are, but his Twitter moniker "EDM Zayn Malik" seems to be a clue that he wants more bass in his life.
After leaving 1D he almost immediately dropped the solo demo "I Won't Mind," and then in June, he joined British rapper Mic Righteous on a cover of hip-hop duo Rae Sremmurd​'s "No Type," a leak that wasn't without its controversy (for reasons having nothing to do with Zayn's pop star origins), but since then...
The tree hasn't borne any ripe fruit yet.
However, it wasn't until July that he left Cowell's imprint and signed with RCA Records, hashtagging his signing announcement with "#realmusic." So after it initially seemed as if the solo stuff would just come pouring out, perhaps the holdup has mainly been due to paperwork.
Or, he's just been busy. Also since leaving 1D, Zayn has become quite the sought-after cover boy, the velvet-eyed star no longer having to share the spotlight with four other guys. He's been on the cover of Interview, The Fader, Billboard and L'Uomo Vogue, all of which are predicting a huge 2016 for Zayn, and he looked damn fine on every single one of them.
He teased a song called "Befour" in The Fader, and told Billboard that his new album should be out this spring, with tracks including "She," "It's You" and "Wrong."
Fairly vague, not like the days of his meticulously planned schedule with 1D, but it's certainly nothing that mega-artists haven't put their fans through before. Right, Kanye?
And all of that change from then to now is just the business end!
Zayn has also become more of a social media renegade over the past year, scrubbing his page of 1D associations and getting himself into more Twitter spats on his own than he ever did as a group. He fired away at Calvin Harris after the DJ-producer sniped at Zayn's retweet of a critique of Taylor Swift (regarding her stance on streaming royalties), and he tangled with Naughty Boy after the producer shared a snippet of Zayn's "No Type" video, telling Naughty Boy to quit pretending that they were friends.
Also at this time one year ago, Zayn was still engaged to longtime girlfriend Perrie Edwards. Shortly before he left 1D for good, he had flown back to England early while the group was touring Southeast Asia amid tabloid reports that he was being a naughty boy. He slammed rumors that he had cheated and part of the reason for his leaving 1D altogether seemed to be to give the two of them a chance to work on their relationship.
Alas, they were split up by August. Not much has been said by either about what really happened (though Zayn did insist he didn't break up with her via text), but at least Perrie's star has risen since, with her U.K. girl group Little Mix climbing the charts in the U.S. with the single "Black Magic."
Amazing how life can change in a month, let alone a whole year. As he was ushering in 22, Zayn was—as we were to find out—a long-suffering member of One Direction, engaged to be married and gallivanting all over the world.
Fast-forward to today, his 23rd birthday, and he's... well, still awfully famous and dating a budding supermodel. He still has legions of fans willing to tweet to the death for him. And we're guessing he still makes a little residual One Direction dough.
But once that new music comes out, it's up to him to prove there's a reason aside from the cuteness and the charm to care. This is going to be the first full year in a while in which he's not going to be preceded by the title of member or ex-member of 1D.
This year, he's going to be Zayn Malik.