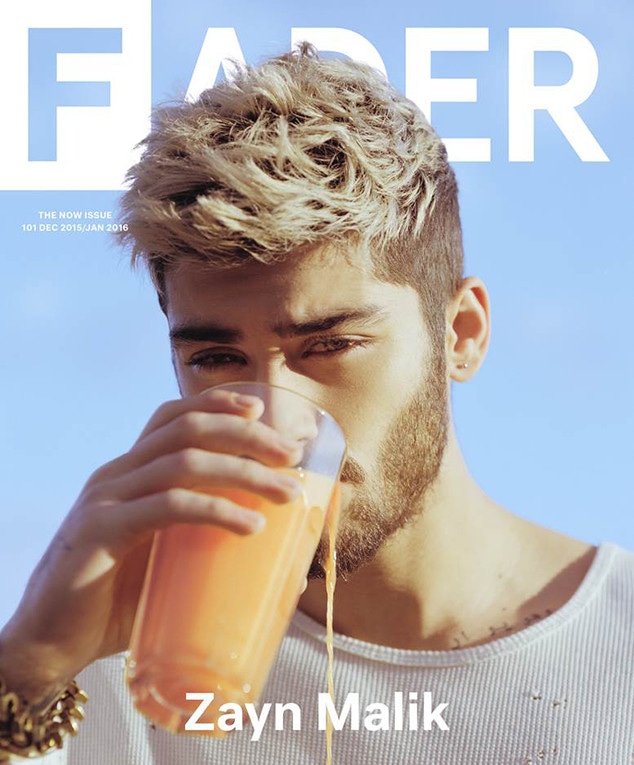 Francesco Nazardo for The FADER
One Direction fans have had a lot of questions for Zayn Malik, and now, he's answering them all.
The former boy band member got candid for his interview with The Fader magazine, where he graces the cover, and opened up about absolutely everything you could possibly want him to talk about—his very public breakup with Perrie Edwards, his reasoning for leaving the band, his recent conversation with Liam Payne, his struggles with music, and so much more!
As if that weren't enough to get you ready for an entertaining read, Malik also previewed his first solo single "Befour"!
But seriously, there's so much to discuss right now...
Francesco Nazardo for The FADER
He Didn't Break Up With Perrie Edwards Over Text: Yes, we are in a digital age where practically every conversation is done via text message, but this singer's breakup with his former fiancée was not one of them.
When asked if it was true that he split with the Little Mix singer over text, Malik responded, "If you could word it exactly this way, I'd be very appreciative. I have more respect for Perrie than to end anything over text message. I love her a lot, and I always will, and I would never end our relationship over four years like that. She knows that, I know that, and the public should know that as well. I don't want to explain why or what I did, I just want the public to know I didn't do that."
He Wanted to Quit the Band for a While: "I guess I just wanted to go home from the beginning. I was always thinking it," the singer admitted when explaining why he chose to leave One Direction.
"I just didn't know when I was going to do it. Then by the time I decided to go, it just felt right on that day. I woke up on that morning, if I'm being completely honest with you, and was like, 'I need to go home. I just need to be me now, because I've had enough.' I was with my little cousin at the time—we were sat in the hotel room—and I was just, 'Should I go home?' And he was like, 'If you want to go home, let's go home.' So we left."
Francesco Nazardo for The FADER
Sorry Larry Fans, There Are No Secret Relationships Going On: "There's no secret relationships going on with any of the band members. It's not funny, and it still continues to be quite hard for them," Malik told the mag when asked possible romances brewing within the group.
"They won't naturally go put their arm around each other because they're conscious of this thing that's going on, which is not even true. They won't do that natural behavior. But it's just the way the fans are. They're so passionate, and once they get their head around an idea, that's the way it is regardless of anything. If it wasn't for that passionate, like, almost obsession, then we wouldn't have the success that we had."
He Didn't Have Creative Freedom in the Band: One of the frustrations Zayn expressed having while in 1D is the inability to contribute creatively to the music. "There was never any room for me to experiment creatively in the band. If I would sing a hook or a verse slightly R&B, or slightly myself, it would always be recorded 50 times until there was a straight version that was pop, generic as f--k, so they could use that version," he said.
"Whenever I would suggest something, it was like it didn't fit us. There was just a general conception that the management already had of what they want for the band, and I just wasn't convinced with what we were selling. I wasn't 100 percent behind the music. It wasn't me. It was music that was already given to us, and we were told this is what is going to sell to these people. As much as we were the biggest, most famous boy band in the world, it felt weird. We were told to be happy about something that we weren't happy about."
Is Liam Payne Going Solo, Too?: Now, don't freak out, guys, but Malik did mention something that put us on high alert. Zayn recalled that he just recently got back in touch with former band member Liam since leaving the group, and Payne expressed desire to work on some music outside of 1D.
"[Liam and I] spoke about two weeks ago. It was the first time I'd spoken to him since I left the band. I rang him, and he wanted to talk. He said he didn't understand it at the time, but he now fully gets why I had to do what I did. He understands that it's my thing, that I had to do that, and that basically he wants to meet up and have a good chat in person. And he wants to do some music and work on some stuff aside from being in the band, which we always wanted to do anyway."
He's Faced Prejudice Regarding His Religion: The interview reveals that Malik has been accused, both seriously and satirically, of causing 9/11, joining ISIS, and recruiting fans to wage jihad, over the last few years because of his Muslim background. People have even threatened to kill him after he tweeted #FreePalestine, however, that's not exactly why he's decided to stay fairly silent on political and religious matters.
"It's not even the harassment," he told Fader. "I just don't want to be influential in that sense."
For more on Zayn's revealing interview, pick up your copy of The Fader when it hits newsstands on Dec. 15.
Watch:
1D Star Zayn Mailk's Struggle With Fame