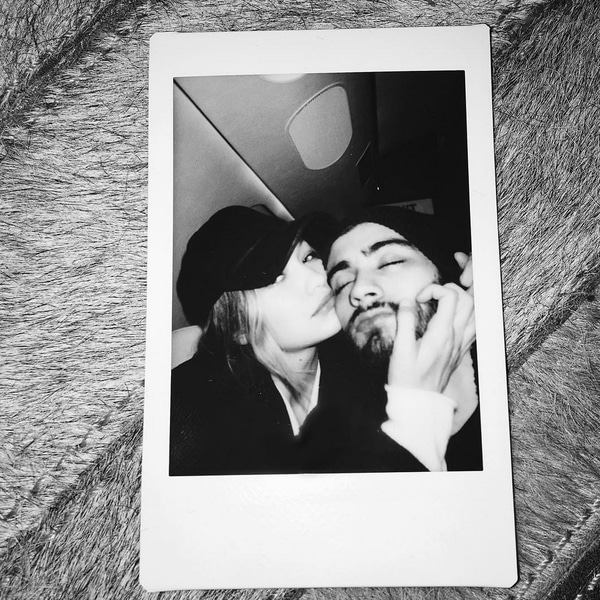 Instagram
It looks like Gigi Hadid and Zayn Malik may have just made things officially official.
We all know relationships aren't secured until they reach the social media level, and it appears the former One Direction crooner just made that happen.
Malik took to Instagram to share a photo of a black and white polaroid selfie with his rumored love interest—their first couple-y snap on Instagram together since romance rumors began swirling—leaving his fans wondering by posting it with no caption…but let's be honest: no caption was even needed.
The two look adorable, cuddling close as Hadid runs her hands through Malik's beard and presses her cheek up against his. If this isn't the definition of a cute, new couple, we don't know what is!
Maciel / Roger / BACKGRID
The duo was first linked together in November after being photographed at an after-party for the American Music Awards together.  Since then, they've been spotted having dinner together, getting awfully friendly while enjoying their date nights.
In fact, during one evening at The Nice Guy in Los Angeles a few weeks ago, an on-looker told us, "Gigi and Zayn couldn't keep their hands off each other. They were holding hands under the table, whispering in each others' ears, and Zayn [was] holding Gigi's leg. Gigi was so attached to him that she even followed Zayn outside to the patio during a smoke break."
A few days later, they were photographed holding hands while leaving that same restaurant.
However, things may not be as peachy as they appear as Gigi's friends aren't entirely sure about the budding romance. According to an insider, "Her friends do not quite understand what the attraction is. He is not her usual type, he doesn't share her sense of humor or ease with people [and] he's a little more self-aware and awkward."
In any case, other people's opinions haven't stopped the 20-year-old from being with him. After all, she took to Twitter recently to shut down any haters.
"There's just no need to be judgmental about situations that are not your own," she wrote, adding, "Let live."
Boom!