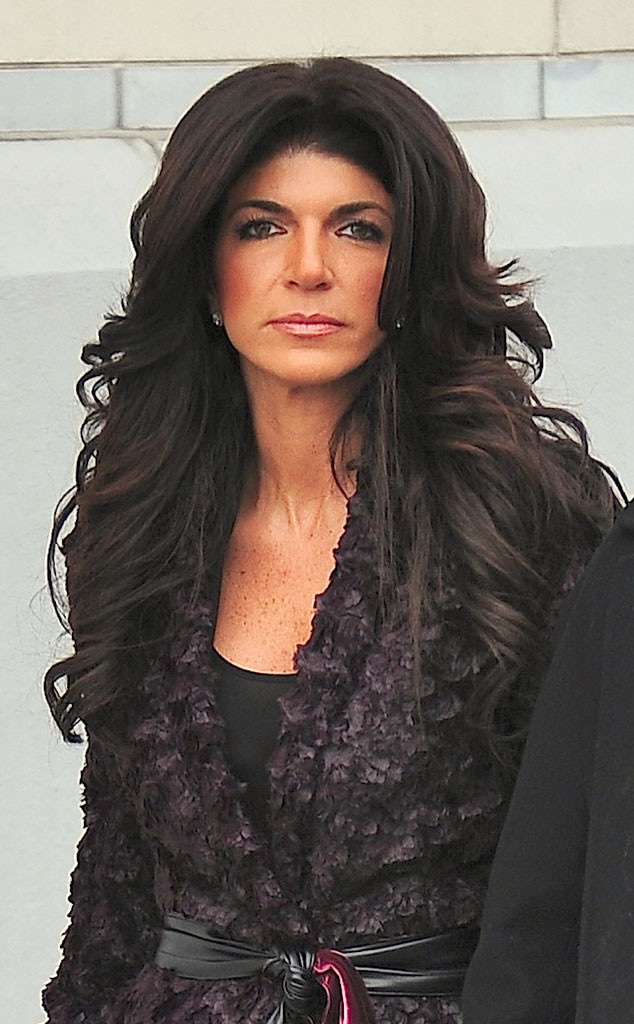 Alo Ceballos/GC Images
UPDATE: Teresa Giudice arrived at her New Jersey home around 7:30 a.m. Her attorney James Leonard Jr. drove her up the driveway of her home in a black SUV with four other matching vehicles surrounding them. 
She was greeted by heartwarming signs hanging on the front door of the house, one of which read, "We Missed You."
It was a warm welcome for the reality star as her family inside lit up the fireplace in her honor. 
______________________________
No more prison shakedowns for Teresa Giudice. After nearly a year in federal prison, the reality star has been officially released from prison—just in time for Christmas. 
The lead star of Bravo's The Real Housewives of New Jersey left the Federal Correctional Institution in Danbury, Conn. early Wednesday morning, E! News confirms. 
She reunited with her attorney, James Leonard Jr., who arrived at the prison to meet her for the highly anticipated moment. 
After being released, the 43-year-old mother of four headed home where she will complete the rest of her 15-month sentence in home confinement. 
"Everyone's just very proud of how she's handled things and gotten through it and stayed strong," an insider told E! News at the start of the month. "They're really thankful she's finally coming home."
"She is free," Leonard told People of her release. 
Mike Coppola/Getty Images
The star's reunion with her family—including her four daughters Gia, 14, Gabriella, 11, Milania, 10, and Audriana, 6—falls almost two years after the Giudice's pleaded guilty to multiple fraud charges. 
"I am heartbroken that this is affecting my family—especially my four young daughters, who mean more to me than anything in the world," Teresa said in a statement after her guilty plea. 
In July 2013, the Teresa and Joe were charged with conspiring to defraud lenders and illegally obtain mortgages and other loans, as well as hiding assets and income during a bankruptcy case. The 39-count indictment claimed they were responsible for mail and wire fraud, bank fraud, making false statements on loan applications and bankruptcy fraud.
It also charged her husband with failure to file tax returns from 2004 to 2008, a period of which he allegedly earned close to $1 million. In November 2013, the spouses were indicted on two additional counts of bank and loan application fraud. The following October, Joe was sentenced to his 41-month jail term. 
Hours later, Teresa was subsequently sentenced to 15 months in prison, a lesser charge than the 21 to 27 month term that had been expected. 
Now that mom Teresa is finally back home, it's her husband Joe's turn to live behind bars. The Italian native may also face deportation after completing his sentence as he is not a U.S. citizen. However, he will not be expected to turn himself in until late March. 
"No one's thinking about that right now," a source told E! News. "No one's thinking beyond having Teresa home again."
People was first to report the story. 
—Reporting by Beth Sobol
(E! and Bravo are both part of the NBCUniversal family.)
Watch:
Exclusive: Inside Teresa Giudice's Prison Life