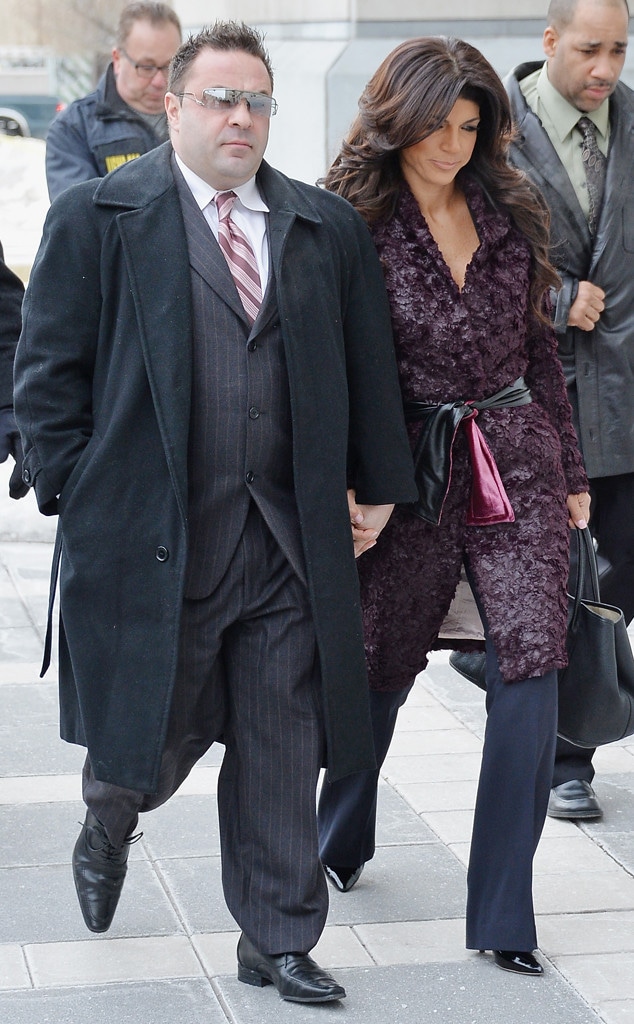 Mike Coppola/Getty Images
Teresa Giudice and Joe Giudice pleaded guilty to multiple fraud charges in Newark Federal Court Tuesday. The Real Housewives of New Jersey stars, who originally pleaded not guilty after they were indicted in the summer of 2013, appeared composed before U.S. District Judge Esther Salas.
Joe faces a potential sentence of 37 to 46 months in jail and Teresa could get 21 to 27 months. They are scheduled to be sentenced on July 8.
"Today, I took responsibility for a series of mistakes I made several years ago," Teresa said in a statement. "I have said throughout that I respect the legal process and thus I intend to address the court directly at sentencing. I will describe the choices I made, continue to take responsibility for my decisions, and express my remorse to Judge Salas and the public. I am heartbroken that this is affecting my family—especially my four young daughters, who mean more to me than anything in the world. Beyond this, I do not intend to speak specifically about the case outside of court, at the recommendation of my attorney and out of deference to the government and our legal system."
In July 2013, the Giudices were charged with conspiring to defraud lenders and illegally obtain mortgages and other loans, as well as allegedly hiding assets and income during a bankruptcy case. The 39-count indictment claimed they committed mail and wire fraud, bank fraud, made false statements on loan applications and bankruptcy fraud. It also charged Joe, 43, with failure to file tax returns from 2004 to 2008, during which time the father of four allegedly earned nearly $1 million.
Four months later, the spouses were indicted on two additional counts of bank and loan application fraud. In February 2014, they petitioned a judge to be tried separately.
In total, the Giudices were accused of obtaining more than $5 million in bank loans due to fraudulent and falsified paperwork. Joe, who was born in Italy and is not a U.S. citizen, might be deported.
The Montville-based stars are parents to Gia, 13, Gabriella, 9, Milania, 8, and Audriana, 4.
"I'm the rock. I can't fall apart," Teresa, 41, told E! News in October 2013. "If I fall apart the rest of the family is going to fall apart. I'm just focusing on my four beautiful daughters, my husband and that's it."
(E! and Bravo are both part of the NBCUniversal family.)