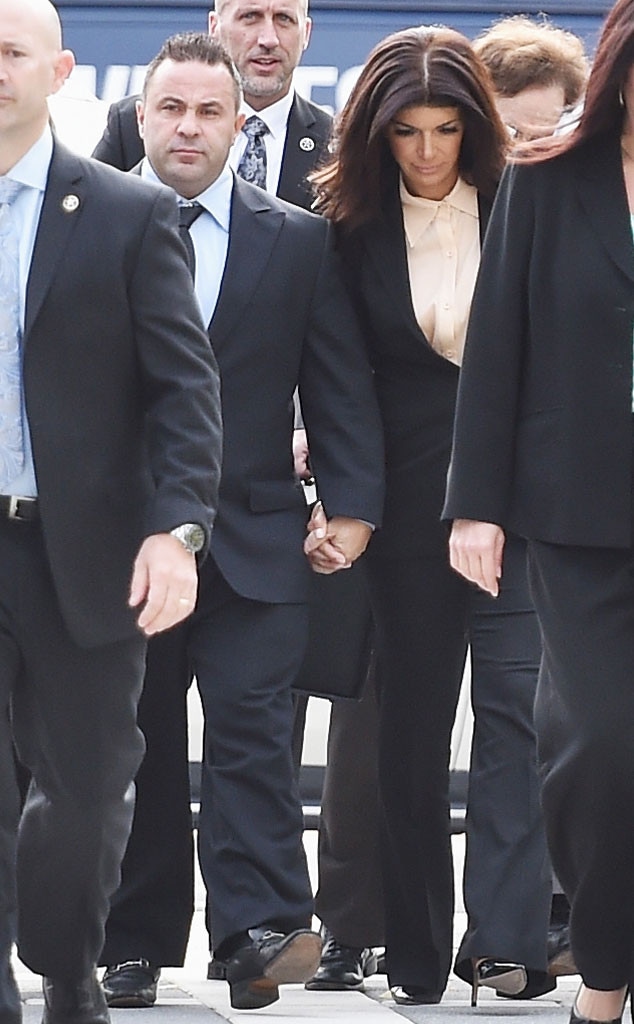 Mike Coppola/Getty Images
Teresa Giudice and Joe Giudice got a major reality check Thursday.
The stars of Bravo's The Real Housewives of New Jersey appeared in federal court in Newark, N.J. When they arrived in court around 9 a.m. ET, an eyewitness told E! News, "They both looked serious and sad." Still, they put on a united front, holding hands as the paparazzi hounded them outside the courthouse.
They appeared before U.S. District Court Judge Esther Salas at 10 a.m. ET.
Salas first told the court that there were "glaring omissions" from the couple's financial disclosure forms, including cars, construction equipment, home furnishings, insurance policies and other items. She added that the Giudices were supposed to file the forms in March but did not do so until August. "I had to put the sentencing off because the financial disclosure wasn't in," Salas explained. The judge called a two-minute recess for the accountants and IRS to consult with each other on tax filings from 2009 to 2011.
The federal prosecutor argued that nondisclosure and discrepancies by the couple are part of a "pattern of deception, dishonesty and concealment." He alleged that the Giudices' "concealment is intentional."
Teresa listed "0" for her jewelry on the financial disclosure forms. Her defense attorney explained that most of his client's jewelry has little monetary value because it is costume jewelry. The Giudices also listed $25,000 in furnishings for their $3 million home, which the defense attorney said is because the show's production company brings in the furnishings seen on TV. "I'm going to tell you that it leaves with this court a feeling of uneasiness," Salas said. "It feels as if things have been hidden or concealed."
The couple said they had hired an accountant and provided that person with their financial information. The undisclosed assets totaled $1 million.
The judge also questioned why the Giudices declared a mere $25,000 worth of items in their mansion, even though their insurance policy is worth $1 million. In 2009 bankruptcy filings, the couple showed $60,000 in assets in their home, the judge noted. "They had an obligation to be transparent and candid and open with the court and I don't think I got that," Salas said. "I want to understand the disconnect."
More than three hours after his arrival, Joe was sentenced to spend 41 months in jail. The former pizza parlor owner was also ordered to pay $414,588.90 in restitution fees to Wells Fargo, plus another $10,000 to the government. Just before sentencing, a nervous Joe stood up and read a letter. "I stand here humiliated before the court and my family and society. I disgraced many people, including my wife and four daughters. I take full responsibility for my actions. I promise to be a better person," he said.
During the hearing, Joe's lawyer, Miles Feinstein, noted that his client's father died in June. "He hasn't been the same person," Feinstein said. "That was his best friend." Joe even got teary, E! News confirms.
The judge does not decide deportation cases; that matter will be decided at a later time. Though Salas praised Joe's parenting, she also admonished him for using illegal means to "keep up with the Jones.'" As she sentenced Joe, the judge said, "What you did in this case doesn't define you as a man." She added that if Teresa gets jail time, their sentences will be staggered and Teresa will serve her time first.
Teresa will learn her fate at 2 p.m. ET.
Mike Coppola/Getty Images
Joe, 43, and Teresa, 42, are parents to Gia, 13, Gabriella, 9, Milania, 8, and Audriana, 5. When The Real Housewives of New Jersey returned for its sixth season in July, Teresa told E! News that she'd been focusing on her husband and daughters. "It's all about the family," the reality star explained. "Joe is my backbone. I'm his," the Fabellini Wines owner added. "My daughters...[are] healthy. That's what makes me happy."
"Life's a learning lesson," she said. "I feel every day you grow and learn something new."
The Giudices filed for bankruptcy in October 2009. Nearly four years later, in a 39-count indictment, the reality stars were charged with conspiracy to commit mail fraud and wire fraud, bank fraud, making false statements on loan applications and bankruptcy fraud. They appeared in court in August 2013. Three months later, the Giudices were indicted on two more fraud charges. "I'm the rock. I can't fall apart," Teresa told E! News in October 2013. "If I fall apart the rest of the family is going to fall apart."
In March 2014, they pleaded guilty to conspiring to commit mail, wire and bankruptcy fraud. Teresa had falsely claimed in a mortgage application that she worked for a company called Modern Era Investment for four years, even though prosecutors argued that the reality star was unemployed from 2001 to 2008. Her husband, meanwhile, admitted that he failed to file a tax return in 2004. Between 2000 and 2008, Joe said he cheated the government out of nearly $250,000 by failing to report about $1 million.
At the time, Teresa issued a statement saying she'd taken "responsibility for a series of mistakes I made several years ago." The Skinny Italian cookbook author added, "I am heartbroken that this is affecting my family—especially my four young daughters, who mean more to me than anything in the world."
Joe faced a potential sentence of 37 to 46 months in jail, and Teresa faced between 21 and 27 months. Joe, who was born in Italy, could be deported after completing his prison term. His attorney previously said that his client came to the U.S. as an infant and wasn't aware that he wasn't an American citizen.
A trustee filed bankruptcy discharge papers on the couple's behalf Aug. 27, requesting to erase their $13,480,263.11 debt. To the Giudices' dismay, a judge denied their request Sept. 29. The Bravolebrities must now find another way to repay their creditors.
In September 2014, E! News confirmed that the Giudices had listed their New Jersey mansion for $3.99 million; the couple had purchased the home for $530,000 in 2002.
The reality stars' beach house is also listed.
—Reporting by Alicia Quarles
(E! and Bravo are all part of the NBCUniversal family.)
(Originally published on Thurs., Oct. 2, 2014, at 10:20 a.m. PDT.)