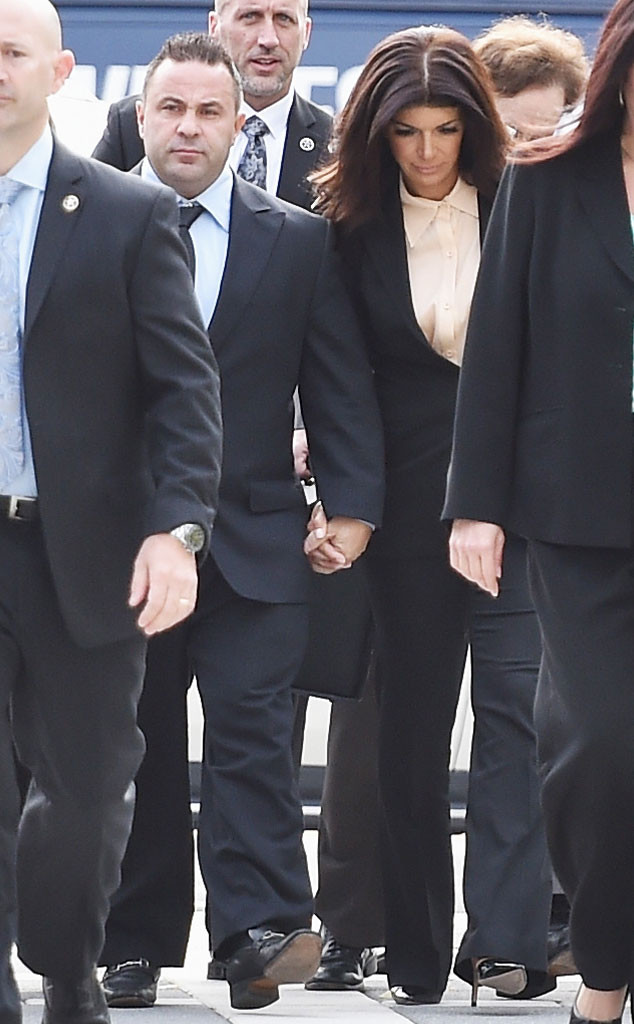 Mike Coppola/Getty Images
Teresa Giudice and Joe Giudice got a major reality check Thursday.
The stars of Bravo's The Real Housewives of New Jersey appeared in federal court in Newark, N.J. When they arrived in court around 9 a.m. ET, an eyewitness told E! News, "They both looked serious and sad." Still, they put on a united front, holding hands as the paparazzi hounded them outside the courthouse.
They appeared before U.S. District Court Judge Esther Salas at 10 a.m. ET.
Salas first told the court that there were "glaring omissions" from the couple's financial disclosure forms, including cars, construction equipment, home furnishings, insurance policies and other items. She added that the Giudices were supposed to file the forms in March but did not do so until August. "I had to put the sentencing off because the financial disclosure wasn't in," Salas explained. The judge called a two-minute recess for the accountants and IRS to consult with each other on tax filings from 2009 to 2011.
The federal prosecutor argued that nondisclosure and discrepancies by the couple are part of a "pattern of deception, dishonesty and concealment." He alleged that the Giudices' "concealment is intentional."
Teresa listed "0" for her jewelry on the financial disclosure forms. Her defense attorney explained that most of his client's jewelry has little monetary value because it is costume jewelry. The Giudices also listed $25,000 in furnishings for their $3 million home, which the defense attorney said is because the show's production company brings in the furnishings seen on TV. "I'm going to tell you that it leaves with this court a feeling of uneasiness," Salas said. "It feels as if things have been hidden or concealed."