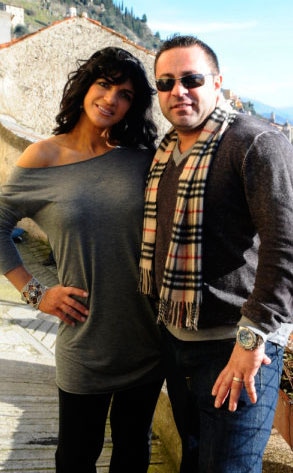 Salvatore Laporta/Bravo
Things just got pretty real for Real Housewives of New Jersey stars Teresa Giudice and her husband, Joe Giudice.
The couple was charged on Monday in a conspiracy to defraud lenders and illegally obtain mortgages and other loans as well as allegedly hiding assets and income during a bankruptcy case, U.S. Attorney Paul J. Fishman announced in a press release.
The 39-count indictment claims the Giudices committed mail and wire fraud, bank fraud, made false statements on loan applications and bankruptcy fraud. The indictment also charges Joe with failure to file tax returns for tax years 2004 to 2008, during which time he allegedly earned nearly $1 million.
"The indictment returned to today alleges the Guidices lied to the bankruptcy court, to the IRS and to a number of banks," Fishman said in a statement. "Everyone has an obligation to tell the truth when dealing with the courts, paying their taxes and applying for loans or mortgages. That's reality."
According to today's release, the conspiracy to commit mail and wire fraud carries a maximum potential penalty of 20 years in prison and a $250,000 fine. The bank fraud and loan application fraud counts each carry a maximum potential penalty of 30 years in prison and a $1 million fine.
What's more, the bankruptcy fraud counts each carry a maximum penalty of five years in prison and a $250,000 fine, while the failure to file a tax return counts each carry a maximum penalty of one year in prison and a $100,000 fine.
"Today is a most difficult day for our family," Teresa said in a statement regarding the indictment. "I support Joe and, as a wonderful husband and father, I know he wants only the best for our lovely daughters and me. I am committed to my family and intend to maintain our lives in the best way possible, which includes continuing my career. As a result, I am hopeful that we will resolve this matter with the Government as quickly as possible."
Meanwhile, attorney Henry Klingeman said in a statement, "Teresa will plead 'not guilty.' The judicial process that begins today with an indictment is a search for the truth. As it moves forward, we look forward to vindicating her."
E! News reached out to Bravo, but a spokesperson simply stated, "No comment."
The couple is expected to appear in court on Tuesday at 10 a.m. in a Newark, NJ, federal courthouse.