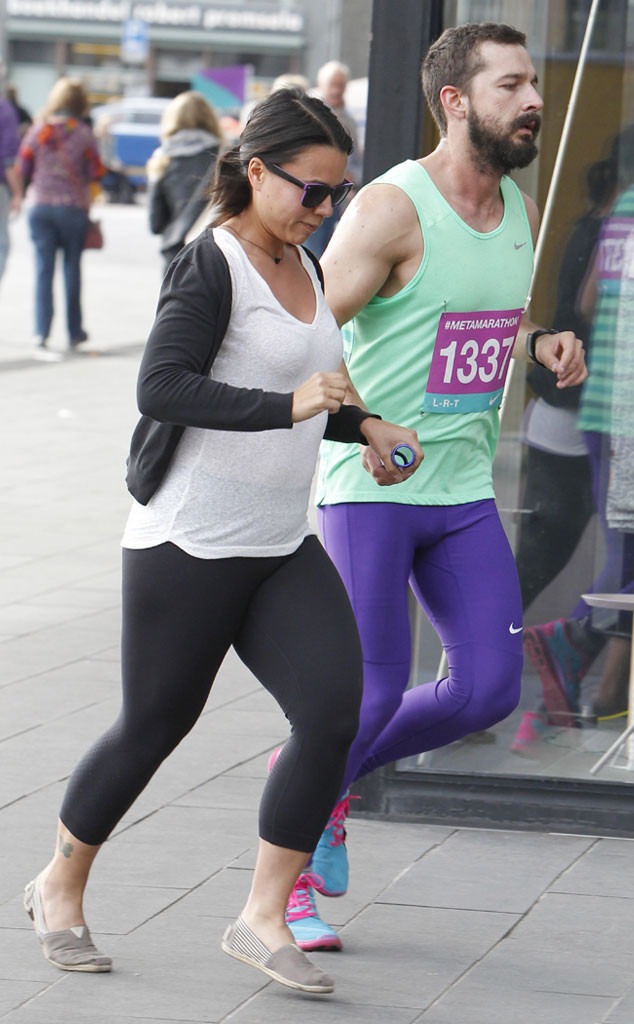 Beretta / Sims / REX
Shia LaBeouf is back to his strange antics and even put on those smashing purple tights again, this time for—what else?—art.
The 28-year-old former Transformers actor, who has become known for his bizarre behavior and stunts following a plagiarism scandal, on Thursday ran a "#Metamarathon" in Amsterdam. LaBeouf circled around the Stedelijk museum of modern and contemporary art as part of its symposium on metamodernism. He completed at least 144 laps, some of which he jogged with fans, according to local website NLTimes.nl.
The actor sported purple Lycra leggings, a mint tank top and blue and hot pink sneakers. He wore the same outfit, entirely designed by Nike, during a walk with girlfriend Mia Goth in Los Angeles earlier this month.
Members of the public were encouraged to participate and could either run with the actor, run on his behalf or make him run and received one out of three sashes for their efforts—a blue one stating, "I ran with Shia :-)," a red one saying, "I ran for Shia :-))" and a purple one that reads, "I made Shia run :-/." LaBeouf was photographed running with fans during the #Metamarathon.
The event marked the performance art portion of the museum's "Metamodernism" symposium, which focuses on how children of the 1980s (such as LaBeouf), see the world today. The #Metamarathon was also put on in collaboration with artists Luke Turner and Nastja Säde Rönkkö, NLTimes.nl reported. The outlet posted on its YouTube page a video of LaBeouf running silently while the museum's Twitter page featured photos of the event.
Some onlookers appeared rather baffled by LaBeouf's performance.
Floris Feilzer / WENN.com
The #Metamarathon comes seven months after LaBeouf launched his own small performance art exhibit, dubbed #IAMSORRY, in Los Angeles, during which he sat still and cried with a paper bag over his head as visitors watched (although he did break character for an E! News reporter).
The show was a response to a December 2013 plagiarism scandal. LaBeouf had released a film short he directed. Viewers noticed it was copied from a 2007 comic by Daniel Clowes and called the actor out. LaBeouf said he was "embarrassed" that he "failed to credit" the artist, who he said had inspired him. He apologized via a skywritten message.
Following the scandal, he also posted bizarre messages on Twitter, mostly repetitions of the sentence, "I am not famous anymore," and called his page "meta-modernist performance art." He also announced he was "retiring from all public life."
At the Berlin Film Festival in February, while promoting the movie Nymphomaniac, he walked the red carpet with a paper bag over his head that read, "I am not famous anymore." He later joined his cast mates at a press conference and walked out.
LaBeouf also got into legal trouble this past summer. He was arrested after disrupting a performance of Cabaret on Broadway in June. He then underwent outpatient rehab for alcohol abuse. Earlier this month, he pleaded guilty to disorderly conduct stemming from his theater arrest. He was ordered to complete three more months of rehab as part of a plea deal.
LaBeouf has not filmed any new movies since the plagiarism scandal. His most recent completed film is Fury, which was shot in the fall of 2014. The movie also stars Brad Pitt and is set for release on Oct. 17 (watch a trailer).
Floris Feilzer / WENN.com