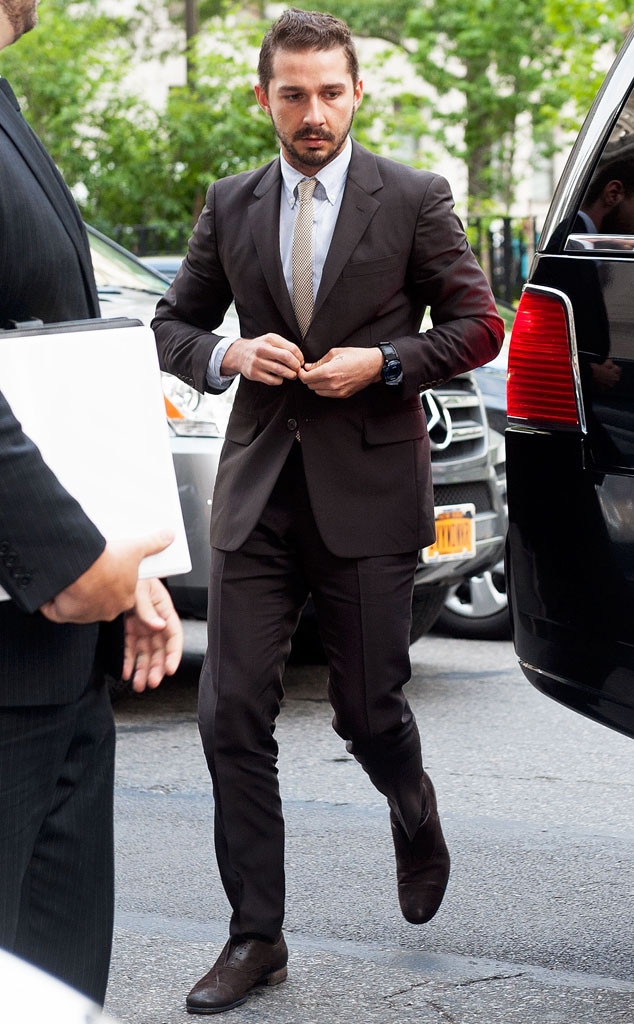 D Dipasupil/Getty Images
Shia LaBeouf was in a New York City court this morning for sentencing stemming from his arrest at Studio 54 earlier this summer during a showing of Cabaret.
The actor entered a plea deal stating that if he pleaded guilty to disorderly conduct, he would be sentenced to six months of outpatient alcohol treatment.
LaBeouf took the plea and informed the court that he has already completed three months of outpatient rehab.
The judge also told the actor that he must have no new arrests for the next six months, at which point he may then withdraw his plea and have the arrest erased from his record.
AP Photo/Anthony DelMundo, NY Daily News, Pool
The Fury actor was originally charged with two counts of trespass, two counts of disorderly conduct, and one count of harassment in the second degree for refusing to leave the performance when asked, for creating "unreasonable noise" and using profanity outside of the venue, and finally, for spitting on a police officer at Manhattan's Midtown North precinct.
LaBeouf made headlines for his bizarre behavior back in June when he was seen chasing a homeless man on the streets of NYC.
Prior to his public chase, the actor was seen drinking double margaritas while watching the World Cup at the Iguana Club, a Mexican restaurant located next to Studio 54. 
Steffman-Turgeon / Splash News
He then attended an evening showing of Cabaret solo and was asked to leave after making being disruptive in the audience.
Police arrived to the scene once security escorted the former Disney star out, which only seemed to escalate the situation.
According to NBC News, prosecutors allege that he told a police officer: "I'll end your life. Do you know who I am?" before he launched into an expletive filled-rant which included a homophobic slur.
LaBeouf is expected to appear in court for a follow-up hearing on Nov. 12.