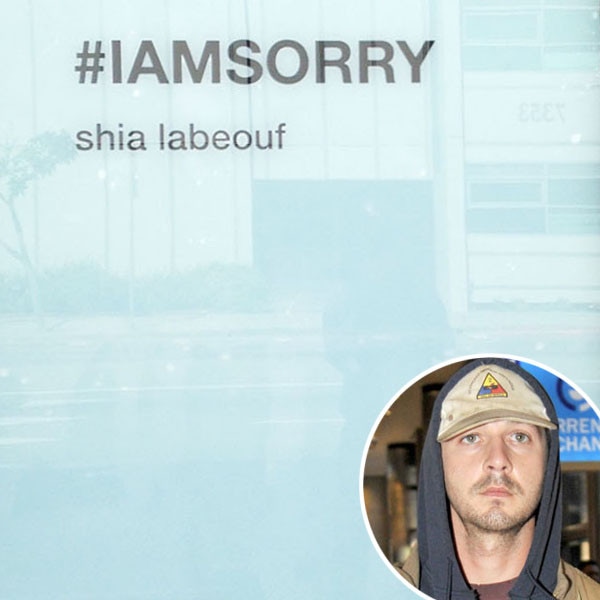 Splash News
And we thought it wasn't going to get any weirder than Shia LaBeouf wearing a bag over his head at the Berlin Film Festival.
The newly fame-eschewing movie star kicked off his foray into performance art today at 11 a.m., when an exhibit titled #IAMSORRY opened at the Cohen Gallery on Beverly Boulevard in Los Angeles.
What could possibly be happening there, you ask? Well, the gallery presented it this way:
"Shia LaBeouf is sorry. Sincerely sorry. He will be in situ at 7354 Beverly Boulevard for the duration. Implements will be provided. Free admission."
Well, we of course had to check that out!
(And we'd call the actor's attempt at art James-Franco-esque, if not for the fact that LaBeouf is actually ripping a page from Lady Gaga pal Marina Abramovic's suffering-in-silence-and-in-public playbook. And Marina knows it, too, retweeting Dogwoof's "Shia LaBeouf taking a leaf from Marina Abramovic with #IAMSORRY performance art?" with a link to her The Artist Is Present documentary.)
So in we go, and Shia is sitting in a chair, hands flat on the small table before him, with a bag on his head. The point is, he just sits there, staring, not responding to anyone's questions.
But just when you think he won't blink, he lifts the bag and cries—a single, solitary tear. 
We witnessed that, and three other people we asked said that the Disturbia star had cried for them, too.
As for those implements...
They included a pink ukulele, a big whip, a bottle of Jack Daniels whiskey and a flower, and their purpose, so we could gather, was for visitors to utilize them in an attempt to distract the largely immobile actor sitting before them.
In E! News' own attempt to prove that London's Palace Guards still rule when it comes to being unflappable, and that Shia is just an amateur (or that at least the regular old cute Hollywood actor is in there, somewhere), one of our own picked up that pink ukulele and started strumming. And singing.
"I took the ukulele and sat opposite him in silence," our intrepid reporter recalls. "I put my hands up to see if he'd follow my hand motions. He didn't. I strummed the ukulele and sang him a song, singing, 'Hellooo, Shia, hellooo...You have stroooooong wiiiiill power not to talk to meeeee..."
And lo and behold, he laughed!
"I'm pretty sure I'm the only one who got a noise out of him," the reporter says.
Darn straight.
But we'll see what else unfolds over the next five days. That's right, he's there all week, folks.