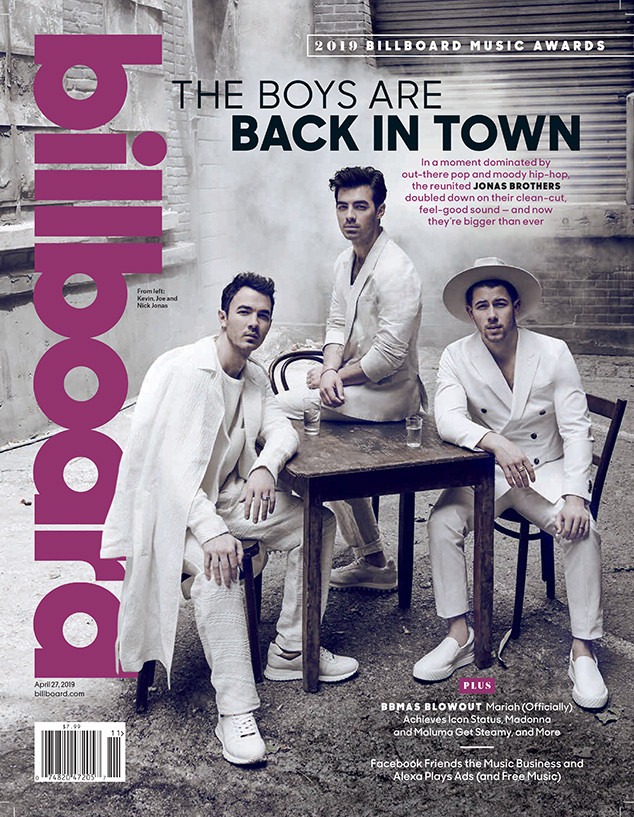 Ruven Afanador / Billboard
The Jonas Brothers are finally in a "healthy" place and are enjoying their time together as a band once again.
In late February, Nick Jonas, 26, Joe Jonas, 29, and Kevin Jonas, 31, confirmed they had reunited as a pop music trio, more than five years after they broke up. They have since released two new singles, "Sucker" and "Cool," and are scheduled to drop a new album, Happiness Begins, in June. Over the past few weeks, they have sporadically performed small concerts and are set to go on an official tour later this year. The group will also perform at the 2019 Billboard Music Awards on Wednesday, May 1.
"It feels like the second bite of the apple is potentially going to be even bigger," Nick told Billboard in comments posted on Thursday. "Because we're in a healthy place, we're enjoying the ride. And I think the music is a reflection of that."
The Jonas Brothers group was formed in 2005. In early October 2013, the band canceled a tour two days before it was set to kick off in Pennsylvania. Their rep told E! News at the time, "There is a deep rift within the band. There was a big disagreement over their music direction."
"We all wanted to create something on our own and were just trying to force it into what was going on," Joe told Billboard in the group's latest interview. "We were going through the motions, without the heart of it...The way we communicated to each other wasn't healthy anymore."
In late October 2013, the brothers announced that the Jonas Brothers trio was officially disbanding. Nick said at the time, "It's really hard to say 'forever'...We're closing a chapter, for sure."
After announcing their breakup, the brothers had revealed on Good Morning America that Nick was the one who "initiated" the conversation about the trio going their separate ways.
He said they had reached a place where they felt "like we're best suited to do our own individual things, all things we're passionate about, and choose to be brothers first."
Joe said on GMA that the three butted heads over everything from music videos to individual opportunities, adding, "At some point, we decided it was best to finish this and support each other and our own ventures down the way."
Another source told E! News at the time that "Joe wants to do acting and art and his own music."
The singer would go on to form another band, the dance-rock group DNCE, in 2015, and he told Billboard they are not disbanding despite the Jonas Brothers' reunion.
Nick embarked on a successful solo career.
"There's a different magic when we're together that I wasn't experiencing," he told Billboard. "So I started sprinkling some Jonas Brothers songs into my set, but always thought, 'This would be a lot better with the other Jonas Brothers.'"
Kevin has concentrated on his real estate development and construction business and other ventures.
He also started a family; he and wife Danielle Jonas have two daughters. Nick married Priyanka Chopra last year. Joe is engaged to Game of Thrones' Sophie Turner. The three women appear in the Jonas Brothers' new "Sucker" music video.
Watch:
Nick Jonas & Priyanka Chopra's Sexiest Moments In "Sucker"
"We're good now. My brother has a family. Joe's band DNCE is doing very well," Nick said on Bravo's Watch What Happens Live in 2016. "It's good for everybody and it's good that it happened because I think we all grew from it, but it was very challenging for a little while."
(Photo by Kevin Mazur/Getty Images for Turner Sports)
In an interview on the Australian radio show Smallzy's Surgery on Nova 969 in March, the trio pinpointed a crucial moment that appeared to have served as the turning point for their group reunion: Getting together in Australia, where they filmed a documentary about their lives and where Joe completed a stint as a coach on The Voice Australia.
Billboard reported that during their visit Down Under last June, the brothers played a drinking game that doubled as a therapy session, which involved writing down and answering burning questions they'd had about each other since before their split. The outlet said that a month later, the brothers visited Cuba to film more footage for their documentary and at one point, they broke out their guitars for a jam session.
"We were playing [our 2008 song] 'Lovebug' in this beautiful apartment complex," says Joe. "I was so happy. I looked at the guys and was like, 'I'm ready. Let's do this, for real.'"