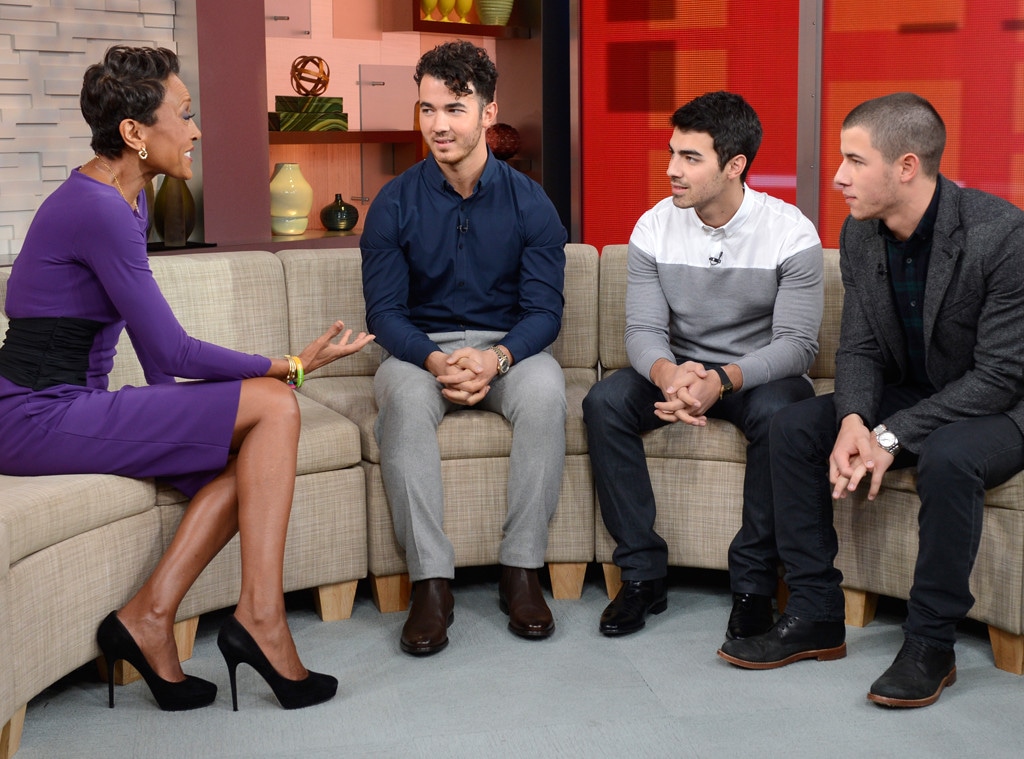 ABC/Ida Mae Astute
The truth comes out! The Jonas Brothers spoke candidly about their breakup during a Wednesday, Oct. 30, appearance on ABC's Good Morning America. The siblings—Kevin Jonas, 25, Joe Jonas, 24, and Nick Jonas, 21—met with fans gathered in New York City's Times Square prior to being interviewed by anchor Robin Roberts.
"I think it was time, and for us it took some time getting there, but we feel like it's time that the Jonas Brothers come to an end," Kevin said.
It was Nick who "initiated" the conversation about going their separate ways. "We're family first, and that's always been our main priority, and so honesty within what we do as a group was really important. I came to the table with the guys just before we were prepping to leave for tour, and I shared my heart with them, my feelings," he recalled. "In a nutshell, I said, 'Look, I feel like we've had some complications within the group for a long time without addressing them. I think this train will fall off the tracks without really getting real about some of the concerns and some of the limitations that we may feel as individuals in the group.' It was a tough conversation…It was the first time we really had that real conversation. It was a few days of working through it."
Nick said they're reached a place where they "feel like we're best suited to do our own individual things, all things we're passionate about, and choose to be brothers first."
Joe said they butted heads over everything from music videos to individual opportunities. "At some point, we decided it was best to finish this and support each other and our own ventures down the way," he explained.
The trio—known for hits like "SOS," "Burnin' Up" and "Lovebug"—canceled their 19-city fall tour on Oct. 9, just days before it was scheduled to begin. "There is a deep rift within the band," the group's rep explained at the time. "There was a big disagreement over their music direction."
The Jonas Brothers' last album, Lines, Vines and Trying Times, was released in June 2009. The group's fifth album, V, has been shelved. Their latest effort produced two poorly received singles, "Pom Poms" and "First Time."
"The album will actually not be completed, but we will be doing something for our fans," Kevin said on the morning news show. "They have traveled with us and been with us for so many years that we did not want to just leave without giving them back something. So what we're going to do is, we're going to release four unreleased songs from the album. The rest of the album will be never released."
The Jonas Brothers will also be sharing 10 live tracks from their Summer 2013 tour. "We'll actually be giving that to our fan club members as a gift," Kevin shared.
The New Jersey natives are excited to begin the next phases of their careers. "We're really in a season right now of being real excited about the future, but also there's a certain heaviness that comes with closing a chapter," Nick admitted. "I think that, for me personally, my next move will be recording music, writing for myself and other people, and some acting opportunities, and maybe a return to theater at some point."
The Broadway star then thanked fans of the band for sticking by them over the years. "We have the best fans in the world and have for our entire career, so we thank them for that and thank them for really understanding this move," Nick said.
Like his younger brother, Joe plans to make another solo album and challenge himself as an actor. "This is the first time in a long time we've had time to focus on ourselves and support each other through that. Like Nick said, we know it's going to be sad for a lot of people, but for us, we are looking forward to the future."
Kevin, meanwhile, plans to work behind the scenes. "I'm going to be going back my first passion, which was the business side of things," he said. "I'm in the first round of funding for an entertainment fund that will position brands to target millennials."
And, of course, the Married to Jonas star is gearing up for the arrival of his firstborn daughter with wife Danielle Jonas. "We're having a baby," Kevin said. "We're really excited for it."