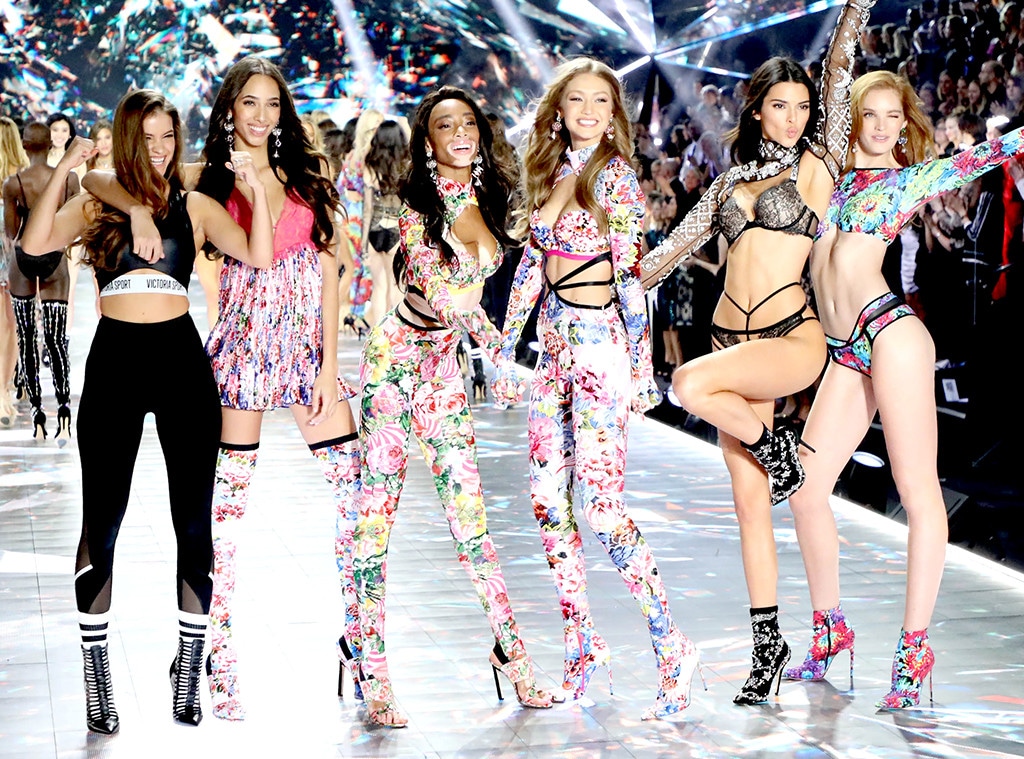 JOHN NACION/startraksphoto.com
Almost every year since 1995, Victoria's Secret has sent a parade of models clad in an array of bejeweled, feathered and peekaboo lingerie down a runway, in what ultimately became a nationally televised event.
This year, the schedule is bare.
Shanina Shaik, who walked in her first Victoria's Secret Fashion Show in 2011, told the Daily Telegraph in her native Australia on Tuesday that there will be no show in 2019.
"Unfortunately the Victoria's Secret show won't be happening this year. It's something I'm not used to because every year around this time I'm training like an Angel," the 28-year-old model said. "But I'm sure in the future something will happen, which I'm pretty sure about."
Her bombshell revelation preceded any official (or unofficial) word from the company, and VS has yet to formally confirm the news or otherwise comment.
But while this probably wasn't part of the plan, and Victoria's Secret may now feel as if the world has walked in on it wearing nothing but its skivvies... perhaps the writing was already on the wall?
An internal memo (first reported on by CNBC) circulated in May informing employees that that they were "rethinking" the annual fashion show—first held at New York's Plaza Hotel in 1995 and first shown to the masses via webcast in 1999—and had concluded that network television was no longer "the right fit."
Instead, they would work on creating "a new kind of event."
ABC started airing the show in 2001 and more than 12 million people tuned in. CBS took over the following year and that's where it remained through 2017. The broadcast returned to ABC in 2018 and only netted 3.3 million viewers, though that's at least in part due to the shifting TV-watching landscape that is increasingly inhospitable to non-sports event programming.
"For the past few months, we've said that we are taking a fresh look at every aspect of our business," Les Wexner, CEO of Victoria's Secret parent company L Brands, told employees in the memo, "from merchandising, marketing and brand positioning, to our real estate portfolio, digital business and cost structure … literally everything. We have made enormous progress in a very short time, and are looking forward to a successful fall and holiday with an elevated, fashion-forward assortment..."
Indeed, sagging ratings weren't the first sign that there might be an issue with business as usual.
While there's no reason to think that there won't be "a new kind of event" in the future, the 42-year-old company is facing a conundrum:
How to take an iconic brand that to date has been selling a certain fantasy—that nothing is sexier than a woman in her underwear, be it lace, satin or cotton—and evolve in a culture that is done stomaching any hint of sexism or exploitation when it comes to women's bodies, an accusation that inevitably came for the VS Fashion Show.
Not to mention, the culture is done being sold the impression that the most enviable look in the world is size zero, and women are speaking out with their wallets.
While the winds of cultural change have been swirling for far longer than a few months, in February the brand reported a 3 percent drop in sales for the fourth fiscal quarter, the continuation of a decline that started in 2016, according to Forbes.
"We are taking a fresh hard look at everything in the business," L Brand CFO Stuart Burgdoerfer told reporters in a conference call when the Q4 earnings report came out. "Everything is on the table for review and change. The dominant focus is understanding the customer and making significant improvement to the merchandise assortment."
Victoria's Secret—originally launched in 1977 by a San Francisco couple who got the idea for a specialized, man-friendly boutique because the husband was too shy to walk into a department store to buy his wife some lingerie—remains the No. 1 seller in its product category in the U.S. Forbes also reported, though, that its market share had plunged from 32 percent to 24 percent in the five years up through 2018, while competitors such as American Eagle Outfitter's Aerie expanded their footprint during that time frame. 
Jan Singer resigned as CEO of Victoria's Secret in November after two years in the wake of the ongoing dip in sales and a runway show shadowed (not for the first time) by criticism of the general skinniness, minus the merest extra arc of hip, of the models who participated.
All of the above contributed to the current "rethinking" of the annual Victoria's Secret Fashion Show. (It's taken place every year since 1995, except in 2004, when CBS held off in the wake of the uproar over the flash of Janet Jackson's nipple during the Super Bowl XXXVIII Halftime Show that year, figuring the network had already shown enough flesh for the FCC's—and its more puritan viewers'—taste.)
Any brand that's been in business for four decades is going to stumble at some point, be it due to rapidly changing consumer tastes or inevitable human missteps. And Victoria's Secret has had its face-plants, from Photoshop fails and Bob Dylan lurking in the shadows to accusations of cultural appropriation and over-sexualizing teens in their advertising campaigns.
Through it all, however, name-brand recognition has remained unparalleled thanks to a variety of factors, including its mail-order catalog, ubiquitous boutiques and the super-famous models, from Heidi Klum, Tyra Banks and Gisele Bündchen to Kendall Jenner and Gigi Hadid, who have rocked their runway over the years. And at one time, Victoria's Secret was at the forefront of inclusiveness (for its day), regularly featuring models who were considered too curvy for high fashion, where the couture was regularly draped over the most stick-straight of frames.
Yet it's been other brands, such as Aerie, online custom bra retailer ThirdLove and Rihanna's Savage x Fenty, that have made more heartening headlines in recent years for their real-person appeal and efforts to work for all shapes, sizes and skin tones.
Plus, all this talk of an assessment of what's working and what isn't at Victoria's Secret also comes in the wake of a shockingly frank display of resistance to changing with the times.
Asked last fall if Victoria's Secret—which in addition to underwear and pajamas has beauty and fragrance lines and sells clothing and (once again) swimwear online—planned to be more inclusive in its advertising, or with its fashion show, L Brands chief marketing officer Ed Razek rested firmly on the company's laurels.
"I think we address the way the market is shifting on a constant basis," Razek said in a Q&A with Vogue in November. "If you're asking if we've considered putting a transgender model in the show or looked at putting a plus-size model in the show, we have. We invented the plus-size model show in what was our sister division, Lane Bryant. Lane Bryant still sells plus-size lingerie, but it sells a specific range, just like every specialty retailer in the world sells a range of clothing. As do we. We market to who we sell to, and we don't market to the whole world.
"We attempted to do a television special for plus-sizes [in 2000]," he continued. "No one had any interest in it, still don't. Our show is the only branded special in the world, seen in 190 countries, by 1 billion 6 million people; 45 percent more people saw it last year than the year before. Our direct business is growing substantially—double digits on a monthly basis."
(While direct sales may have been growing, Forbes reported in February that L Brands, which also owns the resurgent Bath & Body Works, had closed 30 Victoria's Secret locations in 2018 and said it was planning to shutter another 53 this year.) 
"I don't think we can be all things to all customers," Razek also told Vogue. "It is a specialty business; it isn't a department store. I'm always asking myself: If we do that, what is the reason we did it? Why did we include that person? And did we include them to shut up a reporter? Did we include them because it was the right thing to do or because it was the politically correct thing to do? Do they take the place of somebody who worked for a year for the opportunity and cried when they found that they got it?
"Yeah, we made some fashion mistakes. We were late to the party on bralettes; we were late to the party on downtown influences in our looks."
Monica Mitro, executive VP of public relations for Victoria's Secret, noted that they offered bra sizes from 30A to 40DDD.
"So it's like, why don't you do 50? Why don't you do 60? Why don't you do 24?" Razek continued, referring to the inevitable criticism that comes in via social media, no matter what.
"It's like, why doesn't your show do this? Shouldn't you have transsexuals in the show? No. No, I don't think we should. Well, why not? Because the show is a fantasy. It's a 42-minute entertainment special. That's what it is. It is the only one of its kind in the world, and any other fashion brand in the world would take it in a minute, including the competitors that are carping at us. And they carp at us because we're the leader. They don't talk about each other. I accept that. I actually respect it. Cool. But we're nobody's third love."
His comments, needless to say, were equal-opportunity offenders. Whether he would have apologized anyway, we'll never know, but he had no choice once some of the past and present VS talent, including Kendall Jenner and Lily Aldridge, took to social media to show their solidarity with the transgender community.
"My remark regarding the inclusion of transgender models in the Victoria's Secret Fashion Show came across as insensitive. I apologize," Razek said in a statement that VS tweeted out. "To be clear, we absolutely would cast a transgender model for the show. We've had transgender models come to castings…And like many others, they didn't make it…But it was never about gender. I admire and respect their journey to embrace who they really are."
The Daily Beast reported on one store employee quitting after only two days on the job directly because of Razek's comments about trans and plus-size women.
ThirdLove co-founder Heidi Zak took note, too, writing in an open letter to Victoria's Secret, "How in 2018 can the CMO of any public company—let alone one that claims to be for women— make such shocking, derogatory statements? You market to men and sell a male fantasy to women.... Your show may be a 'fantasy' but we live in reality. Our reality is that women wear bras in real life as they go to work, breastfeed their children, play sports, care for ailing parents, and serve their country. 
"Haven't we moved beyond outdated ideas of femininity and gender roles?" Zak continued. "It's time to stop telling women what makes them sexy—let us decide. We're done with pretending certain sizes don't exist or aren't important enough to serve. And please stop insisting that inclusivity is a trend."
The Victoria's Secret Fashion Show took place in November but didn't air until Dec. 2, several weeks after the uproar over the Vogue interview (which was certainly mentioned in reports on the special's low ratings). Halsey, who performed at the show, spoke out on the Sunday it aired.
"As a member of the LGBTQ+ community, I have no tolerance for a lack of inclusivity," the singer wrote on Instagram. "Especially not one motivated by stereotype. If you're on my page because you watched my performance tonight, please allow me to instead direct your attention to GLSEN: An organization that offers services aimed at protecting LGBTQ+ youth. And with respect to those youth targeted by these comments in a world where they have been made to feel 'other,' I have made a sizable donation in their honor.
"If you are a trans person reading this, and these comments made you feel alienated or invalidated please know that you have allies. We stand in solidarity, and complete and total acceptance is the only 'fantasy' that I support..."
Everyone from H&M, purveyor of one of the most truly ill-thought-out ad campaigns in recent memory, to Forever 21, which just caught heat for tucking diet bars into online orders, a move that prompted an (untrue) rumor that only plus-size clothing recipients got the bars, is trying to figure out how to stay hot when there are more shopping choices than ever, fewer reasons to visit brick-and-mortar stores, and so many retailers trying their hardest to make their customers feel catered to. (Both H&M and Forever 21 apologized for causing offense.)
So Victoria's Secret is hardly alone in its efforts, reactionary or not, to adjust its image amid shifting tastes, backlash that spreads like wildfire online, and the weight of a brand identity that, while obviously it's gotten it this far, has lately become somewhat of an albatross. Bras, panties and Angel wings! Oh... well.
"The reason I decided to stop working with Victoria's Secret was I didn't feel it was an image that was truly reflective of who I am and the kind of message I want to send to young women around the world about what it means to be beautiful," Karlie Kloss, a VS Angel for three years before parting ways with the brand in 2015, told British Vogue this summer.
"I think that was a pivotal moment in me stepping into my power as a feminist, being able to make my own choices and my own narrative, whether through the companies I choose to work with, or through the image I put out to the world."
Dimitrios Kambouris/Getty Images for Victoria's Secret
There are positives to harness—women owning their sexuality, feeling beautiful in their skin and taking time to treat themselves—but Victoria's Secret has also been stuck in a rut, figuring—as Razek said—they couldn't be doing too badly if they were still going to sell more bras than anybody else.
"I'm sure they're trying to work on branding and new ways to do the show because it's the best show in the world," Shanina Shaik also told the Daily Telegraph.
It does sound at least as though the company is finally awake to the fact that they need more than an influx of Swarovski crystals for the Fantasty Bra to be a brand worth flaunting in this day and age.
"Fashion is a business of change. We must evolve and change to grow," L Brand CEO Lex Wexner also wrote to the team in May. 
He concluded, "In 2019 and beyond, we're focusing on developing exciting and dynamic content and a new kind of event—delivered to our customers on platforms that she's glued to... and in ways that will push the boundaries of fashion in the global digital age. I've never been more excited about the power of this brand and where it's going."
It just isn't going down the runway this year.