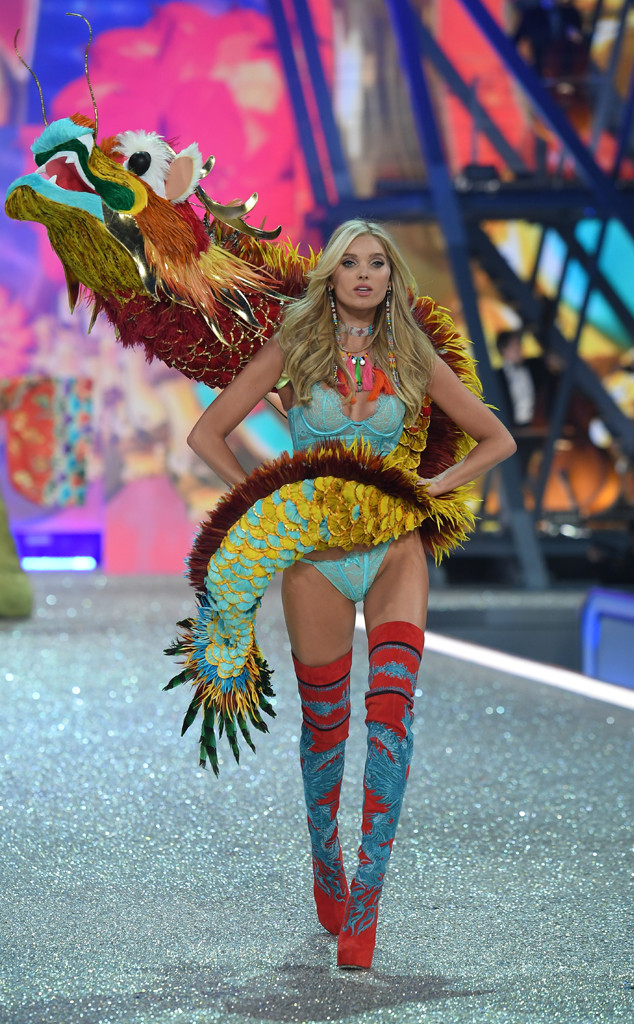 Dimitrios Kambouris/Getty Images for Victoria's Secret
Victoria's Secret is in trouble again.
The lingerie giant has been accused of cultural appropriation during its annual fashion show. A writer from Cosmopolitan claims some of the outfits showcased during the extravaganza were racist. In an essay that since has been deleted, writer Helin Jung criticized the Asian and Mexican influences that inspired some of the Angels' luxurious looks and claimed the company held a condescending attitude toward its Asian customers.
"Stripping of cultures aside, the emblems that stood out most were the ones that came from Asia—specifically China," she wrote.
Dominique Charriau/Getty Images for Victoria's Secret
"The dragon that Elsa Hosk wore wrapped around her body, the embroidered stiletto boots seen on Adriana Lima, the tail made of flames worn by Kendall Jenner. There's a lot of talk of China as a dominant world power of the 21st century, and the U.S. government, Hollywood, and now Victoria's Secret, it seems, are pivoting to face a new reality. But the Orientalism on display here doesn't show an understanding or an attempt at dialogue. It doesn't close any gaps."
Jung continued, "The brand and its creative leads shamelessly cherry-picked imagery, breaking apart aesthetic references from wherever they wanted and stitching them back together again. They're telling us its worldliness. It's not, it's a hack job."
E! News has reached out to Victoria's Secret for comment.
Victoria's Secret came under fire for cultural appropriation in 2012 when Karlie Kloss donned Native American-style headdresses. The company ended up pulling the footage from broadcast and apologized on Twitter. "We are sorry that the Native American headdress in our fashion show has upset individuals," the company tweeted at the time. "The outfit will be removed from the broadcast."
Kloss also apologized. "I am deeply sorry if what I wore during the VS Show offended anyone," she tweeted. "I support VS's decision to remove the outfit from the broadcast."