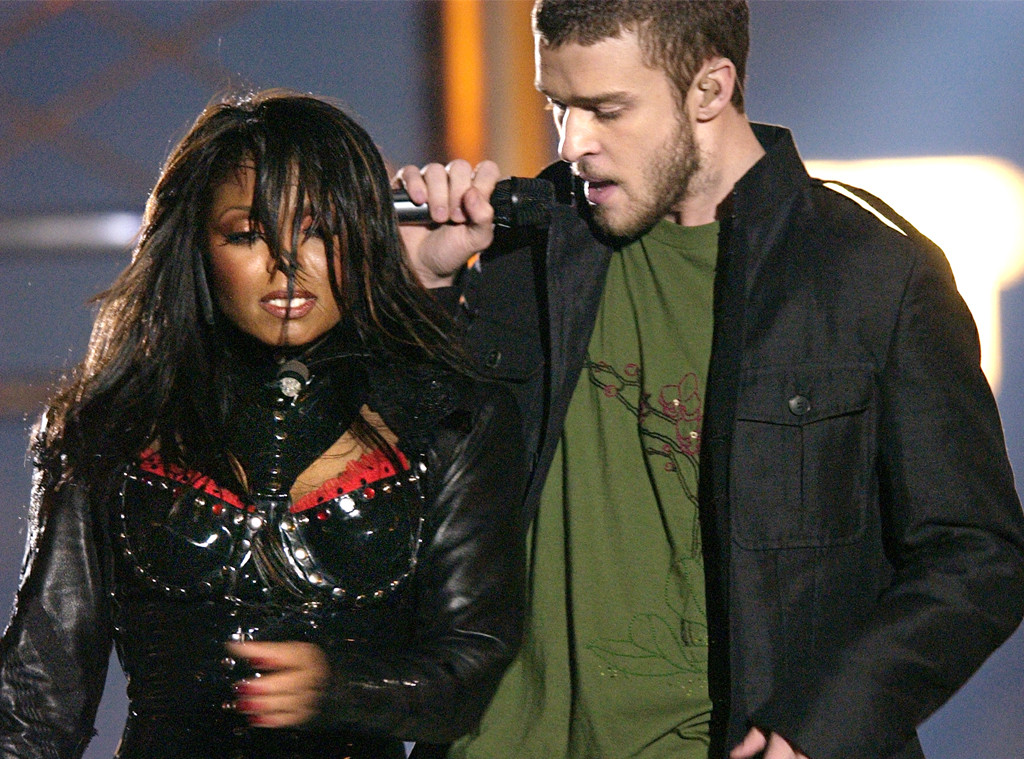 AP Photo/David Phillip, file
9/16ths of a second.
That's all it took for the world to come crashing down on Janet Jackson during her performance at the Super Bowl XXXVIII halftime show. 9/16ths of a second. Sure, in that minuscule amount of time, the iconic performer's bare breast had been exposed—inadvertently or otherwise—to the over 100 million people watching TV's biggest event by fellow performer Justin Timberlake and that's no small matter. But in the end, that's all it was—9/16ths of a second.
In the years since that fateful moment in Houston's Reliant Stadium—marking its 15th anniversary on February 1—many questions remain. Did Timberlake, who pulled at Jackson's leather bustier right as his hit song "Rock Your Body" reached its closing "Bet I'll have you naked by the end of this song," exposing her right breast and its sunburst nipple shield as if on cue, pull away more fabric than he ought to have? And did MTV, who were handling production on the big show for their second year in a row, know more than they ever let on? And how do Jessica Simpson, Nelly, Diddy, and Kid Rock—who all also took part in the "Choose or Lose"-themed show—feel about their moments on the stage becoming nothing more than a footnote?
While we may always wonder about the answers to those questions, what we do know is that the aftermath to "Nipplegate" was truly wild, with far-reaching effects that may surprise you, and that Jackson's career—and only hers—took a hit that it never quite recovered from.
As the NFL and MTV both immediately tried to absolve themselves of any culpability in the moment that registered over 540,000 complaints with the Federal Communications Commission, Jackson's rep chalked the moment up to "a malfunction of the wardrobe; it was not intentional." FCC Chairman Michael Powell called the moment "a classless, crass, and deplorable stunt" and vowed to take further action. With the game airing on CBS, parent company Viacom (who also owns MTV) enacted revenge on Jackson for losing them all further halftime shows by essentially blacklisting her, keeping her music off MTV, VH1, and all radio stations under their umbrella. Soon, non-Viacom media entities followed suit.
With the Grammys scheduled to air on CBS days later, Jackson's invitation to attend—she was due to present a Luther Vandross tribute—was rescinded. Timberlake, meanwhile, was still invited, where used one of his acceptance speeches to apologize for the incident. According to a 2018 Huffington Post report, published in the wake of former CBS CEO and chairman Les Moonves' downfall amid sexual harassment allegations, the powerful network head only allowed Timberlake to still attend and perform after he made a tearful apology to him for the incident. As the report alleges, Moonves was livid that Jackson didn't make the same contrite apology and he sought revenge, hence the blacklisting. 
While Jackson's album Damita Jo, released five weeks after the performance, would go on to be certified platinum, the lack of airplay for it and subsequent albums 20 Y.O. and Discipline would, in fact, dampen their performance when compared to her career pre-Nipplegate. Meanwhile, Timberlake's career flourished, striking a nerve with Jackson fans who felt all of the blame had been unfairly placed solely on her shoulders.
Jackson agreed.
In a 2006 interview with Oprah Winfrey, she said, "I think they did put all the emphasis on me, as opposed to us." She explained to the talk show host that, despite Timberlake, whom she had both a professional and personal relationship with prior to the incident, reaching out to her, she hadn't yet spoken to him. "Friendship is very important to me, and certain things you just don't do to friends. In my own time, I'll give him a call."
When Winfrey asked if she felt that Timberlake had left her "out there hanging," Jackson replied, "To a certain degree."
In 2018, Timberlake returned to the Super Bowl to headline that year's halftime show. Jackson, meanwhile, remains persona non grata. 
JUSTIN LANE/EPA-EFE/REX/Shutterstock
While CBS was hit with a $550,000 fine for the incident—the largest ever of its kind—by the FCC, the Third Circuit Court would rule in the network's favor in 2008, saying the FCC "acted arbitrarily and capriciously" by levying such a fine for what the Court deemed to be an accidental split-second of nudity. A year later, the Supreme Court would opt not to hear the case, sending it back to the Third Circuit for re-examination. By 2011, the Court ruled again in CBS' favor.
In January 2014, Powell, who'd left his position as FCC chairman at this point, would admit that the committee acted "unfairly" toward Jackson, telling ESPN that the committee overreacted. "I personally thought that was really unfair. It all turned into being about her," he said. "In reality, if you slow the thing down, it's Justin ripping off her breastplace."
While the incident wreaked havoc on Jackson's career for years, there was at least one positive development from the whole mess. In the immediate aftermath, a young software programmer at PayPal named Jawed Karim, frustrated over his inability to find any video of the performance on the internet, teamed up with some friends to create a venue where people can easily upload and share video. And in 2005, YouTube was born.
Of course, Nipplegate's far from the only bit of controversy to go down when the big game goes into halftime. For a quick refresher on all the most eyebrow-raising moments from Super Bowls of days past, read on...
Will Maroon 5's fiercely-debated performance with special guests Travis Scott and Big Boi during Super Bowl LIII earn itself a place on this list? Only time will tell. Be sure to tune in to the big game on Sunday, Feb. 3 at 6:30 p.m. ET on CBS to find out.