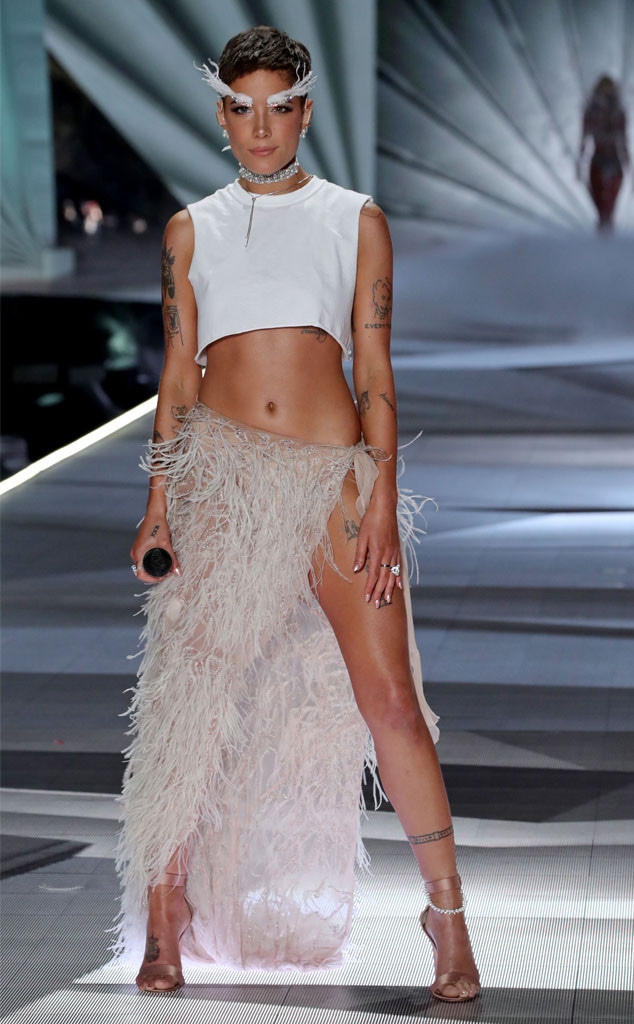 Matt Baron/Shutterstock
Halsey shared some choice words about the 2018 Victoria's Secret Fashion Show, which aired Sunday night. 
The show was filmed on Nov. 8 and included performers such as Halsey herself, Shawn Mendes, Bebe Rexa and The Chainsmokers and had a strong class of models this year, including Kendall Jenner, Bella Hadid, Gigi Hadid, Behati Prinsloo, Winnie Harlow, Adriana Lima and others.
The "Bad at Love" singer posted her note in Victoria's Secret colors—pink and white—and called out the company's lack of diversity. "I have adored the Victorias Secret fashion show since I was young. Performing this year alongside other amazing artists and hardworking models/friends was supposed to be the best night of my year," she wrote. "However, after I filmed the performance, some comments were made regarding the show that I simply cannot ignore."
The comments Halsey is most likely referring to is from a Vogue interview in which the vice president of public relations, Ed Razek, made a comment about trans people. He told Vogue, "Shouldn't you have transsexuals in the show? No. No, I don't think we should. Well, why not? Because the show is a fantasy. It's a 42-minute entertainment special. That's what it is. It is the only one of its kind in the world, and any other fashion brand in the world would take it in a minute, including the competitors that are carping at us."
The term "transsexual" is a fairly outdated term, which is another reason why his comment sparked backlash. Victoria's Secret CEO Jan Singer resigned on Nov. 20 amid a major decline in sales, CNN reports.
Halsey alluded to this in her note. "As a member of the LGBTQ+ community, I have no tolerance for a lack of inclusivity. Especially not one motivated by stereotype," she wrote. "If you're on my page because you watched my performance tonight, please allow me to instead direct your attention to GLSEN: An organization that offers services aimed at protecting LGBTQ+ youth. And with respect to those youth targeted by these comments in a world where they have been made to feel "other," I have made a sizable donation in their honor."
She concluded, "If you are a trans person reading this, and these comments made you feel alienated or invalidated please know that you have allies. We stand in solidarity, and complete and total acceptance is the only "fantasy" that I support..."
Halsey later posted other photos from the night of the show where she supported her friend Bella Hadid as she prepared to strut her stuff down the runway.