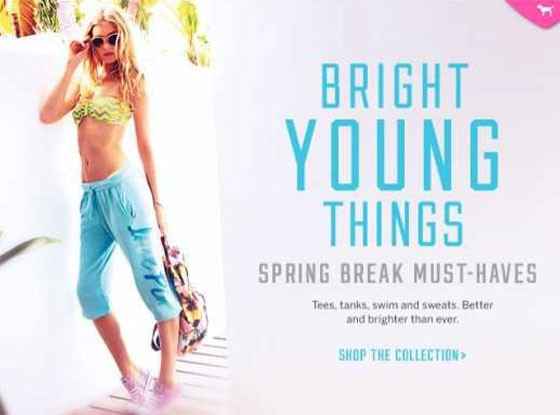 Victoria's Secret
No need for people to get their panties in a bunch. 
After Business Insider reported that Victoria's Secret was targeting pre-college-age girls with its new "Bright Young Things" underwear ad, the popular lingerie company faced all sorts of backlash, with some critics accusing the Angel-parading underwear maker of "portraying teens as sexual objects."
Well, Victoria's Secret says that was certainly not the idea.
"Victoria's Secret PINK is a brand for college-aged women," the company said in a statement to E! News. "Despite recent rumors, we have no plans  to introduce a collection for younger women. Bright Young Things was a slogan used in conjunction with the college spring break tradition."
So, in other words, they're not trying to make teens too sexy before their time. 
The misunderstanding originated when the company's chief financial officer, Stuart Burgdoerfer, said at a conference, "When somebody's 15 or 16 years old, what do they want to be? They want to be older, and they want to be cool like the girl in college, and that's part of the magic of what we do at Pink."
The Bright Young Things just got caught up in the fray.