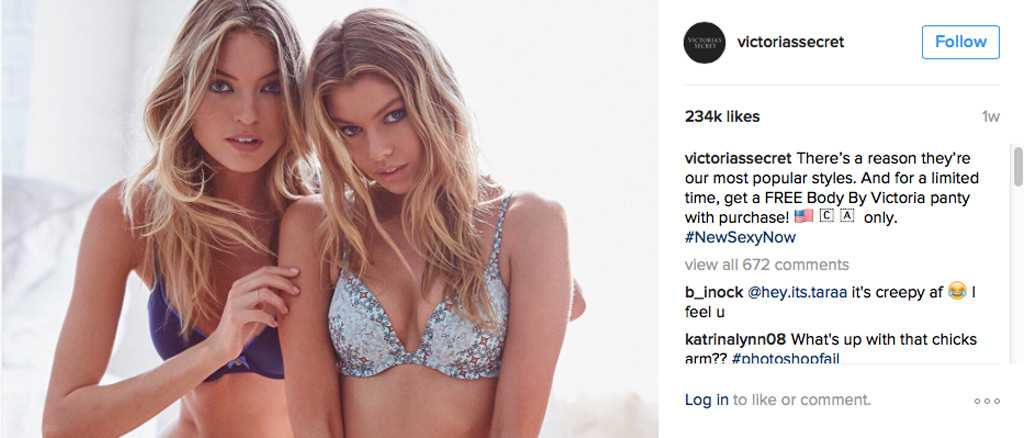 Instagram
We know that airbrushing is usually part of the deal.
Despite some efforts to be more reflective of flesh-and-blood humans, most fashion magazines and catalogs are full of images that are not achievable in life. Pages are packed with lithe models, their skin glowing with super-human radiance, their teeth perfectly white, their bods sporting sinews in all the right places.
It's almost comforting, in a way, knowing just how much post-shoot work goes into making the pictures look the way they do. Certainly takes the pressure off of us mere mortals' getting-ready routines.
But while we're at it, we'd also prefer not to find any flies floating in that Kool-Aid we're drinking.
The famous Victoria's Secret Catalog has been around since 1982, and can still be found in mailboxes everywhere. And VS was once so intent on being ready to take the digital world by storm, it took several years of website development before it finally launched its e-commerce site in 1998.
Either way, print or online, the images of models with flawless skin, bouncy hair and otherworldly measurements—who over the years have included Tyra Banks, Stephanie Seymour, Heidi Klum and, more recently, Candice Swanepoel, Lily Aldridge and Behati Prinsloo—have always just been a part of the culture for so many of us.
And despite facing more competition than ever in the sales department, Victoria's Secret seems to be doubling down on its brand of exclusive, unattainable beauty. Which means its been bucking the trend of embracing customers of all shapes and sizes and resisting the call to be more inclusive with its advertising.
Case in point: The many times the Internet has insisted it caught VS overdoing it with the Photoshop.
Just today, the Daily Mail pointed out that Instagram commenters were up in arms, no pun intended, over a picture on VS' account of Stella Maxwell and Victoria's Secret Angel Martha Hunt, instantly deeming the suspect white space around one of Hunt's arms a "#photoshopfail." "Come on Victoria's Secret, we KNOW you can do a better job at Photoshop than this," read another.
Still another commenter added, while some asked where the flub was: "they over photo shopped her arm, it looks kinda normal but than you look at it a little closer and you wondrr, how does that girls have a big chunk like that missing from her shoulder area."
Victoria's Secret has not yet responded to a request for comment, which was the same thing that was said when they appeared to erase the curvature of only one side of a model's behind last year, or when they launched their widely criticized Perfect "Body" campaign and a Change.org petition was launched to urge VS to employ curvier models in their ads and on the runway.
But even when observers can't be quite sure that they're seeing a Photoshop fail, there are usually plenty of remarks about the models' frames, such as this on another pic of Hunt and Maxwell together: "Whoa those arms aren't right... or she is just too skinny! Not very attractive image." (And that was right under the comment: "Happy you got Photoshopping right.")
Body-shaming of any kind isn't OK, so that sort of commentary is unfair to the models anyway. But there isn't much else to look at on Victoria's Secret's Instagram page besides thin and thinner.
"These models are thin af... Like #bodygoals," read a comment on another photo of models wearing underpants that promise no VPL. 
VS' sizes go up to XL and DDD (though still no plus-size line), but their advertising and their social media accounts don't reflect any sort of body type diversity other than varying types of stereotypically "perfect."
And this four years after Seventeen promised to stop digitally altering its photo spreads, and two years after American Eagle's Aerie brand stopped Photoshopping or airbrushing their ads and customers responded just as AE had hoped: by buying more undies from them. Of course, the models were still on the model-thin side, but society wasn't restructured in a day.
Even those whose pics are being polished are speaking up more and more, with Kerry Washington, Zendaya, Ashley Benson, Rumer Willis and Meghan Trainor among the latest to object when editors—either print or video—fiddled too much with what they were working with.
In May, Trainor even insisted that her "Me Too" music video be taken down until her actual waist was restored to the finished product.
VS Angel Lily Aldridge said back in 2013 that she wasn't a fan of Photoshop, because "all of a sudden you're like, 'That's not even me anymore.' It takes away the natural beauty of a person."
Then, of course, there's the wink-wink approach taken by the likes of Jennifer Lawrence, who quipped to Access Hollywood in 2013 about her new Dior ads, "That doesn't look like me at all! I love Photoshop more than anything in the world!"
Whatever the company's thought process, Victoria's Secret—perhaps buoyed in confidence by how much of an event the annual Victoria's Secret Fashion Show has become—has continued to stick with what always worked for them in the past, despite the public outcry for a more representative crop of models.
Yet with the market so competitive, times are tough, as they are for many retailers we grew up with: VS recently announced plans to discontinue its swimwear collection after 2016; and Business Insider reported in May that, though sales were up 1 percent, parent company L Brands' stock price had fallen; and in June it was reported that putting too much merchandise on sale too quickly (like how the Gap is always having an "exclusive" 40-percent-off online sale "just for you") could result in another financial hit.
To be fair, at least as far as sales go, launching a plus-size line would cost millions because it would utilize a different manufacturing process, so it's not as if VS is just sneering at the idea. It's likely that business plans have been drawn up and analyzed along the way.
Still, that doesn't explain why Victoria's Secret seems to be having such a difficult time with what it's been doing all along—fiddling with pics to make them look perfect.
After being called out on issues ranging from an erased waist and an entire arm gone missing to a thigh gap you can drive a Fiat through and the aforementioned asymmetrical bum issue, you'd think the next order of business would be getting their graphics straightened out.