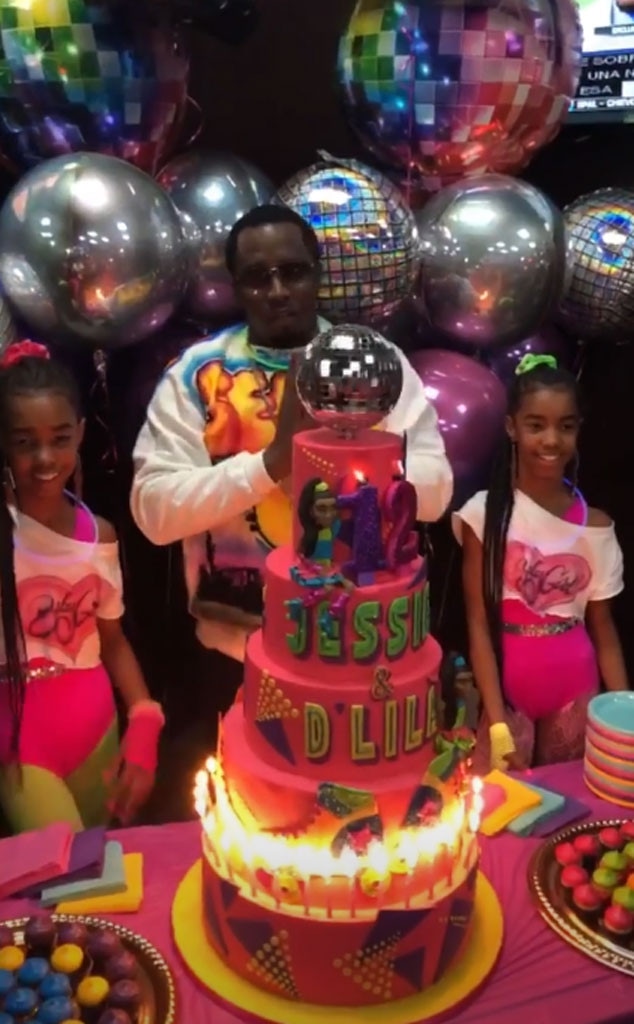 Instagram
Sean "Diddy" Combs is feeling positive amid a particularly dark and difficult month.
The rapper shared a number of videos and photos on his Instagram Story Friday night of the 80's-themed birthday party he threw for his twins D'lila Star and Jessie James, whom he had with his ex-girlfriend Kim Porter. Porter was found dead on Nov. 15, and her cause of death remains "under investigation" although the autopsy has been completed.
D'lila and Jessie are turning 12 on December 21, but Diddy threw the party earlier because of the holidays and so it could coincide with "Kim Porter Day", which is Dec. 15—her birthday. "I need to clarify tomorrow is Kim Porter Day, worldwide, worldwide, worldwide, midnight December 15th, we only gonna go up through the grace of god," he said in his Instagram Story.
Diddy didn't just pay tribute to his daughters on their special day. It's also Porter's birthday. She would have been 48. 
The music mogul shared a photo of Porter and her son Quincy, who Diddy helped raise. "WE feel your beautiful smile," he captioned it.
Another photo tribute to Porter showed her carrying the twins as they all flashed big smiles. He wrote, "Words can't explain. THIS PICTURE SAYS EVERYTHING."
A third picture that Diddy posted was some artwork of Porter sitting amongst angels. He typed, "HAPPY BIRTHDAY KIM!!! We miss you sooooooooooooooooooooooooooooooooooooooooooooooooooooooooooooSoooooooooooooooooooooooooooooooooooo MUCH."
At their birthday party, Jessie, D'lila and their friends dressed up in neon 80's garb and enjoyed some classic rollerblading fun. The twins were also treated to a five-tier hot pink birthday cake.
In the days and weeks following Porter's death, Diddy shared a number of tributes and messages in honor of his ex. On Nov. 18, he posted a video of the two of them from an Essence photo shoot. "For the last three days I've been trying to wake up out of this nightmare. But I haven't," he captioned the post. "I don't know what I'm going to do without you baby. I miss you so much. Today I'm going to pay tribute to you, I'm going to try and find the words to explain our unexplainable relationship."
He continued, "We were more than best friends, we were more than soul mates. WE WERE SOME OTHER S--T!! And I miss you so much. Super Black Love."
At her funeral on Nov. 24, Diddy praised Porter and called her "our angel" before the service began. Although Diddy has been "heartbroken" and "devastated" following her sudden death, he has also been open about starting his "new life" with "new responsibilities."
In one Instagram video while driving his little ones to school, he said, "New day. New life, New responsibilities. Kim I got this. Just like you taught me!" 
Happy early birthday, D'lila and Jessie, and happy birthday in memory to Porter.