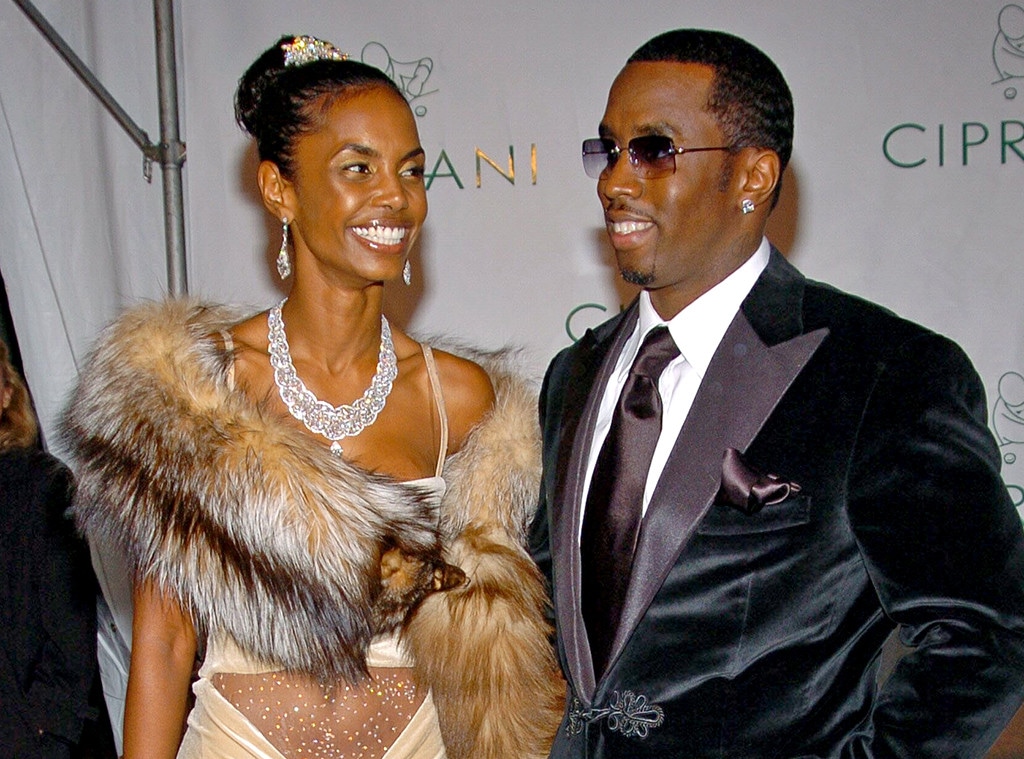 Lawrence Lucier/FilmMagic
When Kim Porter left Sean "Diddy" Combs for good, she did so in grand fashion.
Not wanting to put up with his straying ways for one more minute, she waited until he was out of town to move out—and she took everything with her, from the nursery furniture to the cars. Needless to say, the kids went with her, too.
The model and actress insisted afterward to Essence that "there was no other way" to do it. "You think he would have let me walk out the door? He wouldn't have wanted me to go."
Moreover, "I wanted to be dramatic. I wanted him to know I wasn't breaking up with him for two weeks-or maybe leaving for two days. If I pack up everything—twins and all—it means I'm out! Puffy's an action person, not a talk person. So I had to have an action. Telling him, 'Babe, I'm leaving' was not gonna do it."
It was 2007 and they did have a lot of history between them.
Jean Baptiste Lacroix/WireImage
Despite the dramatic split, they remained close over the years as parents of son Christian, twin daughters D'Lila Star and Jessie James, and Porter's son Quincy Brown with singer-producer Al B. Sure!, whom Combs was also there for growing up.
In 2008, Combs threw Kim a birthday party, and Porter and all four kids, as well as Combs' eldest son, Justin, were there to support the hip-hop mogul as he got his star on the Hollywood Walk of Fame.
Not there was Chance, Combs' daughter with Sarah Chapman, who was born before the twins.
"It's not an original script. He's not the first man who's cheated," Porter told Essence. "He's not the first man who's had a baby outside of his relationship. He's not the originator of this. But at this point in my life—I have girls now—it's a different program." Asked, however, if Combs fathering a child with another woman had indeed contributed to her leaving, she said, "Well, that was definitely part of it."
Porter insisted, "There's no ill feeling or 'I can't stand you, I hate you, don't call.' There's none of that. We have three children together so that's just not an option. We're committed to our children even if we couldn't commit to each other."
The family continued to celebrate festive occasions together, whether it was Christmas in St. Barth's aboard Diddy's yacht or hosting a swanky New Year's Eve bash in Miami. Their frequent excursions and general ongoing coziness would prompt speculation that they were getting back together, but it never amounted to anything more. Combs had also been dating Cassie for the better part of the last six years until they broke up last month.   
It was a family affair once again when Porter, Diddy, D'Lila, Jessie, Christian, Justin Combs and Al B. Sure reunited at the L.A. premiere of Quincy's movie The Holiday Calendar on Oct. 29.
Charley Gallay/Getty Images for Netflix
On Halloween, Diddy shared a photo of Kim and their daughters dressed as a fairer version of Run-DMC.
Two weeks later, the whole family is in mourning.
Porter was found dead Thursday at her Los Angeles-area home. She was only 47 years old. No cause of death was immediately forthcoming. Porter was said to have been suffering from pneumonia for several weeks and had seen a doctor about it.
Her most recent Instagram posts were a picture of Diddy and the kids from Nov. 4 and then an entreaty to vote on Nov. 6.
E! News has learned that Diddy and his family are devastated by Porter's passing and he's currently with his children. They were more than just amiable exes—they were best friends who loved each other dearly, maintaining a true partnership and working together as parents.
We're told Kim was a great mother and everyone respected her as the family matriarch.
And after more than 20 years, Porter and Combs been constants in each other's worlds.
They reportedly first started dating in 1994 and Christian Casey Combs was born in 1998.
Combs infamously started dating Jennifer Lopez in 1999, however, and was with her until 2001, when the fallout from a shooting at a nightclub while both were in attendance as well as Diddy's rumored infidelity put a bit too much strain on things.
Peter Kramer/Getty Images
Paternity papers that Porter filed in March 2001 stated that she and Combs had an intimate relationship between 1995 and 2000. After that raised some eyebrows, Combs said that any word of J.Lo-Kim overlap was "100 percent false" and Porter too said there was "no overlap." She told the New York Post, "It ended in 1999."
She also clarified that Combs was already giving her child support but she wanted him to be legally declared Christian's father—and she wanted more money for "a full-time live-in nanny, after-school programs, summer camps, lessons, extracurricular activities, tutors, sports programs, and private school tuition and expenses."
"He's a great father and we're working things out," Porter also told the Post. "The procedures we're going through are standard procedures. We just have to get everything signed, sealed and delivered with a court order." Combs' rep, meanwhile, called Porter's lawyers ambulance chasers and said that the Bad Boy Entertainment founder's kids "mean the world to him, and, as always, he will continue to financially support them, no expense spared."
Rena Durham/KPA/ZUMA Press.
Porter and Combs, who was paying a reported $5,000 a month to Justin's mom, reached a confidential agreement in 2002 that stipulated what exactly the rapper would be providing for until Christian turned 21, including his education and any medical needs.
The exes got back together again in time to welcome the twins in December 2006. "Diddy received an early Christmas present," his publicist said at the time. "Both Kim and the girls are doing great."
Sitting down with Essence for a joint interview, Porter called Combs "gentle, giving and sensitive, especially to me."
"He's a really a good guy, with a big, big heart," she continued. "I get to see that. I'm really thankful I get to see that…But more than that, we could talk to each other about anything. It was very comfortable. What's enabled us to sustain our relationship is that we can still talk like that. We have a friendship. These days people don't have the patience to nurture a relationship or a friendship."
Asked if he was ever going to put a ring on it, Combs, who's never been married, said, "I know she deserves to get married, but I'm just not ready. It's not a reflection on how much I love Kim. It's that I'm just learning how to be a good boyfriend. When I'm finished with this step, I'll move on to the next."
Porter moved out in July 2007 after finding out from a friend that Combs had fathered a child with another woman, and that the child had been born before D'Lila and Jessie. 
"After ten years, I have decided to end my on-again/off-again relationship with Sean 'Diddy' Combs," she said in a statement. "In ending this relationship, I made a decision that was in the best interest of myself, Sean and our family. I look forward to moving on with my life and my career, and wish him prosperity, health and happiness in life and in love. We will remain friends and committed parents to our children."
Speaking to Essence for its October 2007 issue, she reiterated that she had made the choice to finally do something for herself after spending years committed to Combs.
"As black women we sacrifice," Porter she said. "We stand by our man, through thick and thin, through whatever. But if you feel like, 'Maybe I am getting the short end of the stick,' that's when a change has to take place."
After she was informed that Combs had had another kid, "I laid low and did what women do: I did my background work, collected information. But I wasn't even on it like that because I was pregnant, and what was bubbling inside me was a blessing from God. I couldn't let my energy be on that. I didn't have time for any drama, trauma and bulls--t."
Earl Gibson III/Getty Images
Combs had known Sarah Chapman, who lived in Atlanta, for several years and their daughter, Chance, was born five months before the twins. And he didn't tell Porter until after D'Lila and Jessie arrived.
"I would have preferred to find out from him because that's a man," Porter told Essence. "I know it's hard for anyone to say to their significant other, 'I've gotten into some s--t and I got a baby on the way.' But men do get caught up in things; I'm not naive to that. Still, there's a right and a wrong way to handle it. Because, most of all, we were friends. Even if I couldn't have understood it as a woman, I would have understood it as a friend."
Eventually, "he told me that he may have gotten himself into a situation and he may have fathered another child outside the relationship and I said, 'Really? Well, I already knew. I'm glad you decided to be a man. I was like, 'Dude, this is so wack I can't even respect you right now.' And for me, once the respect is gone, I'm not even listening to you."
Andrew H. Walker/WWD/REX/Shutterstock
But they did stay friends, and on the surface at least, Porter was not evincing any hard feelings. Instead, she sounded like a woman who had just come into her own.
"You know how when two people go their separate ways, most of the time there's animosity? It's not like that with us," she said. "Sean and I have this bond, this friendship. It's not about 'if you're faithful to me, if I'm being faithful to you.' We're friends. I'm the person he can tell his inner most thoughts to and he's that person for me. He still calls me everyday and we talk."
Chapman wasn't part of the regular scene right away, and neither was Chance, but now the 12-year-old makes regular appearances on her dad's social media. Last year, Diddy had both Cassie and Chapman on the yacht for Chance's birthday.
Venturelli/Getty Images for Dolce & Gabbana
"OK, six kids, three babies moms?" Wendy Williams confirmed with Combs on The Wendy Williams Show last year. He nodded, adding, "and they're all taken care of."
"But I want to tell you the story about that," he insisted. "I met all of them in the same year, so I've known all of them in the same amount of time—but we were friends." As the audience naturally erupted in giggles, Combs cracked, "Wow, why did I do that?"
"No, I was just trying to say it wasn't like I was just running around, you know, through my career and every couple of years just being with a new person. These are people that were my friends, and then I would get my heart broken—and then my friend would be there, and I would fall in love with my friend, and then I would get my heart broken again..."
"Yeah, I'm in love now," he added, "and I was in love then, you know?"