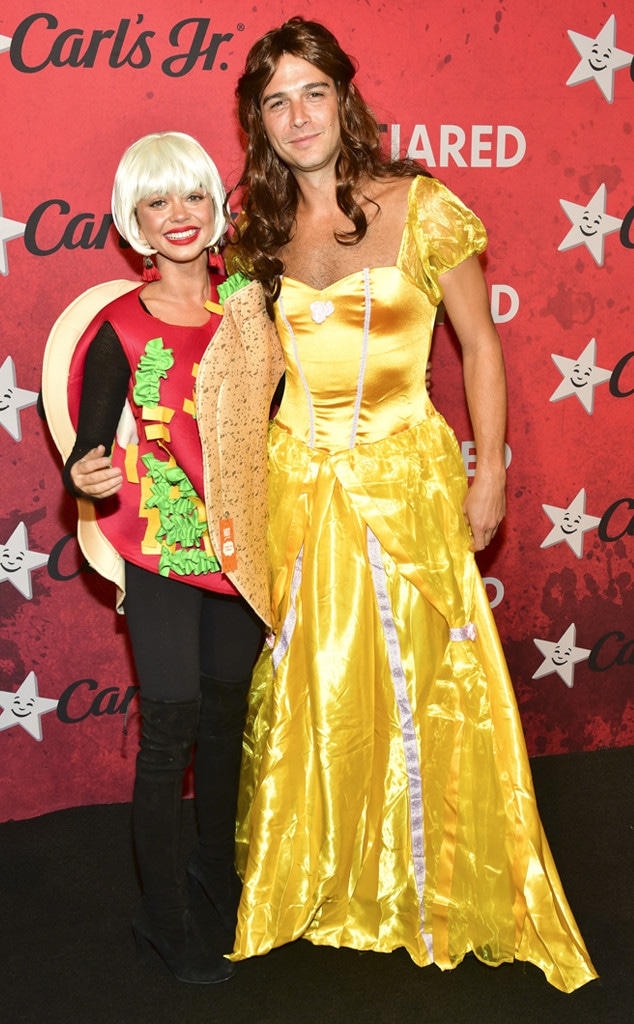 Rodin Eckenroth/Getty Images
Taco bout a cute couple!
Sarah Hyland and Wells Adams put all other Halloween couple costumes to shame on Saturday night at the Just Jared Halloween party. The Modern Family star dressed up as a taco and the former Bachelorette contestant rocked a long brown wig and yellow dress to be Belle from Beauty and the Beast. Separately, they sound like fun costumes as the two got into the Halloween spirit. 
Put them together, though, and it's a completely different story. Taco and Belle...They're putting the "Supreme" in "Crunchwrap Supreme."
Adams posted a photo from the night that showed them walking together, holding hands and smiling. One of their friends made a face in the background. In the picture, Hyland stares lovingly at Adams, who looks ahead. "Find someone who looks at you the way Taco looks at Belle," he captioned it.
Aww!
Hyland and Adams have been defining couple goals for what feels like forever, although the two of them have been a couple for just over a year. After trying the long distance shtick for a while, the Bachelor in Paradise bartender packed up a moving van and hauled his belongings to Los Angeles. They now live together.
Hyland told E! News in August how their relationship has grown since he made his visit in Los Angeles more permanent. "I think it's brought us closer," she said at the time. "He's more anal and cleaner than I am, so it's great."
Time after time, Adams has come to her defense and helped shut down body shamers that continue to bother Hyland. On Oct. 6, Adams called out one Instagram user who criticized Hyland's glasses. Barely a day before that, he made a retort to someone who said Hyland was too skinny. 
"Eat a doughnut," the person commented on a photo of the Modern Family star wearing a bathing suit.
"Eat s--t," Adams replied.
On Sept. 16, the lovebirds celebrated their 1-year anniversary together and posted about each other on social media. It is how they met, after all. "A year ago I impatiently asked @wellsadams 'when are you gonna ask me to be your girlfriend?!' I still can't tell if I just bullied you in to being with me and you're scared to leave? But please don't," she captioned a funny photo of them laughing together on the beach.
Not long after their anniversary, Hyland told E! News how they celebrated the special day. Adams got her a very sentimental gift. She told E! News, "He took all the Polaroids I take and put them in his typewriter and wrote things on them. Then he bought a leather-bound journal that you can put pictures in...He's amazing."
Check out some of Adams and Hyland's Halloween costume competition in the gallery below!