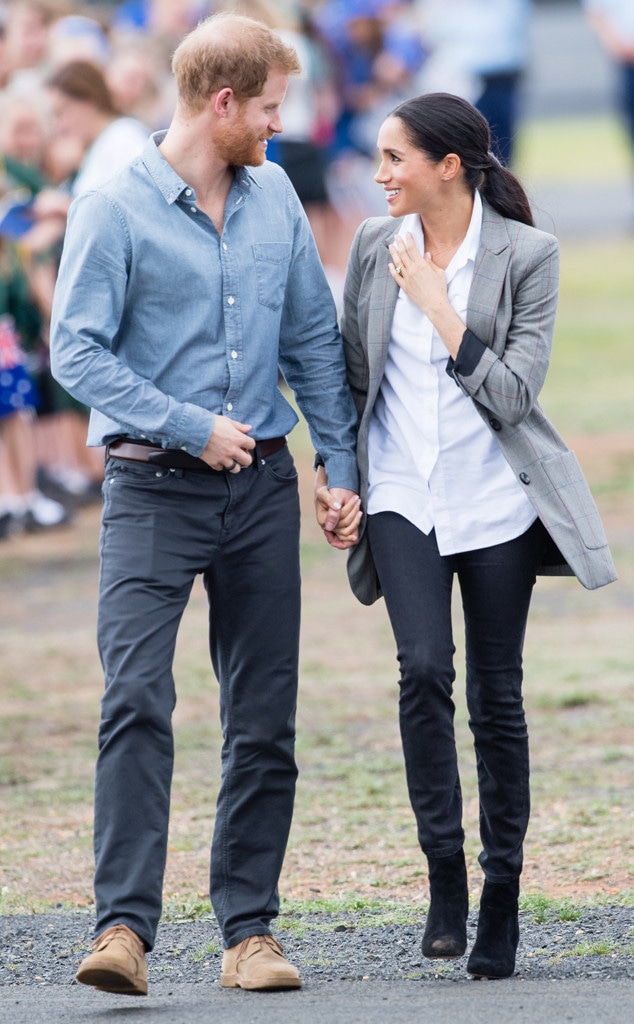 Samir Hussein/WireImage
Samantha Markle is apologizing to Meghan Markle and Prince Harry for any "past misunderstandings."
The Duchess of Sussex's older sister is speaking out following the news that she's expecting her first child with the Duke of Sussex. The couple's exciting baby news was announced on Monday following their arrival in Australia.
"Their Royal Highnesses The Duke and Duchess of Sussex are very pleased to announce that The Duchess of Sussex is expecting a baby in the Spring of 2019," the palace said in a statement. "Their Royal Highnesses have appreciated all of the support they have received from people around the world since their wedding in May and are delighted to be able to share this happy news with the public."
There's been increasing tension between Meghan and some over her family members, including Samantha and dad Thomas Markle, over the last year. But Samantha wants to put all of the "misunderstandings" behind them as her sister enters this new chapter in her life.
"Everybody just needs to shut the heck up and let this be a great thing for them, for the world, for the family and that's where I'm at," Samantha told DailyMailTV in a new interview. "It's so important that everybody put their egos aside. Meghan's done some things with my dad, but in my heart, I love her and I want her and the baby to do well. I was kind of overwhelmed with emotion [when I heard] and I just thought, I'm letting everything go. It's beautiful and I'm so excited for Harry too."
Samantha went on to tell the outlet, "I think everybody really just needs to come together and realize this is really important and special for Meg, for Harry, for the child, for all of us, and we need to stop the sparring. I want things to be alright in my family and everybody has to be on the same page. I want that for the child but I want that for Meg too."
Speaking directly to Meghan and Harry, Samantha apologized for past tension and expressed her excitement for the couple and their baby.
"I'm so excited, I'm so happy for you and I really, really am sorry for any of the past tension and confusion and misunderstandings and asinine things I've said when I just didn't understand what was going on and I wanted things to work out for my dad," Samantha said. "But this is just a great time for you guys and Meg, I love you. Congratulations to both of you. Let's just let it all go and you two be wonderful happy parents – I'm so happy for both of you."
Earlier this week, Samantha discussed Meghan's pregnancy in another interview with The Sun. "It just makes everything that happened over the last year disappear," she told the publication. "I want Meghan to be happy and calm and have peace. Everybody needs to be positive."
Samantha traveled to London earlier this month in hopes of speaking with Meghan, but was turned away by security at Kensington Palace.