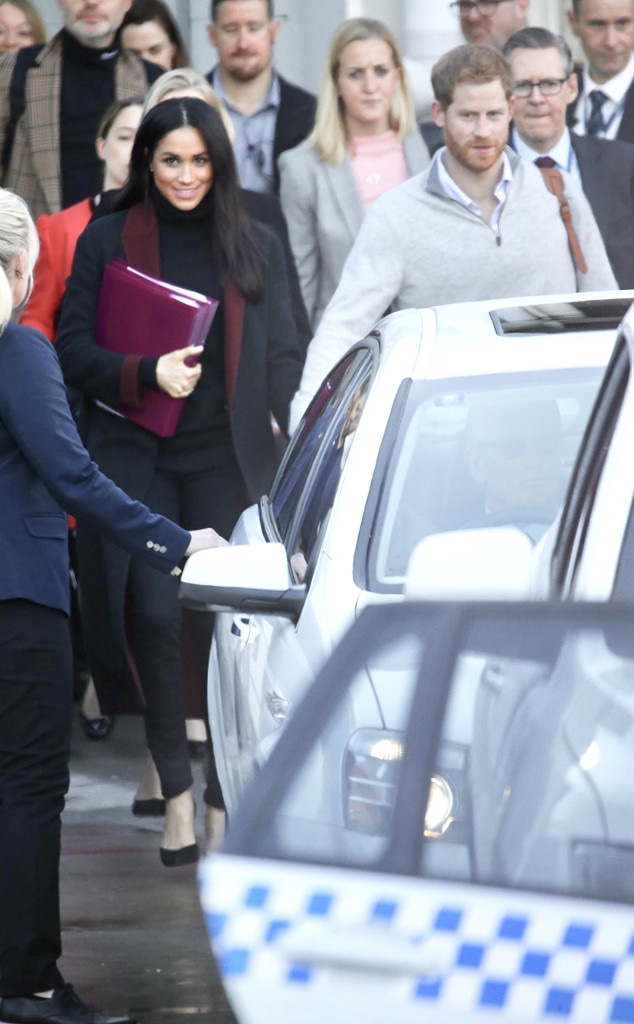 Backgrid
Prince Harry and Meghan Markle took a long jump across the pond and landed in Australia for their first royal tour as a married couple.
Other than Australia, the two of them will travel around the region to Fiji, the Kingdom of Tonga and New Zealand and will be overseas until Oct. 31. Their visit in Australia coincides with the Invictus Games, which Prince Harry founded in 2014, and will be held Oct. 20-28. It's also a special event for the Duchess of Sussex. The two of them made their first official outing as a couple at the 2017 Games in Toronto.
The royals arrived in a Qantas Airlines plane, which is the main airline for Australia. There was a momentary false alarm as to when they actually landed because a British Airways plane arrived moments before. Australia's The Today Show shared videos of their arrival and the excitement among the news anchors was palpable. 
JOHN SHELLEY/REX/Shutterstock
According to a press release from Kensington Palace, Prince Harry and Meghan's trip overseas "will focus on youth leadership, and projects being undertaken by young people to address the social, economic, and environmental challenges of the region" with the Invictus Games as a "major focus."
Prince Harry kept his look casual in a grey quarter-zip sweater and collared shirt underneath. Meghan, on the other hand, wore a black and burgundy coat likely from designer Harris Wharf London as well as black pants and flats. It is apparently the same coat that she wore in her Invictus Promo photos.
Video footage shows them holding hands as they walk towards their silver car to take them to their first event at Admiralty House, which is the official residence of the Governor-General of Australia in Sydney.
Throughout their travels, the two of them will visit farms, schools, a surfing community group, the world-famous Sydney Opera House and more.
Prince Harry's parents, Princess Diana and Prince Charles, visited Australia in 1983.
One of the Today anchors applauded Meghan's appearance. "She looks beautiful!" he said. "How does she have her hair like that after 24 hours in a plane?"
There were murmurs that the Duchess of Sussex will skip out on the visit to Fiji, launching speculation that she could be pregnant.
Take a look at their full itinerary below:
Tuesday, Oct. 16: Sydney, Australia            
Wednesday Oct. 17: Dubbo, Australia
Thursday, Oct. 18: Melbourne, Australia 
Friday, Oct. 19: Sydney, Australia
Saturday, Oct. 20: Sydney, Australia        
Sunday, Oct. 21: Sydney, Australia
Monday, Oct. 22: Fraser Island, Australia 
Tuesday, Oct. 23: Suva, Fiji
Wednesday, Oct. 24: Suva, Fiji 
Thursday, Oct. 25: Nadi, Fiji and Nuku'alofa, Tonga    
Friday, Oct. 26: Nuku'alofa, Tonga and Sydney, Australia 
Saturday, Oct. 27: Sydney, Australia 
Sunday, Oct. 28: Wellington, New Zealand
Monday, Oct. 29: Wellington and Abel Tasman, New Zealand
Tuesday, Oct. 30: Auckland, New Zealand
Wednesday, Oct. 31: Rotorua, New Zealand