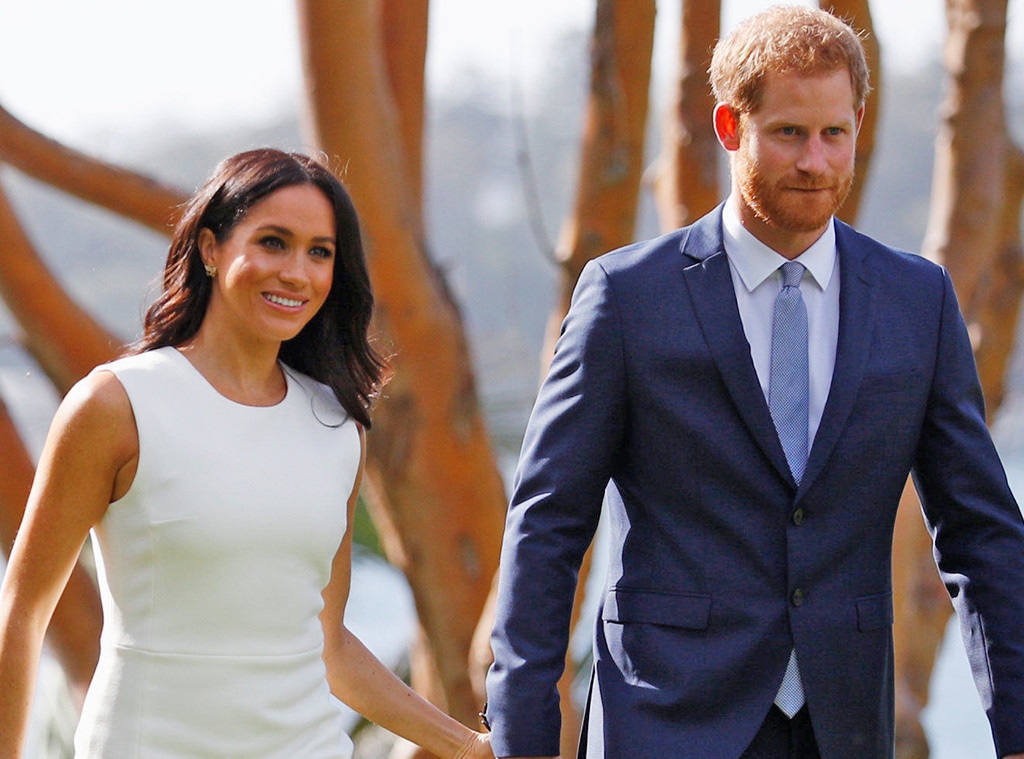 Phil Noble/PA Wire
Samantha Markle wants to let bygones be bygones and focus on the new royal baby instead.
On Monday, Kensington Palace announced Meghan Markle and her husband Prince Harry were expecting their first child together while the Duke and Duchess of Sussex traveled around Sydney, Australia for their first royal tour as a married couple. According to the palace statement, Meghan and Prince Harry are "delighted" and "very pleased" about the news. As it turns out, so is Meghan's estranged father, Thomas Markle, and her sister Samantha Markle.
Samantha discussed her sister's pregnancy with The Sun and disclosed how she and her dad feel and what they hope will happen in the future. Samantha told the publication, "It just makes everything that happened over the last year disappear. I want Meghan to be happy and calm and have peace. Everybody needs to be positive."
Kensington Palace also announced that Meghan's mom Doria Ragland "is very happy about this lovely news, and she looks forward to welcoming her first grandchild."
Samantha, who has notoriously been defensive of her father, remarked about the fact that he was not mentioned in the palace's announcement. She told The Sun she hoped his omission from the statement was "not intentional" and that he is "included and at a proper time."
She continued, "If he is excluded, I won't be happy. It is in the best interests of the baby for my dad to be included."
Samantha is apparently vacationing in Ireland now after traveling to London earlier in the month in hopes of reconciling with her sister. The Sun shared pictures of Samantha holding up a card that said "Baby" on it. She said, "A baby changes everything and softens everyone. I would only hope that there would be some adjustment or some way of including him."
A source told The Sun that Thomas is "absolutely delighted" and "overjoyed" for his daughter.
Getty Images; Splash News
She's holding out hope that Meghan and Thomas can reunite at some point in the future, too. Both before and after the royal wedding, Thomas spoke out about his concerns for Meghan, including his belief that she was "terrified" during her wedding. "I see it in her eyes, I see it in her face and I see it in her smile. I've seen her smile for years. I know her smile. I don't like the one I'm seeing now. This one isn't even a stage smile—this is a pained smile," he told The Sun at the time. 
Thomas was scheduled to walk his daughter down the aisle on May 19 at St. George's Chapel, but he ended up not traveling to England for the wedding because he suffered an apparent heart attack. Just days before that, Samantha confirmed he staged paparazzi photos of himself looking at pictures of Meghan and Prince Harry while at an internet cafe in Mexico. 
According to Thomas, his daughter the Duchess "cut me out completely" and he is unable to communicate with her via her personal aides. "I won't be silenced," he said to The Mail on Sunday in July. "I'd hate to die without speaking to Meghan again."
In that same interview, Thomas brought up the possibility of becoming a grandfather and how he would feel if he never had the chance to meet his grandchild. "What's sad is that some time in the next year Meghan and Harry will have a baby and I'll be a grandfather. And if we're not speaking, I won't see my grandchild. How tragic is that—to deprive a child of its grandfather because I said a few things critical of the Royal Family?" he said.
Back at The Sun, Samantha suggested a family reunion to introduce Samantha and Thomas to the new baby. "At a proper time, there should be a sit-down wherein everyone can address this properly. Everything has to work itself out," she said. "I want to allow Meg and Harry to bring my dad into it in their own appropriate time because they very well should do. Although I can still say I love my sister, I wasn't happy with the way my father was being treated."
On Oct. 6, Samantha arrived at Kensington Palace in the hopes of agreeing to a peace treaty of sorts with her sister. However, she was unable to enter as she was turned away by palace security. When she first got to London, Samantha initially went to Buckingham Palace, although Meghan and Prince Harry reside a few miles away and in a separate royal residence. "I wanted to make the trip and sort of speak the wishes and thoughts and sentiments of my father, and hopefully get a message to my sister," she said to London's Channel 5.
She mentioned that many family members were "hurt at not being included or invited to the wedding," and that she wishes "things could be different."
Meghan is about 12 weeks along in her pregnancy and is due in Spring 2019.