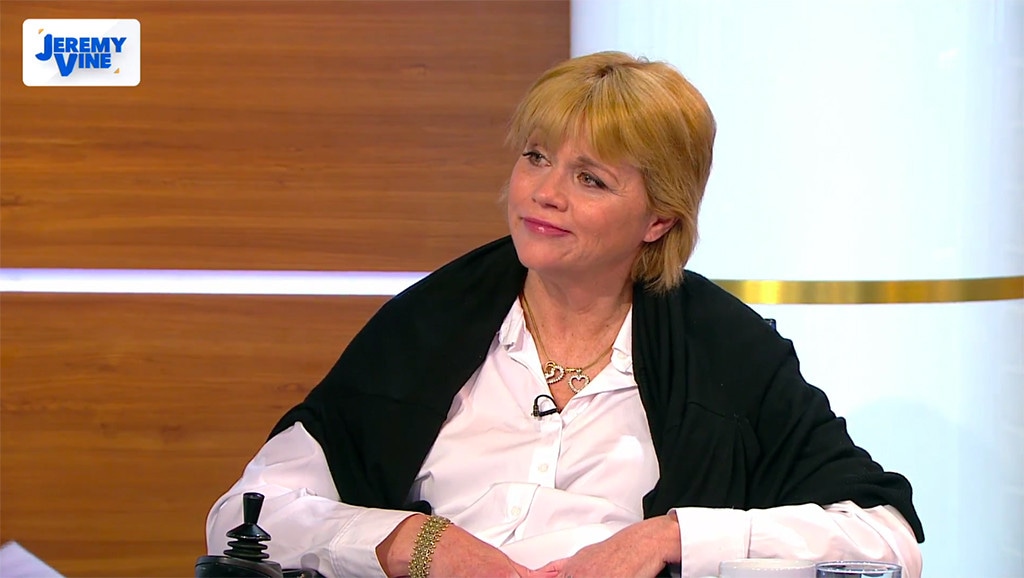 YouTube
Samantha Markle is having a "fantastic" time in London, despite being a social pariah.
The 53-year-old aspiring author visited Buckingham Palace yesterday in the hopes of possibly reconnecting with her estranged half-sister, Meghan Markle (who actually resides miles away at Kensington Palace with Prince Harry). Samantha appeared on Channel 5 Monday, where—without acknowledging the irony—Jeremy Irvine criticized her for talking about Meghan on TV.
"I've always wanted to see London, but really I wanted to make the trip and sort of speak the wishes and thoughts and sentiments of my father, and hopefully get a message to my sister," Samantha said of her intentions. "Things aren't really what they seem. There's so much misperception. Hopefully we could clear up record and move forward with peaceful resolve."
Should Meghan discover she is in town, Samantha said, "I was hoping maybe we would have the chance to speak—that she would know I was here. But I don't think that's going to happen." If she were to get the chance to speak to the Duchess of Sussex, Samantha said she would tell her half-sibling it's "water under the bridge" and recognize their issues spiraled "out of control."
So, what's Samantha's biggest grievance against the former Suits star?
"I think everybody was hurt at not being included or invited to the wedding," she said. "But I felt as though it could have all been nipped in the bud had everyone been included and we all agreed to move forward with positive resolve, and the hurt feelings wouldn't have snowballed." Addressing her sister directly, she said, "Believe it or not, it doesn't mean we love you any less."
Samantha then apologized to Meghan, saying, "I wish things could be different."
According to Samantha, the "media madness has been quite overwhelming" ever since her half-sister began dating British royalty. Arguing their father Thomas Markle's has been especially mistreated, Samantha said, "It's been quite hurtful to our family; I can't imagine how hurtful it's been to my sister. So much of our reality has been twisted, is unknown—and it's unfortunate."
At one point, Jeremy pressed Samantha about Thomas' staged photo-ops leading up to the royal wedding in May. She insisted he didn't earn "very much" money from the paparazzi pictures, and she reiterated she had orchestrated the set-ups to protect his public image. "The logic behind that, really, is that I became so tired of him being purposely photographed in such a terrible way, in a disparaging way," she said. Regarding the notion that Thomas was "cashing in" on Meghan's sudden fame, she said, "He was turning down $50,000 interviews—so clearly, money was not the goal. And the small amount of money that he received—1,500 Pounds—the photographers made the money, not my father." While Samantha regrets how the paparazzi made their father "look like a horrible slob," she didn't know what else to do. "Because I love him, I said, 'You cannot allow yourself to be seen like this as a representation of who you are.'"
Unfortunately, Thomas was unable to walk Meghan down the aisle, as he'd recently suffered a heart attack. "He really wanted to be there. He had a speech planned. He was really looking forward to it. The doctors finally said, 'You can't ignore this.' He was literally working on his speech up to the last minute," Samantha said, adding he'd "wanted to be tough and brave it."
JONATHAN BRADY/AFP/Getty Image
But Jeremy was dubious of Samantha's motivations. "You have insulted Meghan so much, including blaming her for her father's death while he's still alive," the host pointed out. "She would be well advised to pull up the drawbridge on the royal castles, wouldn't she, Samantha?"
A seemingly unfazed Samantha said she viewed the situation differently.
"I wonder how you would feel. Is it more insulting that people would respond to feeling disregarded and feeling ignored or is best that everyone just continues saying nothing?" she asked. "In the beginning, when we spoke publicly, I thought we were being openhearted and even favorable. That fell on deaf ears, and the media turned it into something that it was not."
Defending the media, Jeremy continued, "It's consistently rude, isn't it, your public messaging?" Samantha argued she felt protective of Thomas, as "he was being purposely ignored." And so, Jeremy asked her to help him "understand" how alienating Meghan would help. "We were hoping that private channels would be used," she said. "And when they failed, we went public."
Contrary to reports, Samantha said no one from the palace ever asked her to stop talking, and she maintained she was "lashing out more at the media" than her sister. The main thing she wanted to tell Meghan was, "You don't isolate family. You are a humanitarian." With people making a mockery out of their family, she wanted to put a stop to it. "Perhaps I was frustrated."
When Jeremy repeatedly asked Samantha about her insulting tweets directed at Harry and Meghan, she downplayed them each time, saying, "I'm a bit of a quick wit." She did apologize for calling Meghan "The Duch-ASS," saying, "I worked in broadcasting and radio for a while, and I have always been a bit boisterous. But I think I said that at a point which seemed inescapable."
As for why Meghan hasn't reached out to her ine years, Samantha surmised, "I think that perhaps she was hurt. I felt like she should know better than to believe tabloids. But I think, quite frankly, she probably believed what she was seeing as well. I guess there's also protocol that you say anything and I think that snowballed into a lot of hurt feelings on everyone's part."
Regardless, Samantha said, "I'm hoping that we can have a happy ending to the story."
Samantha, who acknowledged that Meghan has no reason to trust her anymore, went on to praise Harry, saying, "He's such a gentleman and so savvy. I would say she's found her prince."
"She's in very good hands," Samantha added, "so I couldn't ask for more."
Samantha added it's "strange" whenever she's accused of being jealous of Meghan. "I hear that, and it doesn't really make sense. I'm so much older than she is. I had my opportunities. I made my choices," she said. "And you love your siblings. You want them to do well." As for their drama, "We were a television family, so when people say it seems larger than life—no. Because at the end of the day, people are people, and that's the way I've always seen it. As long as she's happy, then that's what we wanted. All of the bells and whistles and the royal status, with all due respect, is wonderful, but you want people to be happy. Simply. That's what we looked at."
Samantha also hopes Meghan will reconcile with their 74-year-old father before it's too late. "All things considered, I think our days are always numbered," she said. "His perhaps more so."