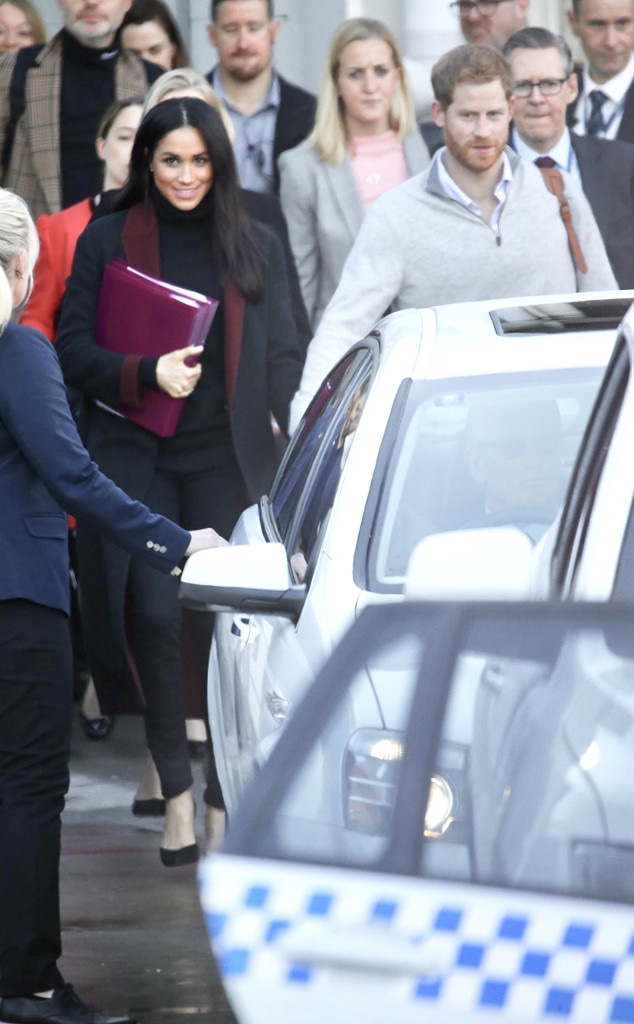 Backgrid
Royal baby alert: Meghan Markle and Prince Harry are expecting their first child together!
Kensington Palace announced the news on Monday morning, hours after the Duke and Duchess of Sussex landed in Australia for their first royal tour as a married couple.
"Their Royal Highnesses The Duke and Duchess of Sussex are very pleased to announce that The Duchess of Sussex is expecting a baby in the Spring of 2019," the palace said in a statement on Instagram. "Their Royal Highnesses have appreciated all of the support they have received from people around the world since their wedding in May and are delighted to be able to share this happy news with the public."
Meghan, 37, has in recent weeks sparked pregnancy rumors, which were fueled further when she wore a navy Givenchy coat fastened loosely as she accompanied Harry, 34, to his cousin Princess Eugenie's wedding to Jack Brooksbank on Friday.
The baby news comes five months after the duke and duchess tied the knot had their own royal wedding at the same venue, St. George's Chapel at Windsor Castle, in front of Queen Elizabeth II, Prince Philip, Prince William, Kate Middleton and Prince Charles, who helped walk Meghan down the aisle after her father, Thomas Markle, was unable to attend. Meghan stunned in a Clare Waight Keller for Givenchy dress and Queen Mary's diamond bandeau tiara (on loan from Queen Elizabeth II) at the ceremony, which was also attended by her mom, Doria Ragland, as well as celeb guests Oprah Winfrey, Priyanka Chopra, Victoria Beckham, David Beckham, George Clooney and Amal Clooney. Meghan's former Suits co-stars were also in attendance for the royal nuptials.
Meghan and Harry, who started their romance in 2016, announced their engagement to the world just last year in Nov. 2017. Following the announcement and an appearance before photographers at Kensington Palace, Harry and Meghan sat down for an interview and discussed everything from their engagement to the ring, which includes stones that belonged to Harry's late mom, Princess Diana.
When asked what it meant to have stones that belonged to Princess Diana included in her engagement ring, Meghan shared, "I think everything about Harry's thoughtfulness is - and the inclusion of that and obviously not being able to meet his mom it's so important to me to - to know that she's a part of this with us."
She continued, "And I think in being able to meet his aunts and - and also like Julia and just different people who were so important to his mom, I'm able to, in some way, know a part of her through them and of course through him.  And it's - it's incredibly special. And you know to be able to have this which sort of links where you come from and Botswana which is important to us and it's - it's perfect."
Harry then shared that his mom and Meghan would've been "best friends."
"Oh they'd be thick as thieves, without question, I think she would be over the moon, jumping up and down, you know so excited for me, but then, as I said, would have probably been best friends - best friends with Meghan," he said. "So no it's - you know it is days like - days like today when - when I really miss having her around and miss being able to share the happy news. But you know with the ring and with everything else that's going on I'm sure she's…"
"...she's with us," Markle said.
"I'm sure she's with us yeah, you know, jumping up and down somewhere else," Harry shared.
Geoff Pugh/The Telegraph/PA Wire
Ahead of the royal wedding, a statement from the Communications Secretary to Prince Harry was released, which stated that the royal was "keen to involve his mother's family in his wedding."
"All three siblings of Diana, Princess of Wales will be in attendance and Lady Jane Fellowes will give the reading," the statement read. "Prince Harry and Ms. Markle both feel honoured that Lady Jane will be representing her family and helping to celebrate the memory of the late Princess on the wedding day."
All of Diana's siblings were in attendance at the wedding, where Lady Jane Fellowes gave her reading. Harry and Meghan also remembered his mother with the bridal bouquet. For the bouquet, the couple chose Diana's favorite flower, forget-me-nots. The Palace also shared that a day before the wedding, Harry hand-picked flowers from their private garden at Kensington Palace for the ceremony.
Right after the wedding, Meghan hit the ground running with her new royal duties, making her royal debut just days after the ceremony.
In August, Meghan and Harry took a step back from the public eye and enjoyed some private time together. The couple returned the spotlight at the end of the month to attend a special gala performance of the Broadway musical Hamilton at the Victoria Palace Theatre in London. For that event, Meghan wore a $595 black Judith & Charles tuxedo mini dress along with matching heels.
Weeks later, Meghan hosted her first event at Kensington Palace with Harry and her mom Doria Ragland by her side. The event honored the launch of the cookbook Together, which features recipes from the Hubb Community Kitchen in West London. Meghan also delivered a speech in front of attendees about the cookbook and what it means to her.
Watch:
Meghan Markle Gives a Speech While Prince Harry Looks On
"Working on this project for the past nine months has been a tremendous labor of love," she said. "I had just recently moved to London and I felt so immediately embraced by the women in the kitchen, your warmth, your kindness and also to be able to be in the city and to see in this one small room how multicultural it was. On a personal level, I feel so proud to live in a city that can have so much diversity. It's 12 countries represented in this one group of women—it's pretty outstanding."
In late September, Meghan and Harry had a very active visit to Loughborough University for the Coach Core Awards, where they met with this year's 60 graduating apprentices and played netball. For the appearance, Meghan wore a royal blue Oscar de la Renta top paired with black Altuzarra pants and heels. The couple was spotted sharing a laugh together in the gym as they participated in a game with the graduates.
Congratulations to the couple on the exciting baby news!