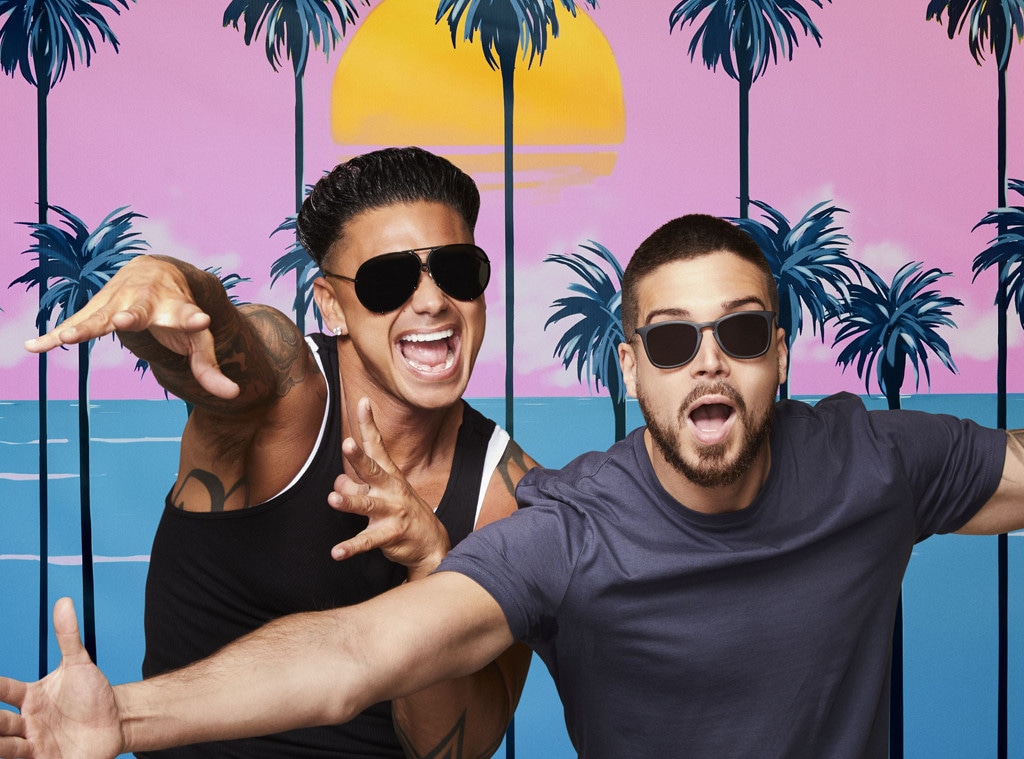 MTV
If there isn't a major OMG moment on a reality show, what's the point, right?
OK, seeing sweet moments between your favorite reality stars is worth tuning in for too, but surprising, or shocking moments really drive the reality series genre of television and we wouldn't have it any other way.
Since the 2018 E! People's Choice Awards are next month (eek, it's so soon!) we are shining some light on the biggest moments from our Reality Show of 2018 finalists including some romantic moments, some crazy-insane fights and of course a few pranks.
With Jersey Shore: Family Vacation, Queer Eye, Keeping Up With the Kardashians, Vanderpump Rules and Chrisley Knows Best all in the running the OMG moments are big, bold and so much fun!
Check out all of the wildest and most memorable parts of the most-recent seasons of these shows below and make sure you vote for your favorite Reality Show of 2018 ahead of the PCAs this November.
Jersey Shore: Family Vacation:
We are already in season two of Jersey Shore: Family Vacation, which means there are a lot of great moments to choose from, but we're going to stick with season one's highlights. Our favorite moment, or the strangest moment, had to be when the Sammi "Sweetheart" blow-up doll made an appearance. Since the actual reality star didn't come to Miami the gang had a replacement version of her and it was so bizarre.
When it came to the drama of the first season of this MTV revival show Angelina Pivarnick's return definitely took the cake. After leaving the original show and making enemies with a lot of the cast back in the day, Pivarnick decided to show back up and when she came to the door Mike "The Situation" Sorrentino's face of pure shock was all of us. While it didn't end up being the worst idea for her to show up, it was awkward and totally unexpected. Leave it to the Jersey Shore crew however to bury the beef with a night out on the town and screaming "CABS ARE HERE!"
Queer Eye:
There have technically been two seasons of Queer Eye in 2018, but we're just going to highlight the two best moments from season two, because it's what we're currently still talking about. The biggest jaw-dropper was that proposal, followed by the transformative transgender episode.
While we cry every episode of Queer Eye, we couldn't control our emotions at all when William Mahnken from season one of the series proposed to his love Shannan Eller this season. It was so much love and just so sweet. Plus, we didn't see it coming!
Our second favorite moment was definitely Skyler's entire episode. He was the first transgender makeover on the show and fans actually got to see his surgery and his face when he realized he was no longer a woman. It was an emotional roller coaster and something we were in awe of while watching.
Keeping Up With the Kardashians:
Can you believe there has been 15 seasons of Keeping Up With the Kardashians? That's wild! Throughout the series there have been a lot of crazy moments and this season has definitely lived up to the crazy level we're all used to. The top two moments so far this season have to be when Kim Kardashian West and Kourtney Kardashian had their massive fight and of course when Kim tried to be a mortician.
Early on this season it was clear that Kim and Kourt were not going to agree on a lot of things, but we never thought it would get as bad as it did. After Kourtney said she would not stay late at the family Christmas card shoot that Kim had been planning, Kim yelled at her big sister and said she was "the least exciting to look at." That resulted in Kourt storming out, calling her later to yell and eventually missing Kim's baby shower. It was so intense!
The second OMG moment this season was when Kim thought it would be fun to learn how to embalm a person, because apparently she thinks morticians are cool. It was so creepy, and freaky and yet, we couldn't help but laugh at the whole scene.
Vanderpump Rules:
Oh, the Jax of it all! Season six of Vanderpump Rules had a lot of explosive moments and the top two obviously included Jax Taylor. One of the craziest moments of the season was when Taylor cheats on his girlfriend Brittany Cartwright then he is the one who actually breaks up with her! Let's recap: he cheats on her, tells her about it and she tries to work it out and then he breaks up with her. It was so shocking.
Another surprising moment, or should we say SURprising, was when Taylor totally lost it at work. He went crazy towards the end of the season and told everyone to "f**k off" including his boss Lisa Vanderpump while there were people dining in the restaurant and the staff was all watching. Again, Taylor clearly had a lot going on this season.
Chrisley Knows Best:
Oh Todd Chrisley, how we love you so! Season six of the USA Network series had a lot of hilarious moments, but we're only going to highlight two of them. The best of them all might've been when Chase Chrisley brought home a stripper to meet the family. They hinted at her career as the family tried to remain calm and all Julie Chrisley could do was offer everyone more hot cocoa and toppings and wow, just wow.
Our runner-up would have to be that epic spray-tan fail involving Nanny Faye. When Savannah Chrisley wants to learn how to become a spray tan artist, she tests out her skills on Nanny Faye and the result is a giant orange mistake. Of course Grayson Chrisley perfectly sums up her appearance saying, "Nanny, you look like a toaster strudel!" It's funny, because it's true.
Now that you've relived all the hilarious, surprising and over-the-top moments from the PCAs finalists for Reality Show of 2018 make sure to vote for the show you think deserves a PCAs trophy come November!
Voting ends on Friday, Oct. 19 so get to it.