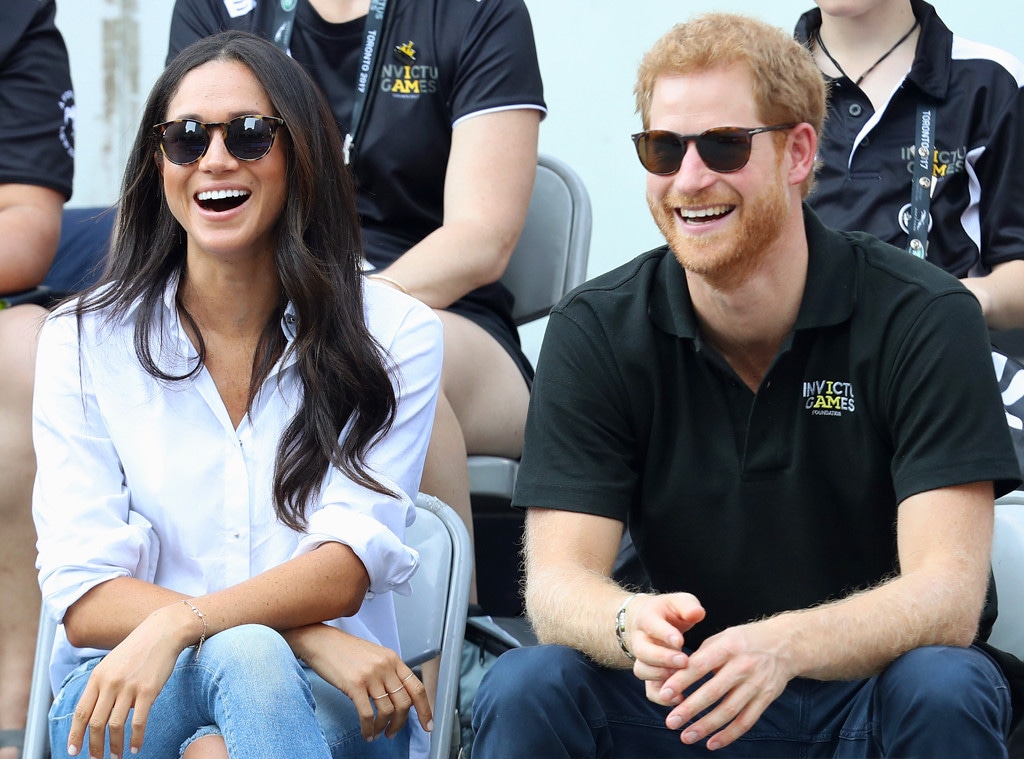 Chris Jackson/Getty Images for the Invictus Games Foundation
A royal wedding is on its way again. 
Prince Harry is engaged to Meghan Markle, Clarence House announced Monday. The 33-year-old royal asked the 36-year-old American actress to marry him a year and a half after they started secretly dating. They became engaged in London earlier this month.
Prince Harry has informed Queen Elizabeth II and other close members of the royal family, and he asked Meghan's parents' permission before he proposed. The couple's wedding will take place in spring 2018.; further details will be announced in due course.
The couple will appear for a photo call at Kensington Palace Monday afternoon. They will also take part in a broadcast interview to air that evening on the BBC.
After their wedding, the couple will live in Nottingham Cottage at Kensington Palace.
While sparks between the Prince of Wales and the Suits star initially flew under the radar, it wasn't long before their secret romance made headlines in early November 2016. 
However, Prince Harry didn't take kindly to the international press' sudden and incessant "harassment" of his girlfriend and came to her defense by way of an official statement from Kensington Palace.
"Prince Harry is worried about Ms. Markle's safety and is deeply disappointed that he has not been able to protect her," the palace said. "It is not right that a few months into a relationship with him that Ms. Markle should be subjected to such a storm."
"He knows commentators will say this is 'the price she has to pay' and that 'this is all part of the game'. He strongly disagrees," the statement continued. "This is not a game—it is her life and his."
During their first joint-interview with the BBC on Monday, the couple opened up about media scrutiny and how Meghan specifically adjusted to the changes. 
"I think I can very safely say, as naïve as it sounds now, having gone through this learning curve in the past year and a half, I did not have any understanding of just what it would be like. I don't think either of us did," Meghan said. Turning to his fiancée, Harry added, "I tried to warn you as much as possible, but I think both of us were totally surprised by the reaction [to our relationship]."
As a source predicted early on in November, a speedy engagement was not out of character for the prince.
"It wouldn't surprise me if he's already thinking about engagement just because that's where his head goes," the source told E! News early on in the relationship. "This is totally Harry. The problem with Harry is when he falls, he falls hard. He goes in big time."
While the American star and the British royal seemed like an unlikely pair on paper, their shared passions for foreign relations, activism and public service offered common ground for their romance to stand on. As the world learned about the couple, they had already become "serious." "Meghan would say it's serious too, both of them do think that way," a source said. 
According to another insider, Harry is the happiest he's been in a while.
"He's happier than he's been for many years," a source close to the Prince shared with the Sunday Express. "He's in a very relaxed period of his life and Meghan has come along at the right time. They are taking each week as it comes and just enjoying each other's company but it's fair to say that they love seeing each other and there's a definite chemistry between them."
While they were separated by an ocean and time zone, the royal redhead and American star made it a point to visit each other as frequently as their packed schedules allowed. Before Thanksgiving 2016, Markle reportedly headed to Kensington Palace's Nottingham Cottage to stay with her beau and, after the holiday, the prince wrapped up a tour of the Caribbean with a quick trip to Toronto to see his girlfriend.  
"Harry has been traveling and wanted to make time to see Meghan," a source told E! News at the time. "They wanted their time together to be private." A week later, the two were spotted buying their first Christmas tree together back in London. 
It was during that trip that photographers finally captured the first photo of the couple together taking a stroll in London after seeing a play. As a source told The Sun, which first published the images, "They were clearly not afraid to be seen in public together." 
FameFlynetUK/FAMEFLYNET PICTURES
Though they spent Christmas 2016 apart, they rang in 2017 together in London before heading to Norway for a vacation, complete with whale-watching and attempts to see the Northern Lights. Little did the world know, we would be seeing a lot more of Prince Harry and Markle in the new year. By February, they were a touch more public about their romance as they let themselves be photographed while leaving a dinner at Soho House hand in hand. 
Soon, it was time to meet the friends. The royal brought Markle to Jamaica the next month as his plus one for his best friend Tom Inskip's wedding. It was around that time that E! News learned the actress was ready to step away from the Hollywood spotlight. "Even before Harry, she was starting to think about transitioning out of acting," an insider said. "She wants to focus on other worldly endeavors she is passionate about, like her philanthropy." A month later, she shut down her lifestyle website, The Tig.  
"Meghan is going through big changes in her life," a source told E! News of the closure. "The Tig was always just a fun vanity project, but it wasn't her future." Meanwhile, another insider alluded to the fact that Markle was preparing to take on royal life. "She knows that a future with Harry will mean refocusing some of the interests and goals she had before they met, but she is ready for that," the source said. 
As spring was in bloom, Prince Harry tried to secretly visit his girlfriend in April ahead of Easter, but he was caught by photographers carrying a duffel bag by her Toronto home. 
Six months after confirming their romance, they attended their first official public event together—the Audi Polo Challenge in Ascot, England. While the royal competed, Markle watched from the stands and cheered her man on. It was at the event that the two tried to covertly sneak a kiss in the parking lot. However, the peck was captured on camera by photographers, marking their first documented lip-lock. 
The romance seemed to get Pippa Middleton's stamp of approval when the bride-to-be invited the actress to her wedding despite an alleged "no-ring-no-bring" policy. It seems the Duchess of Cambridge's sister knew a thing or two about an upcoming engagement.
 Another person who would likely give a thumbs up to the relationship is Princess Diana. 
Prince Harry's mother lives on through the couple in many ways including Meghan's engagement ring that features diamonds from the late royal family member. 
"I think everything about Harry's thoughtfulness is—and the inclusion of that and obviously not being able to meet his mom it's so important to me to—to know that she's a part of this with us," Meghan shared with BBC. 
When asked if Princess Diana and Meghan would be friends, Prince Harry didn't hesitate with his answer.
"Oh they'd be thick as thieves, without question, I think she would be over the moon, jumping up and down, you know so excited for me, but then, as I said, would have probably been best friends—best friends with Meghan," he said. "So no it's—you know it is days like—days like today when—when I really miss having her around and miss being able to share the happy news. But you know with the ring and with everything else that's going on I'm sure she's…"
In September, Meghan gave fans a treat when she publicly spoke about their quiet relationship to Vanity Fair and professed her love for the royal.
"We're a couple. We're in love," she shared with the publication. "I'm sure there will be a time when we will have to come forward and present ourselves and have stories to tell, but I hope what people will understand is that this is our time. This is for us."
Meghan added, "It's part of what makes it so special, that it's just ours. But we're happy. Personally, I love a great love story."
So do we!
A few weeks later the duo made their first official public appearance together. The royal and Suits star stepped out holding hands as they made their way to the wheelchair tennis game between New Zealand and Australia at the annual Paralympic-style Invictus Games in Toronto.
The lovebirds weren't hiding their affection during the event. The actress was photographed kissing Harry during the games' closing ceremony.
Shortly thereafter, it was widely reported that Prince Harry took his leading lady to Buckingham Palace to meet Queen Elizabeth II in a decidedly informal setting. According to the Daily Mail, Prince Harry "desperately" wanted his grandmother to meet his girlfriend.
Prior to his relationship with Markle, Prince Harry dated Zimbabwean jewelry designer Chelsy Davy on and off for seven years before a two year relationship with British actress and model Cressida Bonas.
Markle was previously married to film producer Trevor Engelson for two years before their divorce in 2013.
As the pair begin wedding planning, Meghan plans to step away from acting to focus on other charity projects. "I don't see it as giving anything up. I just see it as a change," Meghan—who previously revealed the seventh season of Suits would mark her last—explained to the BBC. "It's a new chapter, right? And also, keep in mind, I've been working on [Suits] for seven years. We were very, very fortunate to have that sort of longevity on a series…I've ticked this box, and I feel very proud of the work I've done there, and now it's time to work with [Harry] as a team."
And for those who are already asking about the couple's plans to have children, we have some answers straight from the pair. When asked if they have immediate plans to expand the family, Prince Harry replied, "Not currently. No. I think one step at a time and hopefully we'll start a family in the near future. "Meghan would smile and nodd in agreement.
Congratulations to the happy couple and let the royal wedding countdown begin!