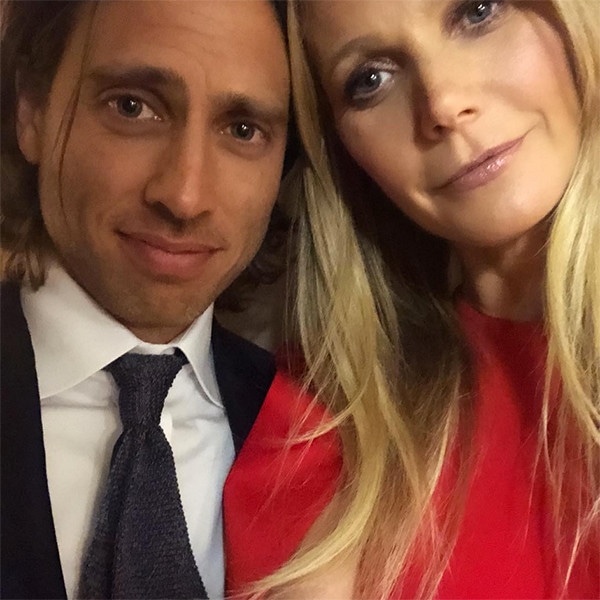 Instagram
Brad Falchuk is the dreamiest man in the world, according to Gwyneth Paltrow.
Well, she thinks he's hotter than Brad Pitt, Ben Affleck and Chris Martin, anyway, good-looking as they may be.
"He's better looking than all of them," she said on The Howard Stern Show in May. "They're all very handsome men. But I'm partial."
And not for a minute did Paltrow wonder if she should have dated more men before getting engaged to Falchuk last year.
"No way, this is my guy," she told Howard Stern with certainty.
The sentiment runs both ways. Wishing Gwyneth a happy birthday last year on Instagram, Falchuk wrote, "This is the most beautiful woman of all time and today is her birthday. We are all so lucky that she came into the world (but no one is luckier than me). Happy Birthday, Love.
"PS - this is pretty much the most #Gwyneth pic I could find - it has pizza, red wine, her phone and that f--king perfect smile."
Knowing he's the romantic sort, we look forward to seeing what the two have planned for today in honor of Paltrow turning 46.
When they do finally tie the knot, it will be the second marriage for both, after much soul-searching on the bride's part.
Paltrow told Stern about a New York Times article she had read titled "Why You Will Marry the Wrong Person," which was about how people marry into the same unresolved issues they have from their childhoods because they, for better or worse, fall for something familiar in the other person.
Paltrow gleaned from the story that, to break the cycle, "you have to take a really cold, hard look at yourself and your patterns and identify the patterns you want to break."
In case you hadn't noticed over the past 10 years, Gwyneth Paltrow has made a business of searching for answers, whether it's for what to eat to minimize inflammation, which crystal will cleanse her aura or how to be a better partner.
The launch of Goop in 2008 and its eventual growth into a lifestyle and wellness behemoth that in addition to a newsletter and website now includes a publishing arm, a podcast, summits and brick-and-mortar boutiques, as well as clothing, beauty and furniture collections, led to Paltrow's self-realization as a businesswoman and tastemaker in addition to actress and mom. 
Running her own burgeoning empire, which included pitching her vision to deep-pocketed venture capitalists, also helped bolster Paltrow's confidence outside of the boardroom.
"I'm actually a pretty good friend, and a good sister and daughter and mother, but I'm at my potentially most vulnerable and f--ked up in the romantic slice of the pie," Paltrow admitted on the Girlboss Radio podcast in August 2017. "So it's taken me a lot of work to get to the place where I have a good romantic relationship."
As far back as 2003, Paltrow was raking herself over the coals, telling ABC News' Diane Sawyer about her breakup with Brad Pitt, "My kind of internal stuff really tripped up that whole relationship. And I felt really responsible, and also like I was the architect of my own misery...I just made a big mess out of it.'' She told Howard Stern in 2015, "It's taken me until 40 to get my head out of my ass. You can't make that decision when you're 22 years old...I wasn't ready, and he was too good for me."
Last October the actress joined the long list of women who accused Harvey Weinstein of sexual harassment—and she initially revealed to the New York Times that Pitt, who was dating her when the incident occurred, confronted Weinstein. He warned the producer to never lay a hand on Gwyneth again, or else.
"I'm so lucky that I spent time with Brad, somebody who was such a good person! Especially when I was, like, such a mess," she lamented to Sawyer.
Paltrow was deeply in love with Chris Martin, the father of her two children, but even that relationship began during a time in her life when she still felt lost. They met after a Coldplay concert, which she attended with friends while still in the throes of grief over her father Bruce Paltrow's death from cancer in 2002.
They welcomed daughter Apple and son Moses together, and lived a lot of the time in London, away from the Hollywood grind, eschewing red carpets and methodically staying out of the spotlight as a marital unit. All seemed just fine, but there started to appear signs that their issues might be more significant than the issues that plague most couples.
"Sometimes it's hard being with someone for a long time," Paltrow told Elle in 2011. "We go through periods that aren't all rosy. I always say, life is long and you never know what's going to happen." She added, "If, God forbid, we were ever not to be together, I respect him so much as the father of my children. Like, I made such a good choice. He's such a good dad." 
In March 2013, she and Martin announced via her Goop site that they had consciously uncoupled.
"I was so disappointed for it not to work out," Paltrow admitted to Stern in May. "I don't come from divorce, all my best friends from high school are still married...on so many levels I felt disappointed."
But life works in mysterious ways.
She wasn't done working on herself when she fell in love with Falchuk—but she had already known him for years, since she first guest-starred on Glee in 2010. 
"He was so great," Paltrow recalled to Stern, noting that she really liked that Falchuk was a producer, like her beloved late dad. The two had a "special friendship," but even after she was separated she couldn't even begin to think about dating again.
When she returned to Glee in 2014, the timing was finally right—not that she remembered every last detail about how they finally turned into more than friends. "When you're going through a divorce and you think about going out with somebody, it's a weird thing," she recalled. "So I don't think it's the same as being 23 and running into someone at a coffee shop. It's just different. You have kids, you have divorce—it's just a lot of stuff."
So they took it slowly as far as the public eye went, not entirely hiding from cameras but not posing for them, either. Falchuk, who has two kids, was also recently divorced and in no rush to make a splash.
They were first photographed together—walking, not posing—in April 2015 at Robert Downey Jr.'s 50th birthday party, but it wasn't until that September that they became Instagram-official.
They kept the engagement on the down-low, too, Falchuk popping the question months before the couple confirmed their betrothal status in the "Sex and Love" issue of Goop magazine, released shortly after New Year's.
"We feel incredibly lucky to have come together at this juncture in our lives, when our collective successes and failures can serve as building blocks for a healthy and happy relationship," they said in a joint statement.
About her plan to remarry after not always being sold on the idea, Paltrow said in the issue, "Personally, at midlife, I have tried to accept how complex romantic love can be. I have decided to give it a go again, not only because I believe I have found the man I was meant to be with, but because I have accepted the soul-stretching, pattern-breaking opportunities that (terrifyingly) are made possible by intimacy."
Before Falchuk, "I had two typical types of relationships," she continued.
"One where I was constantly chasing and trying to win someone over, and one where I was put off by the person's capacity for the relationship—and those relationships were very short-lived," she said. Now, "for the first time, I feel like I'm in an adult relationship that is sometimes very uncomfortable—because he sort of demands a certain level of intimacy and communication that I haven't been held to before."
Brad Pitt was 32 when they started dating, not exactly a child but in Hollywood heartthrob years...awfully young. They got engaged toward the end of 1996 but broke up the following summer. Then Paltrow met Ben Affleck in 1997 before they started filming Shakespeare in Love.
Ron Galella, Ltd./WireImage
"The record is," a blushing young Gwyneth told Britain's GMTV in 1998 while promoting Great Expectations, "I've learned my lesson and I don't really talk about that stuff anymore because, you know...I mean, you know, you think it's harmless, and like, 'oh, you know,' and you can talk about it. But the truth is, it actually I think deleteriously affects the relationship—you know, when you talk about it and let the whole world in."
Asked if she felt all of the attention paid to her and Pitt doomed their relationship, Paltrow admitted being famous is "a strain on any relationship when it's so public. And we had an extra amount of pressure just because for some reason we seem to, I think, fulfill something for people." She added, "It was great, and he's great, he's a lovely guy. And for us, the relationship didn't work out and it's fine, you know what I mean, but for the world it seems to be this huge deal, and it just kind of mystifies me because...they make such a drama out of it, and they print all these things that are untrue." She didn't read the tabloids, she claimed, laughing, but her friends kept her posted. "If it sells their papers and they want to write about it, let them."
Meanwhile, it soon became apparent to her that Ben wasn't Mr. Right. They had broken up by the time Paltrow was dubbed the "Queen of Miramax" when she won her Oscar in 1999 and Shakespeare in Love upset Saving Private Ryan for Best Picture, thanks largely to Weinstein's signaturely aggressive awards season campaigning.
"Ben makes life tough for himself," she told Sawyer about her ex, who at the time had just bombed in Gigli and broken up with Jennifer Lopez. "He's got a lot of complication, and you know, he really is a great guy. So I hope he sorts himself out. I just think we have a very different sort of value system." 
"How'd you know not to marry him?" Stern asked Paltrow in May, referring to Affleck.
"Well," Gwyneth paused, "you know, I think—it's interesting, I think there are certain boyfriends where you are trying to work stuff out, right? Like you're trying to heal certain stuff from your childhood, and he was very much a lesson in that way. Like he—I'm not sure, exactly, what I was trying to heal in that instance, but...he was, you know, it was specific."
Not exactly the stuff dreams of forever are made of.
She thought she had found her guy in Chris Martin, and when that started to unravel, it was difficult to accept. 
"It was very challenging for me in terms of having to reassess what [getting divorced] said to me about me, these ideas that I had about that kind of failure, and how I could process through it and ultimately really embed myself with myself—and my real self couldn't be married," Paltrow explained in 2015 at the inaugural Pearl xChange event for Oprah Winfrey's OWN.
"It was extremely challenging and not at all how I thought it would turn out," she continued. "Luckily my ex-husband is an incredibly good ex-husband, and he's a great dad and he was able to do it with me in a really collaborative way, and there's a whole piece of it that I ended up learning an amazing amount from. But it was that real acceptance that 'this isn't going to work out the way I had hoped, and what does that mean about who I am?'"
She told Stern in May that she definitely felt that it was "very hard to have two famous people" in a relationship, "but I wouldn't change anything. I have the two greatest children of all time."
Dating Falchuk, who isn't (or wasn't) particularly famous despite having a hand in some of the hottest shows of the 21st century so far, was "the greatest." 
The media haven't relented when it comes to interest in what Paltrow is up to personally, but she has long since capitalized on that curiosity, turning the questions about what she's doing, where she's going, who she's spending time with, what she's eating, how she's staying fit and what she's wearing into a $250 million business. 
After walking no red carpets hand-in-hand with Martin over the course of their relationship, posing with Falchuk for the cover of Goop Magazine really marked the beginning of a whole new chapter for Paltrow. (Not that they're going nuts—she did not accompany Falchuk to the Emmys this month, where his and Ryan Murphy's American Crime Story: The Assassination of Gianni Versace won three awards. She did, however, congratulate him as soon as he got home.)
As she explained to Stern, they're on the same page about all the important things: they value each other's independence, neither wants more kids, and they get along great with each other's families. As for their respective bank accounts, Howard being very interested in how they planned to combine finances (or not) once they married, Paltrow said, "I think we're just going to try and do it in our own way."
And they may be getting married any day now. 
"I think that there's something really beautiful about marriage," Paltrow told Stern, noting that they hoped to tie the knot this year, but they were still working on the date. "And I think that Brad is somebody who is extremely—you know, he's really intelligent and he's very emotionally intelligent. I think he's a really good person to try this with, you know, he's very self-aware. He's got a lot of emotional maturity."
Apparently so. Falchuk has even willingly joined the cohesive family unit Martin and Paltrow have strived to maintain since their divorce, having brunch with his fiancée, her ex-husband and their kids over Thanksgiving weekend last year.
Paltrow enjoyed an "extremely relaxed and happy" bachelorette weekend in Los Cabos with Stella McCartney, Cameron Diaz and a few other girlfriends in April. Upon her return, she and Falchuk threw a massive engagement party at the Los Angeles Theatre for family and friends ahead of the small wedding they're planning in the Hamptons.
In June the couple celebrated Father's Day with all of their kids and then took an adults-only vacation to Italy, spending time off the coast of Capri on Valentino co-founder Giancarlo Giammetti's yacht.
"I'm about to get married again," Paltrow opened up to guest Sarah Jessica Parker on The goop Podcast in July. She admitted that she was "a little scared," but "very optimistic."
For the "small and intimate" wedding she and Falchuk are said to be planning, delicious food and great music will be a given, of course, but Paltrow is entrusting the production to a professional. "The wedding planner is handling everything," a source told E! News last month. Paltrow "really just wants to show up and is very relaxed about the whole thing."
At the same time, an insider said in June, "She's extremely excited and can't wait to make it official."