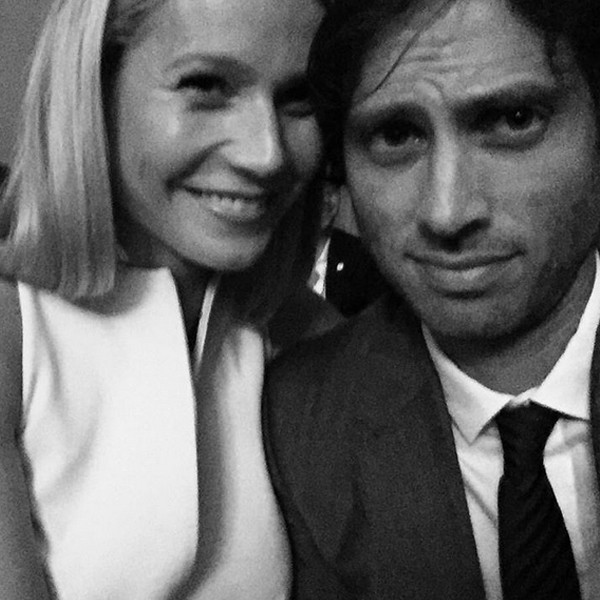 Instagram
It's official! Well, on Instagram, that is. 
While Gwyneth Paltrow and Brad Falchuk have been rumored to be dating for over a year, the pair confirmed their apparent relationship last night when the 44-year-old producer Instagrammed a pic of his "date" at the Scream Queens premiere—and of course, it was none other than the Goop goddess. 
"My date and I #screamqueens," the Glee and American Horror Story co-creator captioned the black and white pic in which he's cozying up to Paltrow. 
Likewise, the 42-year-old actress also posted a black and white shot from the premiere although she opted for a pic sans Falchuk and instead documented her Nick Jonas sighting. 
"My kids might be #jealous about this sighting... #nickjonas #screamqueens," she wrote, giving a nod to Jonas' chart-topping tune. 
Most recently, Paltrow and Falchuk enjoyed a romantic Italian getaway, and while they posted scenic Instagram pics, this is the first time they've let fans in on their relationship.  
The Oscar winner and the television creator began dating months after Paltrow's split with husband Chris Martin. The two announced their separation after 10 years of marriage (and coined the term "Conscious Uncoupling") in March 2014. 
Since their breakup, the two have remained incredibly amicable and have successfully co-parented their two children, Apple, 11, and Moses, 9 (Paltrow formally filed for divorce in April 2015).  
Pablo/Ink/FAMEFLYNET PICTURES
Martin, meanwhile, was most recently romantically linked to Jennifer Lawrence although E! News learned their most recent split in late August. 
In July, Paltrow opened up about co-parenting with her ex and admitted the process has "been hard. 
"It's definitely imperfect but it gets easier with time and you know, we're really good friends," the Iron Man stunner said. "I like him. He's great. He's a great dad and so, I feel lucky that we both, along the way, have been able to really put down our own stuff while we're together with the family and that we make it a priority to be together so that the transition for the children wasn't, you know, as brutal as it could be."
Related:
Why Gwyneth Paltrow Loves Jay Z And Beyonce