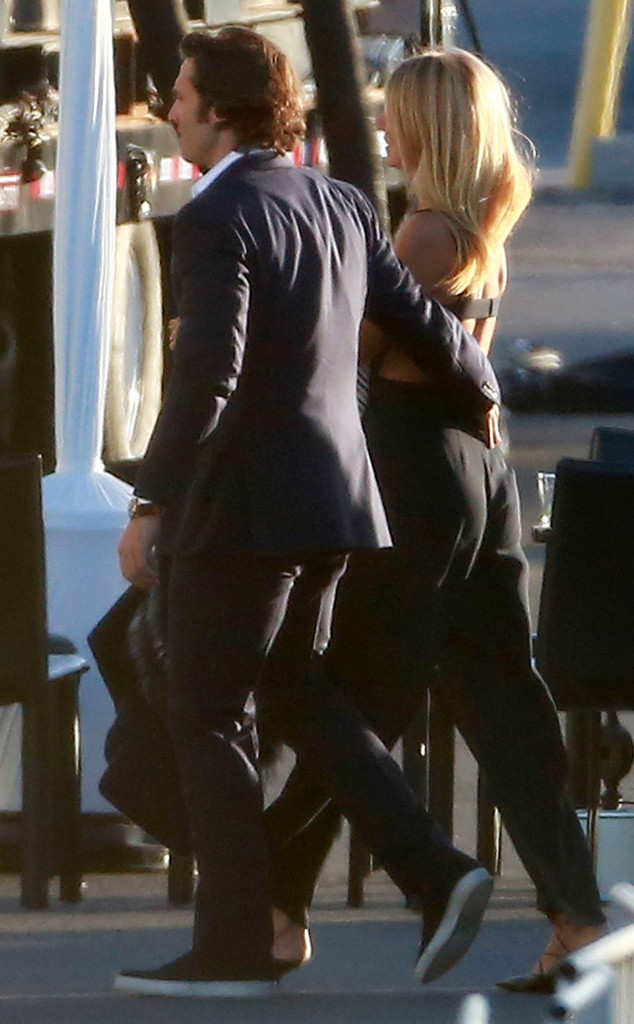 Dmac/CPR/FAMEFLYNET PICTURES
Well, this certainly shouldn't help those dating rumors.
Gwyneth Paltrow was spotted arriving at Iron Man co-star and pal Robert Downey Jr.'s huge 50th birthday party held at Barker Hangar at the Santa Monica Airport on Saturday evening, and although the blond beauty was stunning in a black cut-out jumpsuit, it was her arm candy that raised more eyebrows.
Walking in beside Paltrow with his arm around her waist was Glee co-creator Brad Falchuk, who has been at the center of romance speculation with the award-winning actress since the summer.
The duo seemed extra cozy as they arrived together in a white Range Rover and carried a big wrapped gift for the famous birthday boy.
The two celebs were among a star-studded crowd for RDJ's bash, including Jennifer Aniston and Justin Theroux, Orlando Bloom, Reese Witherspoon, Jack Osbourne, Katie Holmes, Jason Bateman, Gwen Stefani and Gavin Rossdale, Tobey Maguire, Edward Norton and Jeremy Renner.
The man of the night arrived with his wife Susan Downey who helped him plan the party, which catered to over 200 of the actor's nearest and dearest.
An insider tells E! News that everyone had to be checked in to the party and many celebs were waiting in line together. Jennifer and Justin were hanging out with Bloom and Bateman, chatting and laughing while standing outside and waiting to go in. Reese was also spotted talking to Jack Osbourne and his pregnant wife Lisa Stelly, while Gwen and Gavin mingled with Joel Silver.
The party, which began at 6 p.m., was held inside the Hangar and the crowd enjoyed some catered food, live music and cocktails until the party began winding down around 10 p.m.
Meanwhile, for those of us who couldn't attend the party (because the invite got lost in the mail or something), RDJ made sure to share a bit of his birthday celebrations on Twitter.