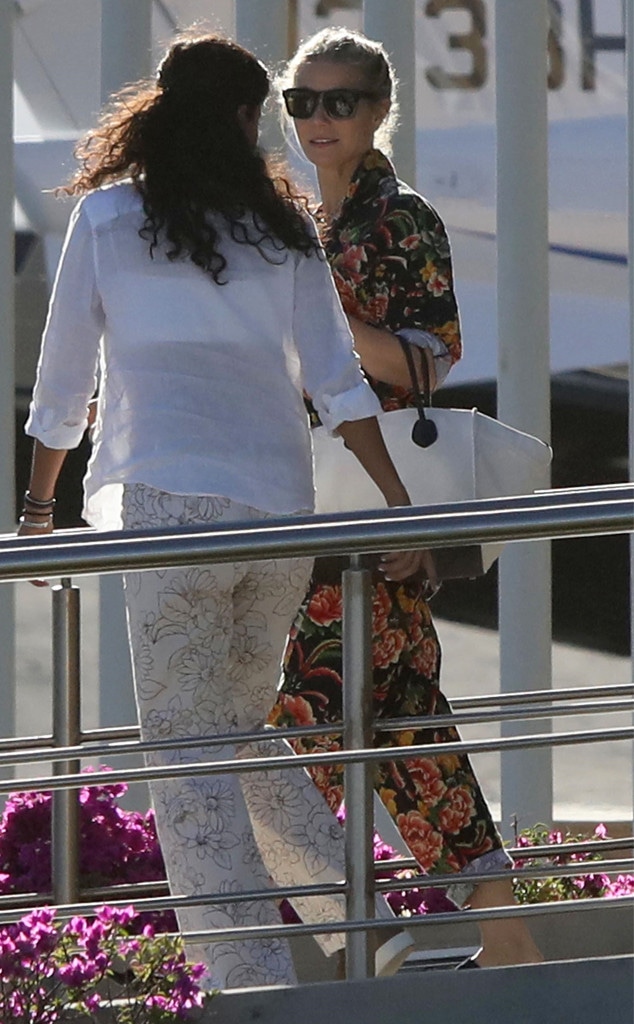 HEM / BACKGRID
Gwyneth Paltrow is ready for one last fling before the ring.
The 45-year-old actress flew down to Mexico this week for her bachelorette party.
An insider told E! News the Goop head took a private jet to Los Cabos on Wednesday with 11 of her girlfriends. The star-studded crew included fashion designer Stella McCartney and several of Paltrow's childhood friends. The source said the celebrity also brought her Goop co-workers and several of her "mom friends." Cameron Diaz was reportedly there, as well.
Paltrow travelled in style by wearing a floral ensemble.
"Right when she got off the jet, Gwyneth looked extremely relaxed and happy," the insider said. "She was speaking Spanish and was excited to be with her friends in Mexico."
Once they arrived, the women were chauffeured 45-minutes out of town to a new resort that hasn't even been opened to the public yet. According to the source, Paltrow has already visited the hotel a few times, including with her fiancé Brad Falchuk. 
So, what's on the itinerary for this fun-filled girls' weekend? 
"They will be spending three days in Cabo before heading back to LA," the source said. "They plan to spend their days at the beach and the spa. They also will go off site for dinner."
E! News reported Paltrow's engagement back in November; however, she didn't confirm the news until January when she released Goop's Sex and Love issue.
"We feel incredibly lucky to have come together at this juncture in our lives, when our collective successes and failures can serve as building blocks for a healthy and happy relationship," Paltrow and Falchuk said in a joint statement Monday (via ABC's Good Morning America).
Paltrow met Falchuk in 2010 during her guest appearance on Glee. Her fiancé co-created and executive produced the show. Rumors started spreading that the two were a couple, and they confirmed their romance in 2015 with a photo on Instagram.
While the two have managed to keep their romance relatively out of the limelight, they have been spotted enjoying the occasional date night and romantic getaway.
Paltrow was previously married to Chris Martin and shares two children—Apple and Moses—with the Coldplay band member.
We can't wait until Paltrow and Falchuk's big day!