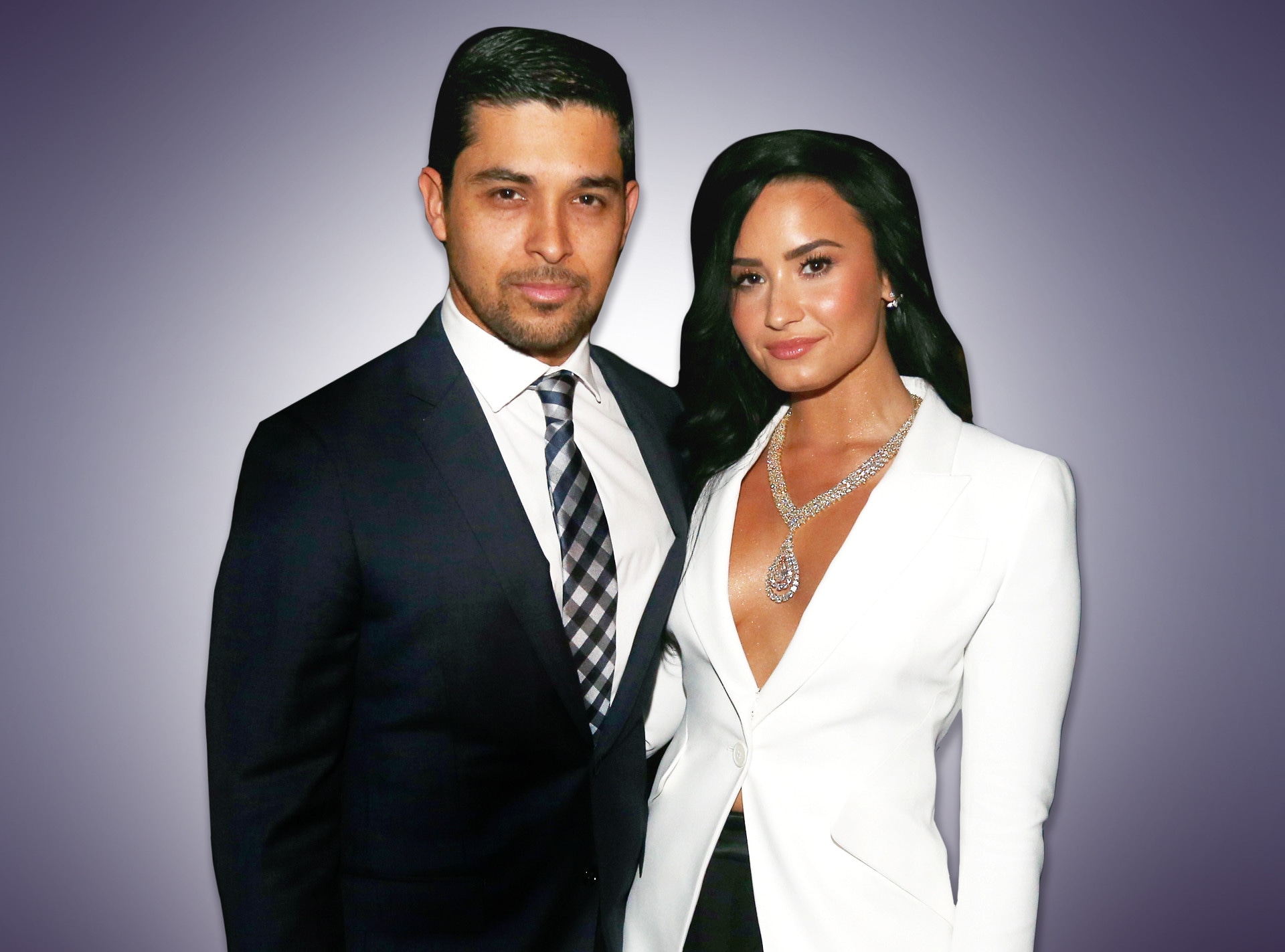 Getty Images/E! Illustration
Time was never quite on Demi Lovato and Wilmer Valderrama's side. 
It was January 2010 when the songstress and the That '70s Show star crossed paths for the first time to shoot a public service announcement about that year's census forms. If you asked Lovato, the material was the last thing on her mind. 
"To be honest, I only did it because I heard it was at his house and I thought he was really cute," she candidly admitted in her documentary, Simply Complicated. Not only was he cute, but the actor made something she didn't think was possible happen—love at first sight. 
"I don't really believe in that, but I believe that it happened," she said of their fateful first meeting. However, age would prove to be their first obstacle. "I was like, 'I love this man and I have to have him,' but I was only 17 and so, he was like, 'Get away from me.'" 
That August, the Grammy nominee turned 18 years old and, as she said in her documentary, they began dating. However, shortly after they were first romantically linked, she checked into a treatment center in late October 2010 as her battles with self-harm and eating disorders were exposed publicly for the first time. 
"I wasn't going to continue to be alive if I continued to treat my body the way I was," she told Ryan Seacrest in a sit-down interview in July 2011. 
However, in Valderrama's eyes, he came into her life at the perfect moment. "At that time, she was going through a really interesting journey and I just happened to be there for that specific time and I was blessed to be there at the right time, at the right place to help out somehow," he also told Seacrest in a radio interview later on in 2015. 
While the Disney star's team continued to keep their lips sealed on the pair's relationship status, just a few months after that E! interview, the rumored couple was spotted smooching in early November 2011 and Lovato subsequently brought Valderrama as her date to former co-star Tiffany Thornton's wedding that same month. 
Whatever gave sources the impression that they had called it quits in early 2012 fizzled by the summer as Lovato celebrated her 20th birthday with him. "Feliz Cumpleaños to my angel @ddlovato, U continue 2 make me proud," Valderrama tweeted at the time. "U are the hero this generation [has] been waiting 4! With & by you always."
By 2014, the couple got comfortable with sharing their romance publicly as they posted social media tributes to each other and simultaneously kept fans in the loop of their ongoing relationship. While they were still somewhat shy about sharing their personal lives in the spotlight, the triple threat was not sheepish about how her beau had helped her through her survive her personal battles. 
"To the funniest, most inspiring, incredible man I know..," she wrote to him on his 34th birthday. "Thank you for helping me get through my darkest moments.. You truly are a light to this world and to my life."
John Shearer/Getty Images
"We connected on a level that I've never connected with anybody before," Lovato recalled of their relationship in her documentary. "He was just my rock—my everything."
The two were so smitten that marriage seemed very much in the cards by 2015. "I am very, very in love with him," she said when asked about a wedding during an interview on a New Zealand radio station. "I think—we will probably wait a little bit longer, but—if he asked tomorrow I would say yes."
After all, they had weathered Lovato's recovery, a significant age gap and years of dating in the spotlight, so it felt as if this pairing could withstand anything. 
"People were definitely judgmental [of our age difference] and even like my parents were kind of like, 'I don't know why someone his age is wanting to date someone so young.' After a while, everyone started to see that what we have is real and incredible and very special and we have been together ever since," she recalled in that radio interview. 
In fact, with every new year of sobriety, Lovato made it clear she was alive because of his presence in her world. "I wish I could put into words how grateful I am for this man right here," she wrote on social media in March 2015. "But my love has grown to a level that words could never possibly express how much this man completes me. He's loved me the way I never thought I deserved to be loved and with this day marking my 3rd year sober... After sharing my ups, putting up with my downs and supporting my recovery... he still never takes credit and I want the world to know how incredible his soul is. I really wouldn't be alive today without him."
The following year, the Grammy nominee quelled Ellen DeGeneres' curiosity when she was asked about the lack of ring on that finger despite rumors to the contrary. "We've been together this long..obviously I'm not going anywhere," Lovato joked back, giving everyone watching the impression that, while Valderrama had yet to pop the question, they were going strong. 
Therefore, it was all the more shocking when they jointly announced their split four months later after nearly six years of dating. 
"It had nothing to do with falling out of love. We decided together that we're just probably better as friends," Lovato said of their breakup in her documentary. "I think my heart's always with Wilmer. I think it was with Wilmer. I think that it is with Wilmer and I think that it wil be because you don't share six years with somebody and not give them a piece of your heart and vice versa. I'm pretty sure that I'm not gonna meet anybody that compares to him."
The star also seemed to attribute their split to personal issues she had to face solo. "The sparks never faded, but there are issues that I haven't conquered yet that I know I won't conquer if I'm relying on somebody else to take care of the loneliness."
Lovato elaborated on the potential conflict in their relationship when she told Glamour in October 2016, "Being sick was always a part of my relationship with him; I always had something wrong with me. I needed to let go of that."
While they remained friends—and had even been spotted out to lunch together as recently as February—their lasting bond was never more apparent than when Valderrama was seen at Cedars-Sinai Medical Center a day after his famous ex was admitted following a drug overdose. "He was somber and quiet and you could tell he was in a very serious mood," a source described to E! News. "He arrived and left by himself."
The NCIS star visited a second time that week and by Saturday, E! News learned that Lovato was resting and getting better with the support of her whole family and Valderrama through her recovery. 
While Lovato expressed concern in her documentary that she would lose him for good after parting ways in 2016, it's very clear that no matter where their lives take them and when, they will find a way back to each other.