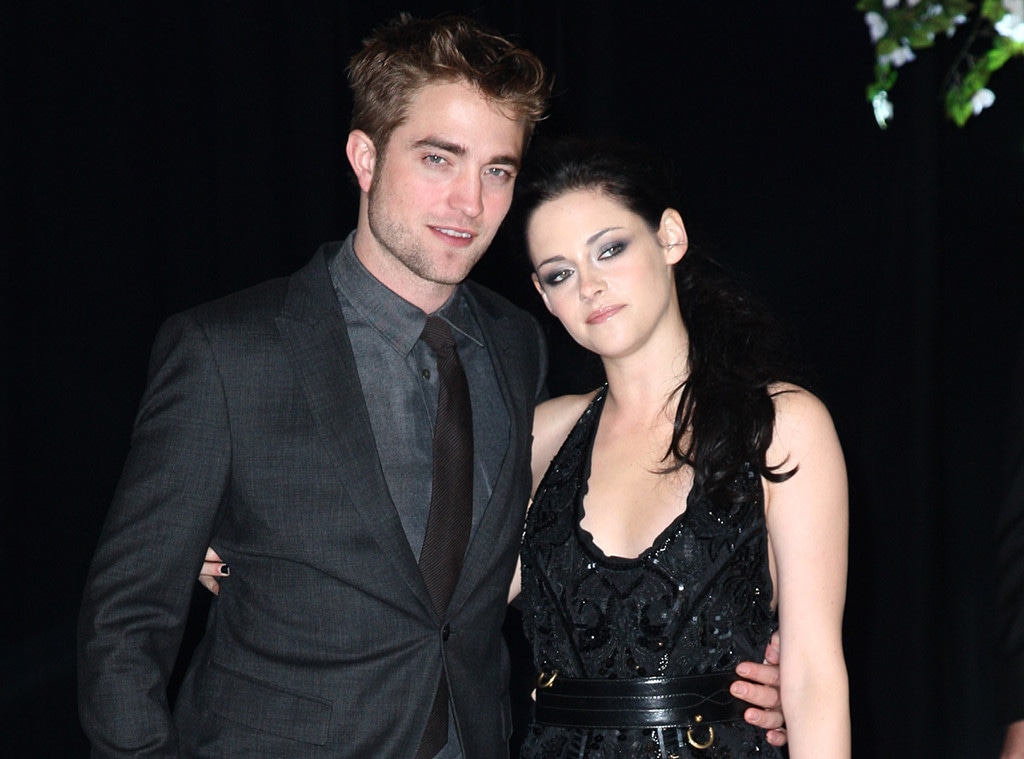 Dave Hogan/Getty Images
Just like that, it was 2012 again. 
Exactly one month ago, we thought we'd seen a unicorn when photos emerged of Robert Pattinson and Kristen Stewart at the same party on the same day at the same time. An eyewitness said the former Twilight co-stars—whose high-profile off-screen romance went up in flames following a cheating scandal in 2012—spent a "few minutes" chatting in the valet area and appeared "friendly" and on "good terms."
"Kristen smoked a cigarette and Rob stood and talked to her quietly," the insider described. "They were both serious, but stood together alone behind a car and exchanged a few words."
While we would love to know what those few words were, we wouldn't exactly bet on a romantic reconciliation given their history and the fact that she is currently dating Stella Maxwell. 
Still, the sighting felt like a deep bite of nostalgia, so much so that we got to thinking which other former staple Hollywood couples we'd love to see together again—if even for just a few words over a cigarette. 
Without further ado:
Globe Photos/ZUMAPRESS.com
Jennifer Aniston & Brad Pitt
Like the iconic A-list pairings that preceded them, the two actors' extremely private real-life romance quickly blossomed into the stuff of Hollywood fairytale and public obsession. While the exes have been split for more than a decade and both gotten remarried in that time, national fascination with the two has never fully subsided. Case in point: when Angelina Jolie filed for divorce from Pitt in September 2016 after two years of marriage and 12 years as a couple. The news was met with unified shock as heads snapped in Aniston's direction. Given the news, was there any chance for a romantic reconciliation?
Well, no. She was married to Justin Theroux—that is until the two unexpectedly announced their split in February after less than three years of marriage and simultaneously set the Internet conspiracy machine back into motion yet again. While an Aniston-Pitt sighting might very well break the Internet if it were to ever happen these days, it sounds like we'll have to keep that reverie at just that. 
As a source told E! News at the time of Aniston's separation from Theroux, "She wishes Brad well, but that was a lifetime ago and they were both very different people back then."
John Shearer/Getty Images
Demi Lovato & Wilmer Valderrama
This is a former couple that continually begs the question: why couldn't they work out? Their June 2016 breakup is still a pang for Lovato, who has admitted to being in love with her ex beau despite their split. 
"I've never loved anybody like I loved Wilmer and I still love him," she said in her 2017 Simply Complicated documentary. "The sparks never faded, but there are issues that I haven't conquered yet that I know I won't conquer if I'm relying on somebody else to take care of the loneliness."
"I think my heart's always with Wilmer. I think it was with Wilmer. I think that it is with Wilmer. I think that it will be because you don't share six years with somebody and not give them a piece of your heart," she elaborated. "I'm pretty sure I'm not going to meet anybody that compares with him."
The two remain friends and have even been spotted out to lunch together as recently as February. While the exes have both gone on to date other people, it's clear they remain in each other's lives no matter what their relationship status is. 
"Their friendship is very important to both of them. If the timing is right, it would not be a surprise if they find their way back into a romantic relationship," a source told E! News back in February. "Demi had some oats to sow and Wilmer has always been supportive. They needed to take a step back to be able to see things a little more clearly. They're in a great place friendship wise and are not going to rule anything out."
Neither are we. 
Jeffrey Mayer/WireImage.com
Jessica Simpson & Nick Lachey
To be clear, this is not a former couple we want to see formally get back together. After all, they are both very much married to other people, have children in said relationships and simply seem to be very happy in their own lives apart. 
In fact, their relationship is so far behind them that Lachey revealed to Andy Cohen in 2013 that he hadn't seen the songstress in about six years. As a reminder, their divorce was finalized in 2006. "It was like another lifetime," he said on Watch What Happens Live. 
However, as an ex-couple that was so deeply engrained in the pop culture zeitgeist of the early 2000s, it feels like a nostalgic hole would be filled in Hollywood if they were ever to run into each other again...if even to just awkwardly cross paths in the chicken—er—tuna aisle at the grocery store. 
Vanessa Hudgens & Zac Efron
It feels like another lifetime ago when these Disney stars were the reigning couple of young Hollywood in the late 2000s. However, after three High School Musical films, plenty of red carpet canoodling and even a music video together, the teen romance had run its course. 
"It's nothing dramatic," one source told E! News at the time of their breakup in late 2010. "There's no third party involved."
"They were together for so long," a second insider said. "It just ran its course."
The two went their separate ways and dated other people with Hudgens going on year seven with beau Austin Butler. She has since admitted on Access Hollywood Live that she "completely lost contact" with Efron, making the possibility of a reunion all the more intriguing. 
While it wouldn't be the start of something new if these two were to cross paths again, it would be what HSM fans have been looking for.