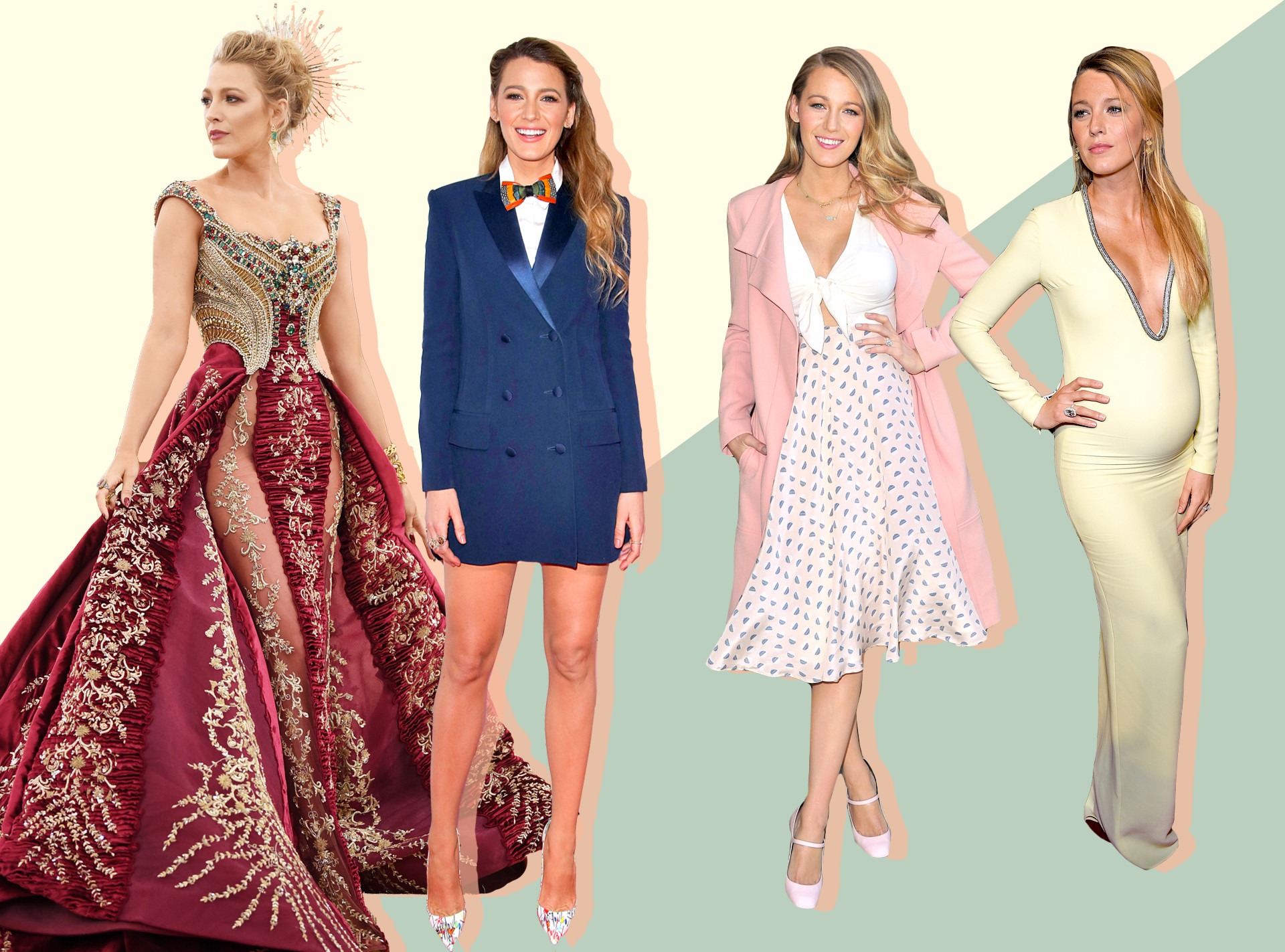 Getty Images/Shutterstock; Melissa Herwitt/E! Illustration
Happy birthday Blake!
Blake Lively might only be 31 years old (today!), but we've been oohing and aahing over her style for what seems like a lifetime. 
After entering the acting game in 1998 (she was in Sandman) and then getting her big break with Sisterhood of the Traveling Pants in 2005, Lively has consistently been a star to watch on red carpets, at award shows and just out and about.
Her fashion sense is impeccable, she can pretty much pull off any look and she is honestly such a style icon. Because of her incredible knack for fashion we've decided to give you the hard task of picking the birthday girl's best look of all time.
There are so many looks to choose from that we've narrowed it down to just 12 to vote on, but let's be honest it still won't be easy.
Whether you can't stop gushing about the Sisterhood of the Traveling Pants star's 2018 Met Gala red Versace gown (it was so regal and so fierce), or her Sonia Rykiel blue tuxedo dress is more your style, we can all agree that Lively is a style stunner.
Take her pretty in pink get-up from 2015 for example. The Rouland Mouret coat paired with the Amour Vert dress was so feminine and so pretty.
Or what about her Gucci yellow gown that she donned at The Angel Ball while pregnant in 2014? It was fitted and flawless and showed off her adorable baby bump at the same time.
Then there's the fact that the Gossip Girl actress frequently rocks red on the carpet.
One of our favorite red looks from Lively was her Monique Lhuillier gown at The Age of Adaline's New York premiere in 2015 and we really wish we had somewhere to wear something this elegant.
Over the years she has also proved that menswear is completely in her fashion wheel house especially when she donned a three-piece Ralph Lauren power suit in 2017.
Of course, who can forget the blonde beauty's Cinderella moment at Cannes Film Festival in 2016?
It was the Vivienne Westwood Couture gown of our childhood (and adult) dreams and we're still gobsmacked by Lively's beauty in the number.
Lively has also shown that less can be more when rocking a black lace sheer Marchesa dress back in 2013 and we're seriously not worthy of this much glam from one person.
When it comes to the A Simple Favor star's street style she is constantly stepping up her game and outshining her fellow actresses and we're really not that surprised. 
One of our favorite on-the-go looks was from one of her visits to Cannes where she donned a red coat with blue flower embellishment over a red and white striped dress for a fun and flirty look while out on the town.
In case you haven't noticed, the 31-year-old actress has a large coat collection and therefore when fall or winter hits it's like a coat fashion show in Lively's life.
Her best coat moment might've been when she stepped out in New York in a tan coat over a black and white plaid dress. We instantly wished we lived in a colder state after seeing this pairing so we could replicate this whole outfit on a regular basis.
Prints, bold colors and fun patterns are all fair game when it comes to Lively's closet and mixing prints just comes with the territory. 
Check out her fish-printed number by John Galliano that she showed off in NYC in 2015 for example. It's ah-mazing and although it's a print explosion the actress and foodie totally pulled it off.
When it comes to her pregnancy style, Lively also rises to the occasion and often makes us forget she is pregnant at all.
For example, when she stepped out in a blue Cushnie Et Ochs fitted dress while pregnant with her second daughter Ines (in 2016) we almost missed the baby bump because the dress itself was so flattering.
When The Shallows star isn't strutting her stuff on the streets of New York City, she is posing on red carpets and making us do numerous double takes in the process.
One of her most memorable red-carpet looks would have to be her red Juan Carlos Obando jumpsuit while appearing at Cannes in 2016. It was both youthful and sophisticated and we bet you didn't know she was also pregnant during this specific festival.
When the Met Gala rolls around every year, Lively is definitely one star we keep an eye on and it's partially due to her glamorous golden Gucci gown that she wore at the 2014 event. She was truly stunning.
Her 2013 gown was a grey-and-black feathered Gucci number that was another showstopper. With so many fabulous Met Gala gowns maybe they should just re-name the event the "Blake Lively Steals the Show Gala," because that's exactly what she does.
Lastly, we cannot get over the time that the California native wore a red, leather Michael Kors coat and red-heart stilettos at Michael Kors' fall-winter 2018 runway show at New York Fashion Week earlier this year.
We were in love with this look and we don't care who knows it. 
Now it's up to you, what is your favorite look of all time from the actress?
Vote now and then show Blake a little birthday love on social media...you know she'll love it!
Blake Lively's Best Looks