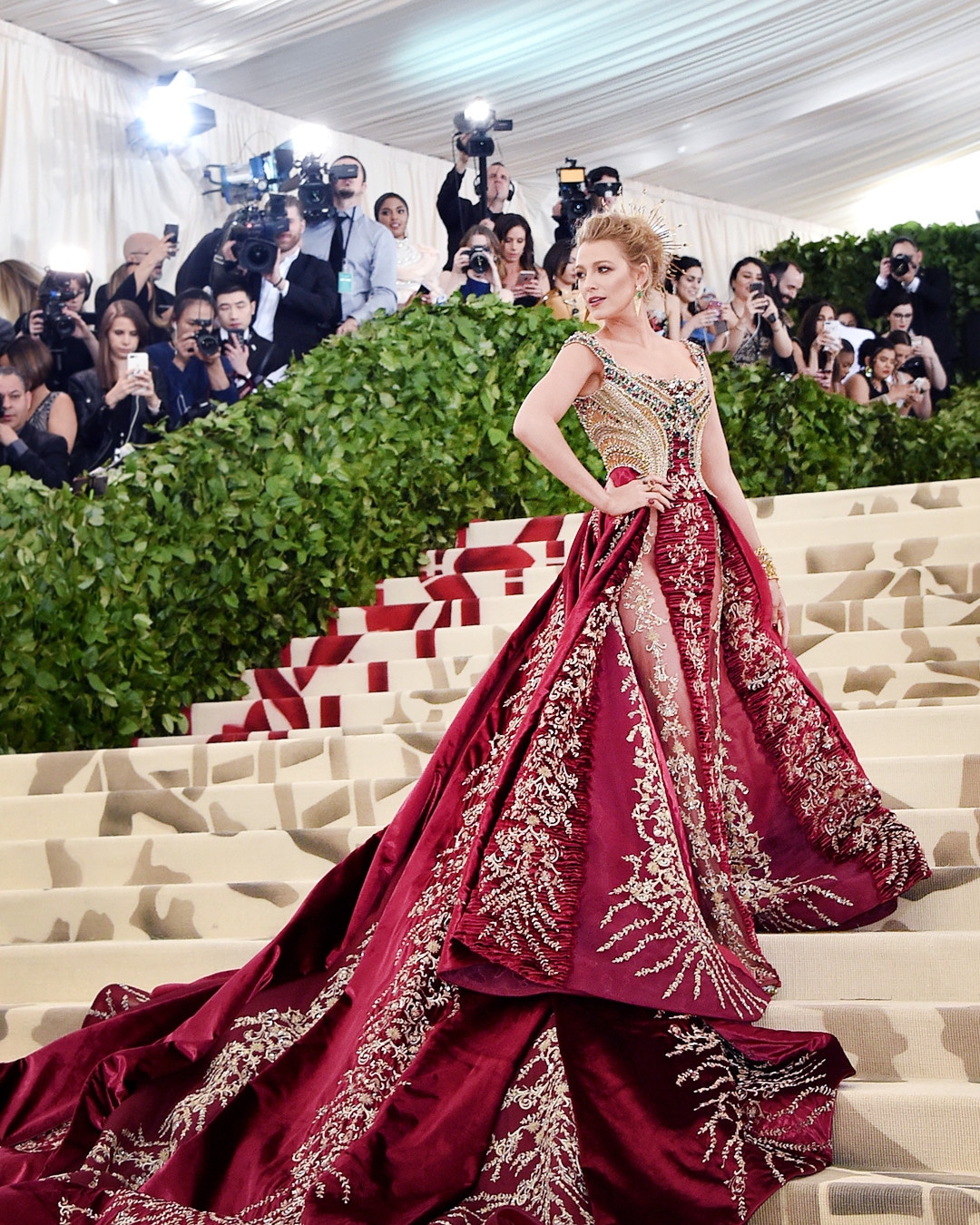 John Shearer/Getty Images
We need a tour guide to fully appreciate Blake Lively's embellished Atelier Versace gown from the 2018 Met Gala.  
Not only did the stunning gown transition into a crimson-colored skirt and dramatic train that could have been the drapings of a 17th century castle, but the bodice looked like a stained glass art piece from a cathedral in old-world Italy. Every ornate detail, from the threaded embroidery to the gold, rope-like weaving, worked together to create a canvas of religious-influenced fashion. 
Blake wore her hair in a voluminous bun, which was accented by a golden, halo-like headpiece, giving her major style saint vibes. The actress paired the spectacular look with Lorraine Schwartz jewels and Christian Louboutin shoes. 
Mike Coppola/MG18/Getty Images for The Met Museum/Vogue
Earlier this month, E! News learned Blake's dress took over 600 hours to create. "This year's may be my favorite dress ever," the actress told Vogue at Barneys pop-up event for Tod's. And now we get why. 
In 2017, the Age of Adeline actress also wore a gilded, beaded Versace gown that transitioned into blue feathers, like a phoenix in flames. Earlier on Monday, she took to Instagram to recapture the moment. "Eternally trying to nail JLo red carpet eyes. This is more like deer who's a big fan of JLo, but currently is caught in headlights, while still trying to stay dedicated to giving those damn eyes. That's what I was going for..." she captioned. 
You're less deer in headlights, more smoldering saint this year, Blake.