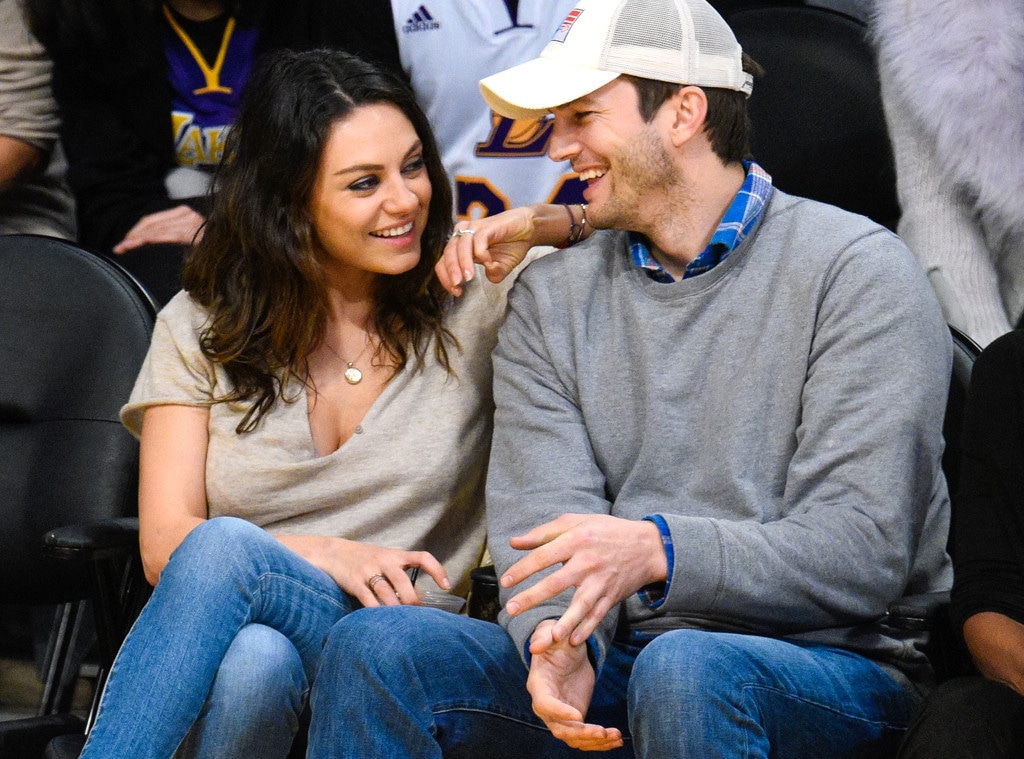 Noel Vasquez/GC Images
There's nothing like being recognized for your work as a role model to foster a bit of reflecting. 
"You know, I'm probably the first guy to get this award who had a deferred judgement for a felony burglary for trying to break into my high school," Ashton Kutcher said while accepting the Robert D. Ray Pillar of Character Award in his native Iowa in 2017. "I'm probably also the first guy to get this award for character who ever got pulled over by a state trooper while tripping on mushrooms—not a proud moment. The trooper didn't know, so we got away with it! I just said I had a headlight out, and I had several headlights out. I'm also probably the first person to get this award for character who had his name splashed across every gossip magazine as an adulterer, like, five years ago." 
In other words, summed up the actor, there's always time to rectify past missteps: "There's somebody in the back that's going, 'So you're saying there's a chance!' And what I'm actually, like, legitimately saying is, there's a chance. Look, it happened!" 
Dude, where's the frat boy? In a way, even Kutcher, marking his 41st birthday today, marvels at the seamless transition from his handsome ditz persona, ruling TV screens as dimwitted Kelso on That '70s Show and as a fun-loving prankster on his gotcha-style reality hit Punk'd, to his life as a devoted father of two and daring venture capitalist with enough cash on hand to funnel $4 million into his charity of choice. 
And that's just one aspect of his decidedly grown-up existence. The onetime Abercrombie & Fitch model—and dedicated wearer of trucker caps—also co-founded an investment fund, Sound Ventures, a digital media company, A Plus, dedicated to promoting more positive journalistic pieces and a nonprofit, Thorn, that helps fight the sexual exploitation of children.
And while you can still catch him on the small screen (his Netflix series The Ranch has been renewed for a fourth season), he now picks projects with one aim in mind. "For me, the difference has become doing things that have some level of social relevance," he explained to former Punk'd partner Dax Shepard on his Armchair Expert podcast, "that have the potential to leave an imprint and change the way people see something or think about something." 
Courtesy of Los Angeles Dodgers
Back when he was a brother in the University of Iowa's Delta Chi chapter his highest goal was to move to Hollywood, he recalled, "and be on the big screen." After landing the role of Kelso his first week of auditioning in 1998 and a string of parts in successful, but less than critically acclaimed, rom-coms, he revised it to winning an Oscar. (Though he jokes that ambition is lofty: "Yeah, good luck with that one, buddy. You're a different kind of actor.") 
On set with a slew of somewhat like-minded and similarly aged costars, including future wife Mila Kunis ("I think we had to both go through a lot in our lives to become the people that we were," she's explained of their delayed coupling, "we would never be together based on the people that we used to be,") he made the most of life in L.A. "I was 20 years old, going out every night, partying and being a kid," he told Men's Health in 2011. "The work was sort of a facilitator for a good time." 
But as hard as he played, he was perhaps working even harder. Two years into his star-making gig, at the ripe old age of 22, he founded his own production company, Katalyst, to develop movies and TV shows. Enter: Punk'd. By getting the best of A-listers such as Justin Timberlake, Britney Spears and Kanye West, he entered a new word into the public vernacular and cemented his position as the fun-loving guy you'd want to have a beer with. But he feared it was a rep he'd never shed. 
Some five years after 2000's Dude, Where's My Car?, "people were still, 'Dude, sweet'-ing me," he explained to Shepard. "I was like, 'Really...can I do something else with my career that's significant?'" The effects of Punk'd were even longer-lasting. "Still, today, people are like, 'Are you punking me?'" he admitted. And no matter how grateful he was for the achievement, "You kind of want to get away from it and put the next thing under the belt because you don't want to be known for the one thing." 
It was his quest for that next thing—leading man status—that inspired his entree into the tech world. After scoring a part in 2005's Elizabethtown, a lack of preparedness got him sacked. (Orlando Bloom, fresh from Lord of the Rings fame, stepped in.) "I was way too cocky and way too arrogant and way too sure that I had already got there," he explained to Shepard. 
Realizing he could no longer rest on his good-looking laurels, he sought out an acting coach and read up on the craft, "because before I usually showed up and put whatever I had in the room and that was enough," he said. "But it also made me double down on other things." An early adopter to Twitter (and the first to collect a million followers), he says he "started finding a bunch of other things that I thought were interesting and started investing in them." 
David Becker/Getty Images
As it turned out, he had quite the eye. His prescient ability to pick winners—"You're investing 100 things so that two work and cover all your losses," he said—led him to sink money into more than 60 brands, including Skype, Uber, Airbnb, Spotify and Warby Parker. And in 2015 he took on another gig managing other people's money when he and Madonna's manager Guy Oseary launched their investment fund, Sound Ventures. "Every single person in our portfolio has our personal phone numbers," he told Forbes of his commitment. "They can call us at any point in time, 24 hours a day." 
The duo have aptly turned millions into a lot more millions, but making the rich richer isn't their sole goal. Dedicated to truly helping promising companies get off the ground, he told the outlet, "If we don't make a dollar, but we change the world in a meaningful way because we solve real problems and we support great people and do our best to help, the returns are going to be the exhaust of that." 
Which brings us to this past May and the $4 million he presented to Ellen DeGeneres on behalf of one of his and Oseary's new tech ventures, Ripple. The money transferring service, he explained on her show, truly cares "about being an ethical company and giving a portion of this platform away to people that are doing good in the world." 
With Kutcher as a guide, they honed in on The Ellen DeGeneres Wildlife Fund and the host's plan to build a sanctuary for mountain gorillas. "You're always thinking about everyone else and we wanted to show you that people are thinking about you," Kutcher noted. "So, on behalf of Ripple, we'd like to give you $4 million."
Of course, for Kutcher, largesse extends beyond writing checks. (Or, in this case, hitting a button that instantly transfers the cash in cryptocurrency.) Nine years ago, he and then-wife Demi Moore quietly founded DNA (renamed Thorn after their split), an international humans rights organization with the grand aim of ending child pornography. "Once I started to gain some level of fame, I was constantly being asked to lend my name to this or that," he explained to W Magazine. "And I was wondering, Is there a single cause that I can really get behind?" 
The answer came to him as he and Moore caught a Dateline special about sex trafficking: "Those Cambodian kids were 7, 8, 9 years old. I started asking around, and people said to me, 'Oh, no, it's happening right here in Los Angeles.'" What's more, he learned, some 70 percent of child sex trafficking in the United States takes place online. "This was a medium I had a lot of experience with," he told the mag, "where I knew a lot of folks who could help." 
Treading on relationships he'd formed with companies such as Google, Microsoft, Amazon and Twitter, he convinced them to create an alliance that builds software and other online tools that help police identify cyberspace criminals. And while he's hesitant to get into details for the most obvious of reasons—"Revealing our tactics would get in the way of our goals,"—he's happy to provide a progress report. 
"Yesterday I was driving from a meeting," Kutcher informed Howard Stern on his radio show last summer, "and I get a text that...the Department of Homeland Security found, like, six kids using our software." 
Long adept at juggling several gigs, Kutcher still has one foot firmly in the world of acting. But these days, he's less eager to sign on for roles as the somewhat hapless protagonist. Following a four-season stint replacing Charlie Sheen on Two and a Half Men ("It was a very, very, very nice payday," he told Stern of pocketing $700,000 per episode) he now accepts parts with an eye towards social mindedness. 
The Ranch, about two cash-strapped brothers trying to keep their homestead alive, was meant to couch crucial issues in a comedy-shaped package. And it was important for the Midwesterner to recognize an audience he doesn't feel is well-represented on TV. Growing up watching the blue-collar characters on Roseanne, he said, "It made me feel like my family wasn't alone in our struggles." 
A handful of seasons in, the series has already tackled topics such as abortion and immigration in an authentic, measured way.
"None of these issues are cut-and-dried and simple," Kutcher noted to Parade. "If it were easy, people would just fix it! What this show gets to do is unpack these issues in a different way—and empower people to laugh while exploring them."
Frazer Harrison/Getty Images for Stagecoach
Even with a multitude of projects, though, Kutcher stands firm on which job is his most important. In a 2017 interview on The Thrive Global Podcast, host Arianna Huffington asked which titles to use by way of introduction. "I'm a dad. That's how I introduce myself," he said. "I am Wyatt and Dimitri's dad. It's my number one gig. Everything else is secondary."
Because Wyatt's October 2014 arrival, followed by her little brother Dimitri 25 months later, forever changed him. "It's unbelievable. It's the greatest thing on earth," he told Conan O'Brien of welcoming Wyatt. "As soon as this child was born I immediately wanted to call my parents and just apologize because I never knew how much they loved me."
A chance encounter with 35-year-old Kunis at the 2012 Golden Globes ("I was like, 'Ohh, he's kind of hot,'" she has said of spying a tall guy in front of her, "and then he turned around and I was like, 'Oh my god, it's Kutch!'") was equally soul-shifting.
At the time, Kutcher, who romanced Brittany Murphy, Nelly Furtado and January Jones before settling down with Moore in 2005, was not far removed from their rough divorce. The split was made public in 2011 not long after Kutcher was splashed across the aforementioned magazines, a 22-year-old administrative assistant detailing their supposed hotel romp and Kutcher's assertion that he was already single. And it led the actor to the most extreme of soul-searching. 
"Right after I got divorced, I went to the mountains for a week by myself," he told Shepard of a jaunt to Big Sky, Montana. "I did no food, no drink—just water and tea." And no technology, whatsoever. "I took all my computers away, my phone, my everything. I was there by myself, so there was no talking. I just had a notepad, a pen and water and tea—for a week," he continued. 
He made the most of his quiet time. "I wrote down every single relationship that I had where I felt like there was some grudge or some anything, regret, anything," Kutcher explained. "And I wrote letters to every single person, and on day seven, I typed them all out and then sent them. I handwrote them all and then typed them out and sent them."
After such a deep dive, he attempted to keep things light with Kunis, herself recently out of an eight-year romance with Macaulay Culkin. They tried to model their dalliance after their respective flicks, No Strings Attached and Friends with Benefits, but before long each realized they had real feelings and soon they were settled into a family-friendly Beverly Hills enclave, watching The Bachelor and planning who would handle nighttime feedings. 
A nursing Kunis took point, but Kutcher insisted on some dirty work of his own. "My husband is an incredibly hands-on dad. When my child was born, I was breastfeeding and he said, 'That's your connection. I want to change every diaper,'" she recalled to Luxury magazine. "When we're in public, if it's a pee-pee diaper, you can change her at the table, but if it's a poo-poo diaper, you don't want to affect the people eating. So he's like, 'Err, I guess I'm going to the ladies' room to do it.'" (We'd imagine a series of awkward encounters at their go-to vegan eatery led Kutcher to launch a Change.org campaign calling on two major retailers, Target and Costco, "to provide universally accessible changing tables in their stores.")
Four-plus years in, he's joked fatherhood is mainly comprised of keeping his kids alive. "You actually hit a point where your job is to keep them from killing themselves," Kutcher quipped of Wyatt on The Ellen DeGeneres Show in 2016. "She tries to kill herself on a regular basis. Like, she doesn't realize that's a cliff and that could be dangerous. She'll just jump off the thing. She don't know yet. You'd think that they would come with instincts around fire and large falls, and they don't. I don't understand how prehistoric man lived. How did they in the jungle not jump off waterfalls and just know?" 
His work only escalated after Dimitri's arrival. "Wyatt thinks the baby is her baby, and at some point I'm going to have to explain to her it's not really her baby," he told Degeneres last year. "I don't know how I'm going to do that. She loves the baby so much. It's like Of Mice and Men. She's like, 'I love you and hold you and squeeze you and name you George.' I'm afraid she's like Lenny, like, 'You're going to squeeze the baby's head off, honey!'"
But his most important responsibility—preparing them for life after they leave their well-appointed Beverly Hills existence—is a role he takes very seriously. Having held a series of odd jobs (janitor, butcher, factory worker) growing up in a middle class family, he won't be giving his kids a free pass. 
"I'm going to take them camping a lot just because I want them to be really resourceful," he told Shepard. It's a skill he wants them to hone, he says, since they won't be receiving sizable trust funds: "We'll end up giving our money away to charity and various things."
Should they fancy a fortune of their own, he has an idea in mind. "If my kids want to start a business and they have a good business plan," he says, "I'll invest in it. So hopefully they'll be motivated to have what they had or some version of what they had." 
After all, Dad's got a good eye for talent.