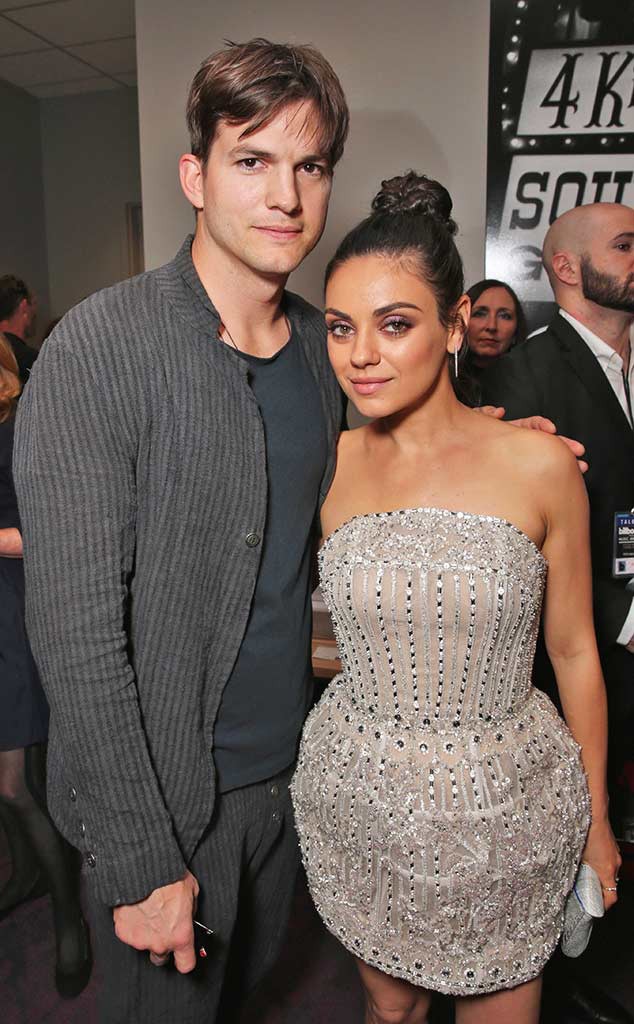 Noel Vasquez/GC Images
Ashton Kutcher and Dax Shepard have a lot to say.
In a recent interview on Shepard's new podcast, Armchair Expert, the 43-year-old actor and former That '70s Show star discussed everything under the sun. From drinking and drugs, to fatherhood, to...robot sex?
"Didn't you hear about this robot? That you can now have sex with a robot," Kutcher asked. "But the question that was at the table over New Year's dinner: Is it cheating when you have sex with a robot, or is that just masturbation?"
"Kristen can have a f--king robot boyfriend, that's so easy for me to answer," Shepard said.
Jason Merritt/Getty Images
After voicing their stances on robot love, Kutcher, who says he was never heavily into drugs, shared some background on the matter.
"When I was in high school and college, I smoked weed some and did mushrooms and tried acid and did some various things that were expansive for me at the time," he revealed. "So, I did a ton of that fun stuff when I was younger. And then when I went to college, I was like, 'I'm done.' I think that I smoked weed like one time when I was in college, and then after I dropped out and moved to Los Angeles."
Kutcher continued, "And so I didn't do drugs. I had entered into a pretty long run of sobriety from drugs, and I didn't really drink that much. If we went out during the weekends, I would drink, but I always kind of had a school night rule. If I had work the next day, I wasn't really going to. And I bent it a couple times here and there, but for the most part I really had a relatively sober living."
And while Kutcher may have tried to maintain a healthy lifestyle, it unfortunately didn't help his thinning hair.
"You've gotten off of Propecia and I just think that's so risky of you," Shepard said to Kutcher, before sharing his own history with hair loss.
"I had heard that there was this doctor that would give you hair as thick as Brad Pitt's, and I was going to this guy and I was doing it for two years and I was like, 'What am I doing?' I think we both went to this doctor."
Kutcher laughed, "I've gone off of anything to retain my hair. I started getting very concerned when I was 25, and that's when I went on the Avodart. And I think like, five years ago I stopped and I did really good for a year, and now it's thinning out."
Despite his receding hairline, Kutcher is embracing the change. "I've actually become comfortable with it. I'm just good with it. I've got kids now."
Watch:
Kristen Bell Thinks Hubby Dax Shepard Is Sexiest When?!
On the topic to fatherhood, Shepard, who has been married to wife Kristen Bell since 2013, joked that he does most of the work.
"I really will say I do fifty-percent of the shit with these kids," he quipped. "I definitely change more than my share of diapers, and I've exceeded what I think my father certainly did. But the one thing that that now has evolved, and I thank [Bell] so much for this, is she now gets up with the kids. Because I'll get up with them, but then I'm up for another forty minutes. She can get up and then come back to sleep, and she's out in thirty seconds. And then we just realized, I just can't do it because I'll be up all night long."
As for Kutcher and wife Mila Kunis' baby schedule, the actor shared some details on how they make it work. 
"We both get up, every morning. In the middle of the night, we flipped it back and forth. Because she was breastfeeding the kids, she did way more than her share, I would say probably 80/20 because she could go and breastfeed them and put them back down when they were little. I mean, now they don't wake up at night, which is good."
Nothing like two dads sharing stories and talking life, am I right?