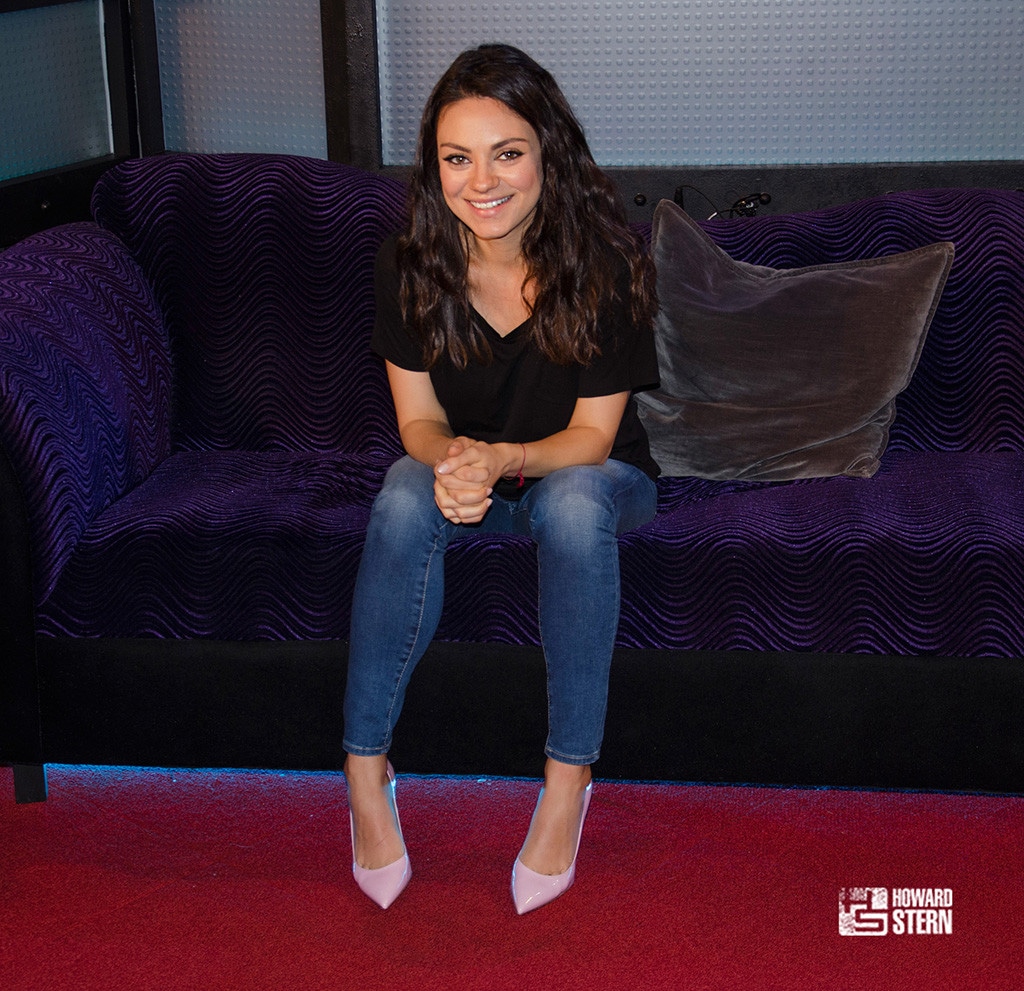 The Howard Stern Show
A year of marriage in the books, a daughter about to turn two and another baby on the way, Mila Kunis is a long time away from her bachelorette days. Still, she can remember the beginnings of her romance with husband Ashton Kutcher like they were just yesterday. 
Newly pregnant, the 32-year-old Golden Globe nominee has been making the press rounds for her latest film, Bad Moms. However, when it came time to sit down with Howard Stern, the conversation shifted to life before babies—when Kunis was barely willing to settle down with a beau. 
"We started dating with the idea we both were never going to get married," she told the radio host of her early relationship with the actor. In fact, she had not even thought of him that way until she crossed paths with him years later.
After That 70s Show wrapped, Kunis and Kutcher kept in touch platonically via our favorite early 2000s communication platform, AOL's AIM. Fresh off his split from former wife Demi Moore, he reunited with the Black Swan star at an awards show, though she laid eyes on him first.
"I see this guy and I see his back and he's really tall," Mila described during the interview. "Then he just turns around and it was literally like if we were in a movie, the music would start playing and the violins would go...I think for the first time ever he took my breath away...I was like f—k, he's good looking."
The stars further aligned when Kutcher invited his former co-star to his housewarming party. However, like any grand Hollywood romance, there was a twist—the actor was planning to set Mila up with one of his friends, though when she arrived to the party with a gal pal, he ditched his plan. 
"Long story short, I didn't leave until the next morning," she candidly concluded, though Kunis said she had wanted to call an Uber and just leave in the early morning. "[It was the] the first time I ever slept over while I was single."
In fact, the actress admitted they had later agreed to "live out" their movies. As a reminder, they happened to star in similar films in 2011—Friends With Benefits and No Strings Attached. Needless to say, their "super private" casual fling blossomed into a lifetime commitment. The couple welcomed their first child, daughter Wyatt Isabelle, in October 2014 and married in July 2015. 
Though they had known each other since Kunis was 15 years old, it took some growing up to realize their happily ever after. "We would never be together based on the people that we used to be."
Watch:
Mila Kunis Spills on Pressure of Motherhood