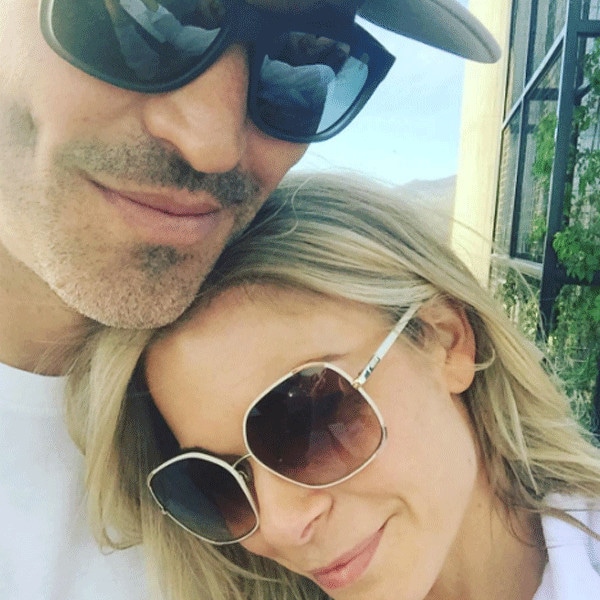 Instagram
Talk about your butterfly effects.
Leann Rimes' affair with Eddie Cibrian changed pop culture as we know it, turning his ex-wife Brandi Glanville into one of the most proudly mischievous Real Housewives and further cementing the set of Lifetime movies as the place people go to meet their future spouses, current spouses be darned.
As far as long-term stability went, Rimes and Cibrian had everything going against them when they first embarked on their clandestine romance, not least of them being the world's vague assurance that he wasn't a particularly good guy. Cibrian had even just played a cheater on Ugly Betty!
But somewhere along the way, after the remorseful interviews had been given, the custody issues hammered out and with the accusations of bad parenting and predictions of future infidelity on the wane...Leann Rimes and Eddie Cibrian just became a regular couple.
The duo just spent Easter in Canada with Cibrian's sons and his parents, LeAnn captioning the cozy tableaux, "It's snowing on Easter!...Happy Easter from the Cibs! Sending you all blessings and LovE...#easter#easter2018 #family #whistler #letitsnow#springbreak #heisrisen #LovE #blessings#happyapril @fswhistler."
Couldn't be a sweeter, cozier scene.
Cibrian and Rimes have been married for almost seven years now, after all, the distance between the present and their scandalous beginnings growing ever longer. Perhaps top-loading their relationship with drama was the secret, making any future obstacles seem deliciously normal in comparison. They even survived having a reality show, so often a bad idea whether it's obvious in the moment or not.
There was talk at one point, about six years ago, that Rimes was hoping to write a book to tell her side of the story, but that fizzled and she tweeted, "So you all know…there's no 'tell all' book about divorce, marriage and 'my side.' I just laugh at [all] of this!"
Instead, she released an album, Ladies and Gentlemen, of mainly covers but also two new songs, including "Crazy Women."
John Shearer/Getty Images
Crazy women, ex-wives and old girlfriends / Keep their crazy hidden till they're pushed off the deep end / Oh yeah, God forgive them, they weren't born like this / Oh no, crazy women are made by crazy men
Well then.
Seeing the void left in the publishing world, Glanville went ahead and wrote a book, 2013's Drinking & Tweeting and Other Brandi Blunders.
"I would like to thank my ex-husband, Edward Cibrian, for giving me all the material I could ever need to write this book and for helping me discover the strong independent woman inside of me," she wrote.
Glanville and Cibrian, known for the soap Sunset Beach and the firefighter drama Third Watch, had been married since 2001 and were the parents of two young sons when he went to shoot the Lifetime movie Northern Lights opposite LeAnn Rimes in 2008.
Rimes had met her husband, Dean Sheremet, when he was hired as her backup dancer for the 2001 ACM Awards. One date and she knew, "this is the guy I want to marry," she told InStyle. They tied the knot in 2002, when Rimes was 19 and in full-fledged rebelling-against-wholesome-teen-stardom mode. She had also sued her father (who was also her manager) for $7 million and just last year she described her relationship with her mother as "interesting." 
But several years in, Rimes, whose "How Do I Live" was one of the biggest songs of the '90s (and ever), said she was happy with her choices.
"I'm at such an incredible place in my life," she told the Washington Post in 2005. "I've been married for three years next month, and we've been together for four years. My dad and my mom and I have never had as good of a relationship as we do now. I've been through all the hard stuff. I hope I've been through enough of it to last me for a while."
It lasted her for a little while.
But in 2008 she met Cibrian, and apparently their connection was just one of life's inevitabilities.
In March 2009, Us Weekly reported that the two were having an affair. At first, however, they explained away sightings of them together as just being that...photos of them in the same frame.
"Other than being friends and two actors who were romantically intertwined in a movie-for-television we filmed last fall, there is no truth to the reporting initiated by Us Magazine," Cibrian insisted in a statement at the time. "It is a fabricated story that is using random snapshots as connective tissue to create a scandalous relationship." He and Glanville even joined forces for some happy-looking paparazzi pics, getting photographed smiling over frozen yogurt.
Rimes was a bit more opaque about the rumors. "This is a difficult time for me and my loved ones...I would like to assure all of you that this is a place for you to hear things directly from me and as you all know, not everything in our lives is always black and white," she wrote on her website.
Courtesy of Jacob S. Andrzejczak / Getty Images
In July, however, Glanville and Cibrian were separated by July, with the scorned Brandi telling Us Weekly, "I want to do what is best for our children. Eddie and LeAnn deserve each other." Days later, a friend of Rimes and Sheremet told People that July that the couple were no longer living together, "but they continue to try and work through their relationship."
More black and white were the divorce papers Cibrian filed in August 2009.
"They're going on vacation this weekend to Mexico," Glanville told E! News, referring to her ex and Rimes. "I'm looking forward to seeing those pictures." 
A week later, Rimes and Sheremet announced that they were planning to divorce, and she celebrated her 27th birthday in Mexico with Cibrian. They were a public couple ever after.
Sheremet ultimately filed for divorce that Dec. 17. He opened up in 2015 about the split to Nat's Next Adventure, suggesting that there were a number of things that led to the failure of his and Rimes' marriage. He had basically put his dancing career on hold to devote himself to Rimes and her career and, ultimately, "the business ended up destroying us." He was the one who encouraged her to do Northern Lights. His first impression of Cibrian was that he "wouldn't trust him as far as I could throw this f--king table."
Soon enough, the writing was on the wall about LeAnn and Eddie. But, Sheremet remembered, "even though there was tension, we were still talking about the next chapter, about starting a family. I remember feeling earlier on like, 'I can't wait till 30. We'll have a kid, slow down a bit.' Cut to it being a f--king disaster."
Meanwhile, all hell was breaking loose in the broken Cibrian-Glanville household.
Also in December 2009, Cibrian filed court papers alleging that Glanville had slashed the tires on his motorcycle—which, she assured us, she most certainly did.
"He broke my heart, so I broke his Harleys," Glanville told E! News. "It was right after I found out about girl No. 2, and I had that Carrie Underwood song in my head, and I just went for it!"
Courtesy of Intelligent Blends
Glanville has maintained that Cibrian was a repeat offender as far as cheating went. Before 2009 was over, Scheana Marie (now of Vanderpump Rules) told Access Hollywood that she had been seeing Cibrian, but their affair ended when he met Rimes. She didn't know he was married when their relationship first began, Marie said. Once someone pointed out to her that her beau was married, Marie said that Cibrian told her he was separated.
And when they were together, it was "amazing," she claimed. "I mean, it was just like no one else mattered. It was just me and him. We had such a good time together that I never wanted it to end."
Cibrian had sued Life & Style for defamation that November over a story claiming he had already stepped out on Rimes with Marie. Marie said it wasn't true, and Cibrian's lawsuit insisted, "Since the separation from his wife, Eddie Cibrian has not had a romantic or sexual relationship with any woman other than Ms. Rimes."
In her 2013 book, Glanville claimed that when she first got word about his affair with Rimes, Cibrian found her crying on the floor of her closet and assured her it wasn't true. They then proceeded to have sex, she wrote. And after they eventually broke up for good, Glanville continued, he told "he would never marry LeAnn, but that was just one of the countless lies he told me."
Shortly after excerpts from Glanville's book made the rounds, Us Weekly reported that Brandi cheated on Eddie first, allegations that she called "funny and desperate."
Felipe Ramales / Splash News
But once everyone was busy getting divorced...cue the rom-com montage?
Rimes' divorce was finalized in June 2010, and Cibrian's marriage officially ended that October. Glanville said she hoped they could all get along, for the sake of the kids.
And on April 22, 2011, Eddie Cibrian married LeAnn Rimes. A small group of family, including Cibrian's sons, and friends were present for what they thought was an engagement party but turned out to be the madly in love couple's nuptials.
Two nights later, Back Story: LeAnn Rimes aired on Great American Country and featured her admitting about the end of one relationship and the beginning of the next: "I know I didn't do it the right way...It got really messy, but I have learned a lot from that and I'm not glad it happened, but I know why it did."
She's never wavered from that it-all-happened-for-the-best narrative—which, of course, is perfectly true from her and Eddie's perspective.
"I don't like the word regret," Rimes told E! News' Giuliana Rancic in December 2012. "I wish I handled it differently because I wish I could have been better for me, for Brandi, for Dean, for Eddie, and for everyone else."
Cibrian "reacted the way that I reacted too, but he reacted in his own way, and I allowed him to do that," she said. "He had so much more to deal with than I did. I had a marriage. He had a marriage and children. I can't even fathom that."
Though Glanville, who joined The Real Housewives of Beverly Hills in 2011, would have plenty more to say on the matter—including very public accusations that her kids weren't in good hands in LeAnn's care—she told E! News in October 2013 that, as far as she knew, everything was "fine" between the two ladies and Cibrian.
"I see them at soccer, I say hello, and I don't really have any other interactions with them," she said.
About her relationship with her stepchildren, Rimes had told Pride Source in 2011, "I guess if loving them with all my heart and taking care of them when they're with us and being there for them is overbearing, then I guess I am—but I don't think that's the definition of overbearing.
"I grew up in a family where my parents divorced when I was 14. I wouldn't trade it for the world. I know my mom and dad weren't meant to be together other than to have me (laughs), and I'm totally cool with it. The kids are our main priority, and we have a house full of love and I have a great relationship with them."
Alexander Tamargo/Getty Images for Tori Praver
Meanwhile, a lot of society remained skeptical about Rimes and Cibrian's long-term prospects. Their short-lived VH1 series, LeAnn & Eddie, which aired in 2014, made the duo fodder for the usual host of cheating/having trouble/baby fever headlines that tend to spring from any marital drama that's willingly captured on camera. In one episode Rimes talked about whether she'd be able to get pregnant or not, and visited a doctor for advice.
That October, Rimes tweeted about the seemingly endless onslaught of headlines about her and Cibrian. "If you combine OK! Magazine and The National Enquirer's stories that they're 'investigating' this week you get...Eddie doesn't want to have kids with me so he's been cheating on me since April & we're headed for that 50 million dollar divorce we were gonna go through almost a year ago," the singer wrote. "I'm sure there's aliens involved in it too, but we only get told bits and pieces."
And yet Rimes did open up a bit to OK! when their show came out, saying, "We have gone through hell and back to be together and blend a family. Those sort of things are not easy. It takes a commitment. We've gone to therapy to learn how to communicate better because we don't want to screw with the kids. It has made us better and our marriage stronger."
Courtesy: Al Powers/Powers Imagery
Over time, there stopped being a new Brandi vs. LeAnn headline every week, as Glanville's career as the premiere reality-TV troublemaker took off and attention shifted to her issues with fellow Real Housewives. She wrote another book, 2014's Drinking and Dating, and competed on The Celebrity Apprentice. Most recently she was a housemate on the first-ever U.S. season of Celebrity Big Brother.
Glanville told Howard Stern in 2015 that she didn't blame Rimes for stealing Cibrian away. "No, you can't steal a man," she said. "He has to go. I'm not in love with him, but sometimes I miss what I thought he was." She again described their relationship as civil, for the kids' sake.
Old habits die hard, though, and last June Glanville said on E!'s Daily Pop that she figured Cibrian and Rimes wouldn't be together all that much longer.
"In the state of California, after 10 years, you are entitled to half of everything that the other person has and that's it," she explained her reasoning to E! News a week later. "I really believe he is putting in his 10 years." 
Glanville also claimed that Rimes was snooping into her and boyfriend Donald Friese's life, "checking his stuff" via social media. She also tweeted, "Stalking my boyfriend to show up with my kids was the last straw," claiming that Rimes had watched some of Friese's Snapchats and then showed up with her stepsons—Brandi's sons—at the restaurant where Friese and Glanville were dining.
Cibrian, who once he was divorced had opted to fight these public battles sparingly, couldn't help but intervene.
"I normally don't respond to Brandi's foolishness but I will not allow false and reverse accusations to go unanswered about my wife," he said in a statement. "LeAnn is a fantastic stepmom to the boys and is always gracious to their mother. Having to put up with Brandi's made up drama all the time is extremely frustrating. After eight years we should have one priority, making sure two incredible kids are loved and remain happy and healthy. But every couple of months there is another accusation coming from Brandi in an attempt to drum up drama to stay relevant."
If you isolate LeAnn and Eddie's present from their unarguably scandalous past, their life together looks exceedingly normal.
Last August Cibrian wished Rimes a happy 35th birthday on Instagram, captioning a pic of them, "Happy Birthday to my beautiful and amazing wife!!! @leannrimesyou continue to get more beautiful and bad ass every year! May this year be filled with more laughter, love and inspiration. You are loved beyond words."
They dressed up for Halloween as Sonny and Cher, went camping and rode ATVs in the desert on Thanksgiving and posed for their annual holiday card with the kids and family dog. In January they took Mason and Jake to a Lakers game, and in February Jake joined them for dinner at Nobu on Valentine's Day while his brother was away on a school trip. 
"It just works," Rimes explained her marriage to People in February 2017 while promoting her latest album, Remnants. 
She continued, "We respect each other; respect is a big deal, and once you lose that, you've kind of lost everything. He's a wonderful father and a really good man. He's kind to me, and I reciprocate."
And if there's anything to be learned from their story, if it's working...it'll keep going.