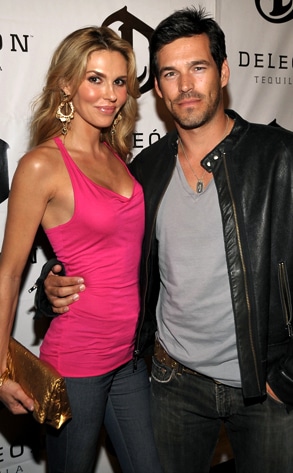 John Shearer/Getty Images
Forget LeAnn Rimes. It was Carrie Underwood who inspired Brandi Glanville's reaction to husband Eddie Cibrian's adultry.
The CSI: Miami star filed a court declaration in his custody battle with his soon-to-be ex-wife, stating she slashed the tires of his Harley Davidson motorcycle after an argument in August.
"Yes, I slashed his Harley tires," Glanville tells E! News exclusively. "And it felt awesome!"
The domestic dispute occurred on Aug. 1—weeks after the couple had separated, but while Cibrian was still living in the family's guest house, Glanville explains.
"He broke my heart, so I broke his Harleys," Glanville says. "It was right after I found out about girl No. 2, and I had that Carrie Underwood song in my head, and I just went for it!"
Glanville is referring to (a) cocktail waitress Sheena Marie, whom Cibrian reportedly hooked up during the marriage and (b) Underwood's tire-slashing anthem "Before He Cheats."
In the documents, Cibrian states that Glanville "verbally and physically attacked" him and "in a fit of rage, slashed the tires of my Harley-Davidson motorcycles."
Good thing she wasn't listening to Marilyn Manson.
(Originally published Dec. 11, 2009, at 12:25 p.m. PT.)
________
Forget all that went down to lead to this country crooning? Catch up right here.