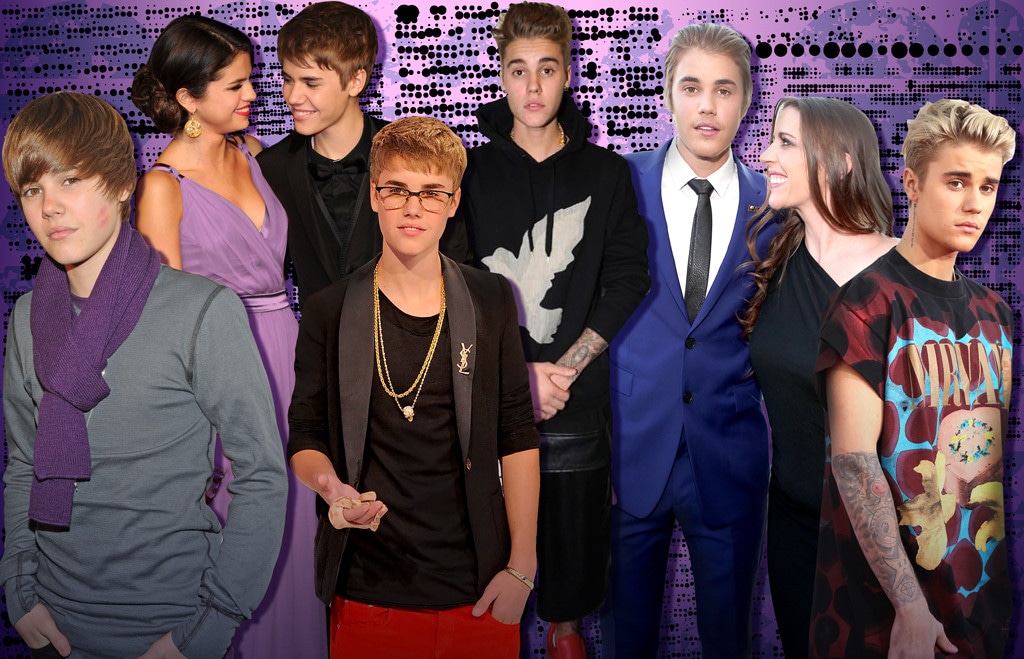 Getty Images; Melissa Herwitt/E! Illustration
Justin Bieber is only 24, so it's pretty crazy that he's been around forever, right?
At least so it seems, since from the very beginning of his public life he's been one of the most talked about people on the planet. He hasn't been able to do much for a decade without a paparazzi escort (or a long-lens-toting "vacation chronicler") documenting his every move, or a litany of pro- and con- analyses of his behavior, his buddies, his dates, his father, his mother, his religion, his cars... etc.
And sometimes people even talk about his music.  
But it didn't entirely start out that way.
Sure, there was a massive amount of interest on arrival surrounding this baby-faced 14-year-old whom Scooter Braun and Usher plucked out of relative obscurity after he became a hot attraction on YouTube in his native Canada. A phenom attracts attention. The teen with his perfect little helmet haircut and hooded sweatshirts moved to Atlanta with mom Pattie Mallette 10 years ago after signing his first record deal, and of course people were chomping at the bit to get the whole rags-to-riches story.
When he was little, he seemed to enjoy the good-natured interest in his private life.
Sitting down for one of those ask-him-anything-but-music-questions interviews with Chicago's B96-FM in September 2009, the first question was about dating. He was 15. 
"I've had a couple girlfriends, yeah," Bieber said quietly. "I started dating when I was, like, 13." Told he had started young, he thought for a second. "It's not that young."
And sure, he was up for talking about his first kiss.
"It was cool," he said, smiling. Asked where it happened, he said, "I don't remember, I've kissed a lot of girls since then...We need to get her out of here," he joked, gesturing to his laughing mom sitting in the studio off to the side.
So he was a bit of a ladies man already, or ladies boy, but all was just in good fun. His average fan was about 13 years old, and he was a harmless heartthrob.
"What's up, girls?" he addressed a shrieking dozen of his female admirers during one of his earliest Ellen appearances, in May 2010. He had just turned 16 that March.
That level of teen-idol attention "can get a little crazy sometimes, but you know we have really, like you said, tight security," Bieber said. Some of the crazier behavior he had witnessed so far included girls trying to just jump in the backseat of the car with him, pretending to be part of his entourage—though "every now and then, occasionally," he spied a young lady whose company he wouldn't mind.
Bieber smiled. "But I'm having fun, teenage boy, just on the road, having, you know, fun."
Kevork Djansezian/Getty Images for DCP
Ellen DeGeneres did quiz him about dating, particularly with regard to a photo taken of him out with then 17-year-old Miley Cyrus.
"I'm dating around, just hanging out with girls, but not really dating," Bieber shrugged. "Like hanging around with Miley Cyrus?" "Like just hanging out with people." "Like Miley Cyrus?" "Just hanging out." "With Miley Cyrus?" "And just people." "I don't see any other pictures, I just see Miley Cyrus."
They agreed to disagree. Then it was onto a bit where Bieber's famous shag was put on pictures of other celebrities, like Robert Pattinson and Donald Trump.
Could it have been a simpler time?
Little did anyone know it, Bieber was just months away from having the filter through which the world examined him altered forever.
The paparazzi may have caught Bieber hanging out with people like Miley Cyrus, but soon enough it would be Selena Gomez or bust. Emphasis on the bust.
They had met in 2009, when his manager, Scooter Braun, called her manager, Selena's mom, the soon-to-be disapproving Mandy Teefey.
Logistics kept them apart for awhile: Gomez had her career, which had expanded from Wizards of Waverly Place to include a few Selena Gomez & the Scene albums, movies such as Ramona & Beezus, and getting her driver's license. And Bieber had that whole wild ride he'd been on, with the screaming girls, celebrity fans like Rihanna and Kim Kardashian, traveling the world and, of course, getting his driver's license.
Toward the end of 2010 they were finally blessed with some free time that allowed them to be spotted having breakfast at an IHOP in Philadelphia—"It was just pancakes!" Gomez chided Us Weekly—and then strolling around Miami together.
That was December. In January 2011 they vacationed on a yacht in St. Lucia, as your average 16- and 18-year-olds would do, and then they more or less made it official when they attended the Vanity Fair Oscars party together that February.
Kevin Mazur/VF11/WireImage
"It was like a little prom night. Doesn't it look like it?" Gomez recalled on The Late Show With David Letterman in March 2011, when Dave showed her one of the impossibly sweet photos taken of them that evening and presumed to assume that they were dating. Or not.
"He's been in my life for so long and it's just nice to have someone who understands what you're going through," she explained.
"I understand, because of your circumstance and his circumstance, the reluctance necessary in discussing a relationship like this," Letterman said. "So I'm not gonna press anything."
"Aw," Gomez replied, smiling. "That's very sweet." "So...but good luck," Letterman offered. "Thank you," she said.
Bieber was similarly evasive, dancing around his relationship status in an interview with Rolling Stone around that same time in which he declared, "I don't think you should have sex with anyone unless you love them." Asked if he believed in waiting until marriage, he replied, "I think you should just wait for the person you're...in love with." (The writer also caught a glimpse of Justin's laptop wallpaper during the encounter, and it was a picture of the singer and Gomez.)
Life would never be the same again for Selena Gomez or Justin Bieber after their fateful 2011, so much of which they spent together in various states of red-carpet, award-show, date-night and vacation-mode adorableness. Jelena hit the ground running in 2012, also, with Gomez taking to Twitter to show off a ring with a sparkly "J" after Valentine's Day.
Yet for whatever reasons fit under the "crazy schedules" umbrella, they broke up in November 2012. The Internet took it hard. But the cycle had only just begun.
Aik Arshamian/INFphoto.com
But while Gomez would at least have most of the world rooting for her happiness, whether that meant succeeding with Bieber or not, Bieber's ensuing behavior—his highs and lows, his charms and his flaws—would end up inextricably linked to what so far has been the defining romantic relationship of his life. He's never dated anyone who wasn't a rebound or just "not Selena" (enough so that he cut off his own fans in August 2016). He's never been on a decline that wasn't a post-Selena decline. He's never released any love songs or breakup songs that weren't Selena songs. (Not that her music hasn't been equally dissected for parts.)
Bieber, the cute little rapscallion teen, was good enough for the world at large, Beliebers and non-Beliebers alike, for the first couple of years. But after his relationship with Gomez took off, and then landed, but then took off again, and then crashed, and then tried to get off the ground again... 
He became the relentlessly immature punk making one bad decision after another—drag racing in Miami, egging a neighbor's house in Calabasas, hot-boxing his private jet—while the world waited for him to grow up. Begged for him to grow up, lest he waste all that good will he built up with his undeniable talent and charming confidence when he first hit the scene and then became one half of the cutest celebrity couple.
None of this is to say that the fame monster wouldn't have gobbled up a piece of Justin on its own anyway, regardless of who he dated. In the summer of 2012, when he was still only 18, he had the money, the bodyguards, the entourage, the tricked-out Range Rover, the growing stable of tattoos, the 25 million Twitter followers and the screaming fans. Not to mention the good looks and the tendency to show off his muscled torso. All of the pieces were there to make him quite insufferable.
"No one's ever grown up like Justin Bieber," Scooter Braun told Rolling Stone at the time, trying to explain the unique blend of success and challenges the artist was dealing with. "Ever, in the history of humanity."
But maybe non-Beliebers wouldn't have cared quite as much about the various all-too-common stumbling blocks that tripped him up on the road to adulthood if Justin hadn't found himself such a nice girl early on, and then subsequently lost her. And then found her. And lost her... 
There have been far worse meltdowns or signs of acting out among the young-Hollywood set. Even when Bieber's antics started to veer into the potentially devastating, they were still interspersed with signs of the good, grateful kid inside: the Make-a-Wish outings (by 2015, he had made more than 250 kids' dreams come true), the quality time with his little siblings, the dedication to his faith. There's always been a decent side of Bieber, it's just been frequently overshadowed by his tabloid-ready insistence that he's not a slave to the pop-star machine, as well as his roller-coaster romance—which, depending on what Gomez was going through at any given time, could be perceived as either preciously enduring or toxic and preventing Selena moving on.
O'Neill/Todd G, PacificCoastNews
"It's difficult for people to separate us," Gomez acknowledged to the U.K. Sunday Times in August 2015. "The internet wants to freeze this moment in time and constantly repeat it."
She continued, "I didn't think I was doing anything bad by falling in love. There's such an emphasis on people being the perfect thing and then destroying them because it's good press. Throw in the fact that you are a teenager—it makes it more difficult."
Bieber, who seemed to still be coming to terms with his role in how their relationship played out, would concur.
"I moved in with my girlfriend when I was 18," he told Complex in September 2015. "Started my own life with her. It was a marriage kind of thing. Living with a girl, it was just too much at that age. But we were so in love. Nothing else mattered. We were all about each other.
"But when it's like that and you get your value from that, people will always disappoint you," he continued. "Your girl or your dude, they're always going to disappoint you. Your full identity can't be in that person. My identity was in her. Her identity was in me. When stuff would happen, I would lose my freakin' mind, and she would lose her mind, and we would fight so hard because we were so invested in each other. Love is a choice. Love is not a feeling. People have made it seem in movies that it's this fairy tale. That's not what love is. You're not gonna want to love your girl sometimes but you're gonna choose to love her. That's something in life that I had to figure out."
Of course, if they couldn't separate themselves in actuality, how was anyone else supposed to existentially?
Bieber told Billboard that November, not long before they were photographed together in Beverly Hills, "When you love someone that much, even if something comes between you, it's a love that never really dies."
He subsequently left the door wide open during an appearance on Ellen.
"I don't know what happens. I don't know what is going to happen in the future," he mused. "I think we both gotta do some soul searching ourselves and figure out ourselves before we can just try to figure out each other."
NRJ/SIPA/REX/Shutterstock
At the same time, then 21-year-old Bieber, who had recently released the aptly titled "Sorry," sounded determined to get back in the good graces of anyone who'd written him off as a washed-up star whose ego had written checks that his talent couldn't cash. Perhaps his intended audience included himself. His public penance had included submitting to a Comedy Central Roast and breaking down into tears following his performance at the 2015 MTV Video Music Awards.
"Enough with 'the Justin Bieber Show,'" he told Billboard. "I want to veer away from the self-centered attitude. I'm just focused on the people who have been there since the start, on people who are taking the journey now. I want them to feel like we're doing this together."
The possibility of a reunion felt more remote by January 2016, when Gomez said in Rolling Stone that she was done talking "about that, and him." In February Bieber was quoted in GQ saying, "We don't talk often, but we're cordial. If she needs something, I'm there for her. If I need something, she's there for me."
But that summer saw Gomez regretfully chiming in when Bieber fired back at his fans for their unwelcome commentary about his love interest at the time, Sofia Richie, after which Biebs deleted his Instagram and Gomez took off for treatment in Tennessee. She would resurface at the 2016 American Music Awards that November with a renewed sense of self and what certainly felt in the moment to be a clean slate.
When she rang in 2017 with a new boyfriend, The Weeknd, Bieber again missed his chance to not purposefully inject himself into the narrative. (He was going to be part of the story anyway, as we've established, but he didn't have to offer up the headlines.) In February, despite being nominated for four Grammys for Purpose, including his first-ever Album of the Year nod, he skipped the ceremony and went out for sushi.
But you know what? Bieber reacting rather immaturely to Selena's new beau did nothing to diminish him in her eyes—just as nothing he'd done the prior five years irrevocably broke their bond. Because here we are, it's April 2018, and they're...not exactly together, but not quite apart, either, still bonded by faith, and romantic feelings and a whole lot of history.
Which at least means that it wasn't entirely ridiculous for people to be chronicling Justin Bieber's trials and tribulations through Selena Gomez-tinted glasses for all these years. Hers is the only vantage point he's been interested in this whole time anyway. 
For more on the most irresistible tabloid targets in Hollywood, tune into E! News tonight at 7 p.m. and 11 p.m.