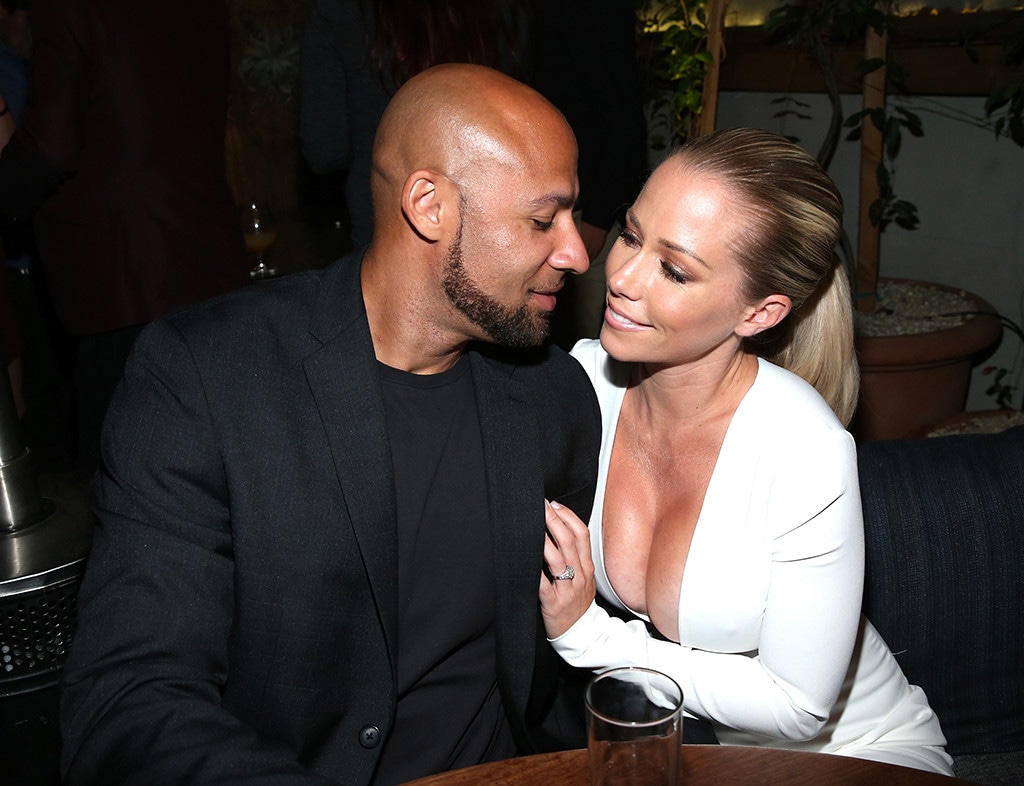 Jonathan Leibson/Getty Images for WE tv
You've reached a meta turning point when you have to defend the validity of the drama on your reality show by insisting that your marriage really is on shaky ground and everyone knows about it!
That's what Kendra Wilkinson-Baskett did last month in response to a report that she was "faking a marriage crisis" for the most recent season of Kendra on Top to make it more interesting, and in turn more appealing for a seventh-season pickup.
"1. how do u fake marital problems?" she wrote on Instagram. "makes absolutely no sense. 2. Yes we are having issues." And so on.
The point of the story was that ratings for Kendra on Top peaked after Hank Baskett was accused of cheating on his wife and the show chronicled the fallout. The couple, who are parents to 8-year-old son Hank IV and 3 1/2-year-old daughter Alijah, came close to the breaking point but have worked really hard at repairing their marriage since.
However, according to the reality-TV handbook, more drama begets more ratings, right?
"I hate drama!!" Kendra also wrote. She thanked fans for their support, adding, "I've been in a lot of therapy lately n hope all gets resolved for me, Hank, kids and even for TV. Lol."
So she was maintaining her sense of humor at the time, and while this could ultimately just amount to another rough patch that she and Hank have to work through, her tone has since escalated.
On Monday Kendra posted an Instagram story that told the tale of a woman in crisis, writing on a series of selfies: ""Pray for Kdub lmao. Life isn't making any sense to me right now. Sorry I've been MIA." "How much strength does it take to be strong." "I try to so hard to be good but never good enough. Therapy is for the birds." "I need to love myself again and I will. Life is too precious." "No matter what...I am labeled. Playboy party girl. Bad mom. D list celebrity. Crazy. Always wrong." "Sometimes a hug is all I need but I guess I'm covered in thorns." "Thank u to those behind me n pushing me with love. My next fight will be for the KO." "Tomorrow is a new day. I will smile. Goodnight."
Skeptics could argue that Kendra does not hate drama, since she's so good at engaging in it for all the world to savor—but after the sort of highly public squabbles and marital troubles that she's experiences, we're actually inclined to believe her.
Albert Michael/startraksphoto.com
After spending almost five years as one of Hugh Hefner's three main squeezes, the former Playboy model moved out of the Playboy Mansion in 2009 after she met Baskett, who was then playing for the Philadelphia Eagles.
The couple started their new life together at Kendra's old address, however, tying the knot on June 27, 2009. The bride's brother, Colin, walked her down the aisle.
"Watching Colin walk Kendra down the aisle was really emotional and beautiful," mom Patty Wilkinson told E! News at the time. "She looked breathtaking." Grandma Mary Wilkinson called it a "fairy-tale wedding."
The couple honeymooned—and babymooned, as their first child was also on the way—in St. Lucia.
So when they returned to reality, they were well-rested, tan and ready to take on life together.
Isaac Brekken/WireImage.com
A few months later Hank was released by the Eagles and signed by the Indianapolis Colts, so Hank IV was born in their new home of Carmel, Ind.
In her 2011 memoir, Being Kendra: Cribs, Cocktails and Getting My Sexy Back, Kendra revealed that she suffered from postpartum depression for almost two years, attributing it to a combination of the jarring move to Indiana, the struggles of adjusting to motherhood and feeling the pressure of holding everything together in a new place and in front of the TV cameras the couple had agreed to let into their life.
"I felt devastated, helpless—like I was in a black hole," she wrote, recalling that she would hide in a closet to "scream and cry."
"I even thought of harming myself," she wrote, but "I just threatened to a lot."
Kendra also revealed that, during her lowest points, she and Hank slept in separate bedrooms—not a good sign for their young marriage, especially for a wife who has not been shy about explaining how important sex is to the health of a relationship.
"There was no way I could talk about what I was feeling because I didn't know what it was," she wrote. "So we just had to stay apart."
Kendra admitted that she would blow up at Hank and, at a loss for how to explain what she was feeling, nothing would get resolved. He'd just take baby Hank, leave the room, and they wouldn't talk it out.
She credited her son for helping her snap out of it, which required seeking therapy. "Baby Hank really made me stop, step back and realize, 'If I don't stop acting like this, he's going to pick up on it.'"
Not helping her peace of mind at the time, in 2010 Vivid Entertainment released a sex tape Kendra made when she was 18 with a high school boyfriend, after she had unsuccessfully tried to keep it off the Internet.
"It broke my heart because how can you do that when I have a baby?" she lamented on her show at the time. "I have a kid. I have a husband. It just sucks. It's the hardest thing to deal with right now, and it's hard on Hank. It's hard on him because it involves another guy and it's hard on him because of our son."
Talking to Ryan Seacrest on KIIS-FM that June, she got emotional when she said, "It just had to come out now when I finally cleaned up my life. It wasn't for anybody else's eyes to see except for ours." (Radar Online reported in the meantime that Hank wasn't upset, because he understood it was an experience from the distant past, and that Kendra was paid $680,000 for the release and was going to get 50 percent of future proceeds.)
Ciao Hollywood / Splash News
Meanwhile, in March 2010, Baskett re-signed with the Eagles, but was released that September as the NFL season was getting underway. He ended up signing with the Minnesota Vikings and played eight games for them, but the team didn't pick up his option at the end of the season, and that was it for Baskett in the NFL.
So he was going through some stuff, too. None of which Kendra addressed at the time, either.
Baskett later revealed that he fell into a deep depression too after his football career ended, and his solution was drugs, alcohol and partying the pain away—some of it while his wife was pregnant with their second child.
"The stress and depression was eating away at me," he told People in 2015, noting that his lowest point came toward the end of 2013, when his behavior landed him smack in the middle of a sex scandal. "I fell into what happens to a lot of professional athletes who change careers. It hit me, and it hit hard."
"I was drinking like I had never drank before," Baskett recalled. "And I was buying weed here and there. It wasn't to get high or baked out of my mind. It was to calm my stress."
He attributes the cheating rumor to a bad experience he had trying to buy marijuana. He says he was fondled by the woman, but nothing more.
Alijah was born on May 16, 2014, and then...boom. Less than two months later, up popped the headlines about Baskett supposedly stepping out on Kendra. She flushed her wedding ring down the toilet and told him to get out.
All the while the cameras never stopped rolling for Kendra on Top, which was by then on WE tv, and the couple seemed to be teetering on the edge for months, during which a split announcement would have surprised nobody. Yet even then, people accused the couple of faking it for the show. "I wish we did," Kendra told E! News' Giuliana Rancic in September 2014. "It is the most insulting thing out of all this, that people think that this is fake. I would never do this to myself. You know, I would never degrade myself like that."
Kendra also admitted to not being emotionally there for Hank when he really needed her, too.
"The things I do know about Hank, he's had a huge identity crisis," she said. "He's played football his whole life. I've only known Hank as a football player and I loved that about him, he was so sexy. And then football ended, here we are, we have a kid and the roles reversed. I became the breadwinner, he became more at home with little Hank, and I think that put a lot of stress onto him."
Michael Buckner/Getty Images for NBCUniversal
When she was pregnant with Alijah, "I'd go, 'Oh get over it, you're a guy, you're a man. Do you see this pregnant ass? Do you see what I'm going through?' So it was always a competition. There was one night where he literally came to bed shaking 'cause he was going through such anxiety. He was in such a bad place."
"He's in a lot of therapy right now," Kendra added. "We've done some couples therapy. I don't know if him going to therapy means he's guilty. I am willing to forgive him, even if he did it." 
Baskett always denied being unfaithful, but he eventually came around to admitting he had at least behaved badly and selfishly. "I can say he was not loyal to me," Kendra told People in 2015. "I don't care about the act. I care about how he reacted to it and how I was told by the media what happened. That scarred me."
And at the end of the day, neither one wanted to end the marriage for good. Not that they didn't come close, though.
"I am still willing to move on and forgive him," Kendra also told E!. "I cannot shut this man down. I'm willing to spend the rest of my life trying to figure this out rather than spend one night single."
When Kendra on Top returned early in 2015, she's seen telling Hank she almost divorced him, to which he replies, "I would've shot myself." 
"We're working on it minute to minute, every day," Kendra told In Touch around that time. "I believe we're on the road to being better than ever. Sometimes you need a shake-up to get to a place you've never been before." Hank agreed, saying, "Right now, we're in a great place. I wish that when I was starting to feel depressed, [I'd been] able to communicate instead of trying to be strong and take on the world myself."
Jerod Harris/Getty Images for WE tv
After the headlines died down, the couple—re-settled back in Los Angeles—pressed on with their new, post-scandal normal, which for them also included a stint on VH1's Marriage Boot Camp: Reality Stars. Eventually, though, it finally looked as though they wanted to be together for them, and not just because Kendra didn't want to "spend one night single."
"This is the love of my life..." she captioned an Instagram photo of the couple taken at a fancy event in July 2015. "A true man. I believe in forgiveness and I believe in him. I take my vows very serious and won't let people's beliefs get in my way of what I know."
And so life went on, and drama reared its head in other forms.
Kendra's onetime roommate Holly Madison had some particularly unflattering things to say about Hugh Hefner and her time living in the Playboy Mansion in her 2015 memoir Down the Rabbit Hole, in which she wrote that she contemplated killing herself at one point and called Kendra "the fakest person I've ever met."
"Holly, you can tell, had this ulterior motive every minute being at the Mansion, and that motive was—it was clear as day—she wanted Hef's kids, she wanted a piece of Playboy and she wanted to marry Hef for, obviously, his will," Kendra told People Now. "That didn't happen. So what do you think's going to happen? Revenge. So we're witnessing some revenge here."
The ladies, both long since married with kids, continued to be at odds for a year, the pot boiling over once again ahead of the May 2016 release of Madison's follow-up book, The Vegas Diaries. 
"I'm protecting Hef, I'm protecting myself, I'm protecting the things that actually made us famous," Kendra insisted on SiriusXM's Morning Men with Evan Cohen and Mike Babchik as she made the media rounds.
Also in 2016 Kendra revealed on her show that she and her mother, Patty, had had a falling-out. Kendra had "divorced" her mom, she claimed.
As it turned out, mother and daughter had gotten into it over Hank, whom Patty started to distrust sometime after the wedding.
"When you came to me and said, 'oh I met this guy, he's an NFL player, he said to me, I want Kendra at all my home games. Kendra's gonna stop the show, and she's not going to do anymore appearances,'" Patty said when the whole fam showed up on Marriage Boot Camp Reality Stars Family Edition last year. "My radar from that point on was up about him. I thought, oh he's going to control her. I'm your mother. I have a right to have these feelings of protection."
At least Kendra and Hank were growing closer again amid all the extraneous drama.
Isaac Brekken/Getty Images for WE tv
"We've been through ups n downs but getting through those down and surviving them the way we did is rare these days," Kendra wrote to Hank on Instagram for their seventh wedding anniversary in 2016. "Our ups I can say is our strength. We are always up. LOL. I'm so proud of us and what we stand for. Our kids will believe in love and forgiveness because of us showing them it's possible. I love you @hank_baskett forever n ever...amen!! Happy 7 year anniversary @hank_baskett."
After a trip to Lake Powell for Kendra's birthday that June, Hank wrote, "After an epic lake trip on a house boat and a 9 hr drive home I finally have enough service to be able to post one of my favorite pics from our trip. I rented a houseboat at Lake Powell for @kendra_wilkinson_baskett birthday and we were able to truly be away from it all and fall even more in love.
"The moments two people in love are able to share when they truly don't have a care in the world are priceless."
Much of the sixth season of Kendra on Top focused on the star's issues with her mother, who showed up unexpectedly at a bachelorette party her daughter threw in Las Vegas (where the family temporarily relocated after she was offered a role in Sex Tips for Straight Women From a Gay Man) and proceeded to tell Kendra that she distrusted, not Hank, but her daughter's pal Jessica Hall.
Mother and daughter also ended up in therapy together.
"Being this upfront and honest with my mom is really, really uncomfortable and scary for me to do," Kendra reflected in a solo interview. "But I have to be honest. When my mom goes public and goes on social media, sells me out, it feels like a straight-up knife in the back. It hurts. It makes me feel like there goes all the trust."
On the flip side, Kendra reconnected with her estranged father Eric after 20 years, much to her mother's consternation, and he joined the family for the premiere of Kendra's Vegas show.
Kendra also mourned the death of Hefner in September, the Playboy founder obviously having played a pivotal role in her life.
"Hef changed my life. He made me the person I am today," she wrote. "I couldn't be more thankful for our friendship and our time together. I will miss him so much but he will be in my heart forever."
She's also never tried to hide—or, she insists, promote—the bumps in the road that she and Hank continue to hit sometimes. She does try to minimize the bumps for the kids, however.
"If Hank and I want to fight and battle it out, we're going to another room all the way across and we're going to battle it out," she told People last summer.
"At the end of the day, I'm not going to hide anything. I'm very upfront. My kid has questions now...and it's life and if he wants to know reality, then I'm going to give him reality—I'm not going to sugarcoat anything. That's just the way I live."
(Originally published Feb. 22, 2017, at 12:57 p.m. PT)