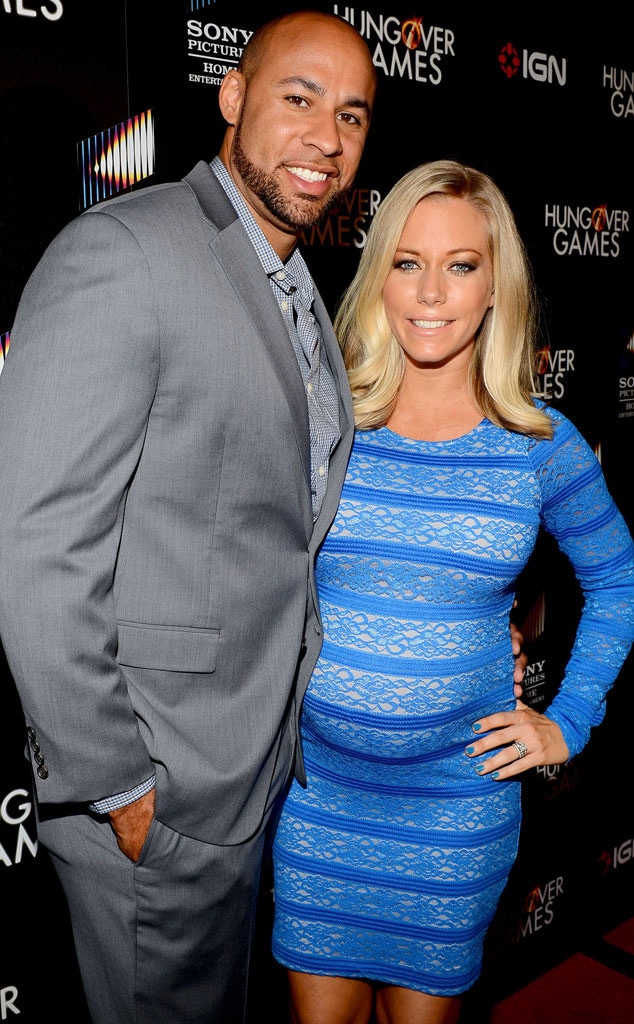 Mark Davis/Getty Images
Hank Baskett is finally opening up about the 2014 sex scandal that nearly cost him his marriage to Kendra Wilkinson-Baskett.
"I messed up," the Kendra on Top star, 32, tells People exclusively. "I put myself in a bad situation. And everything through me brought pain upon this family."
So did the former NFL player cheat on his pregnant wife with a transgender model? Hank says he "didn't engage in anything," but the father of two is not claiming he's completely faultless, either...
Hank tells People that last April, he approached two people smoking marijuana in a grocery store parking lot and asked if he could buy some. He was given an address, he tells the mag, where he went and used the restroom. When Hank came out of the bathroom, he says he "saw something I thought I would never see in my life."
That, Hank tells, People, was two naked transgender women making out with each other. "I froze," he tells the mag. At this point, Hank says one of the women approached him and, per People's reporting, "fondled him through his basketball shorts."
"I didn't engage in anything," Hank says. "It was like a bank robbery. You never know when you'll freeze. I don't know if it was a couple of seconds or 15 seconds, because all I was saying was get out, get out, get out."
He denies allegations claiming mutual masturbation took place and also denies the model's claim he initiated contact with her after seeing photos of her online.
So why stay silent for so long? "It's hard to defend yourself when people are making up lies," Hank tells People. "You never know what someone is going to make up [next]."
Kendra, 30, says Hank's "naïve and gullible" nature is what "led him to the hell that we've lived." She wasn't angry, either, when an audio recording surfaced in which Hank can be heard offering to pay the woman to stay silent. "I wouldn't have pissed off that predator either," she says. "I would have said, 'I'll give you the world, please don't ruin my life.'"
The former Girls Next Door star says she doesn't "say the word 'cheat'" to describe her husband or the events that transpired. "I can say he was not loyal to me," she clarifies. "I don't care about the act. I care about how he reacted to it and how I was told by the media what happened. That scarred me."
Kendra is "finding the trust again," she says. "And I'm actually very happy Hank went through this now because he's able to teach his son [Hank IV, 5] and his daughter [Alijah, 13 months] what it's like to make a mistake and what you do after making a mistake."