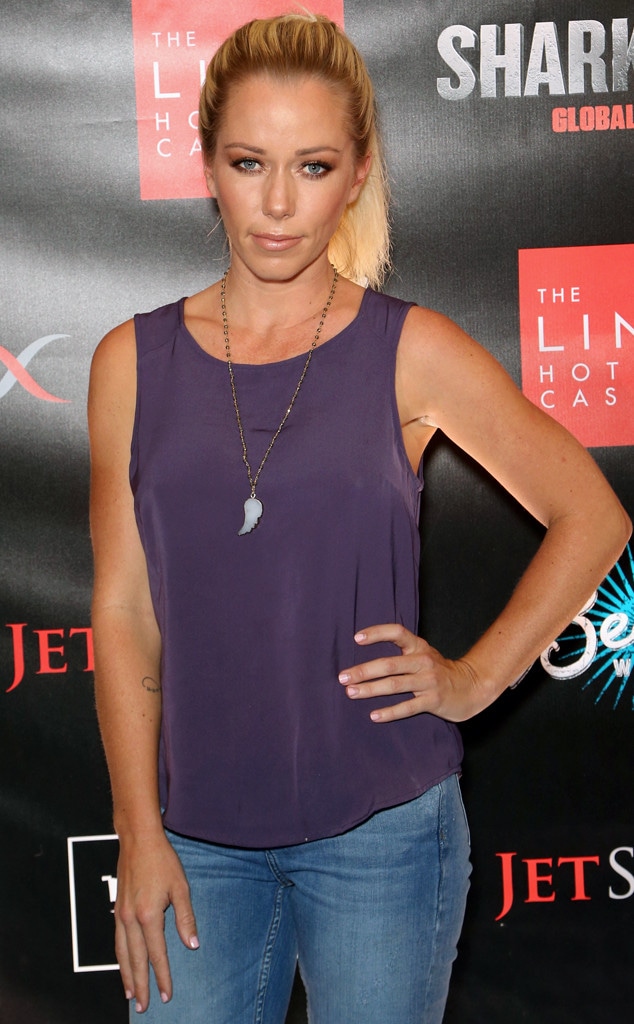 Gabe Ginsberg/Getty Images
They got 99 problems...
In an unusual move, Kendra Wilkinson hopped on Instagram on Wednesday to confirm that admit that she and husband Hank Baskett were indeed having marital problems amid reports that the two were making up problems for TV.
The Kendra on Top reality star posted an image of an article of a report that the two were only pretending to have problems in their marriage in order to secure a seventh season of her WE tv show. The story mentions that Hank has not recently appeared on the bubbly star's social media.
While many celebs are known for taking to social media to slam rumors that there's trouble in their marriage, Kendra responded with seven-point post, confirming that the couple's relationship was indeed strained and that the issues were not trumped up for cameras. 
The blunt blonde wrote, "1. how do u fake marital problems? makes absolutely no sense."
The star, who was previously on the Girls Next Door from 2005-2010 and then simply Kendra from 2009-2011, flat-out admitted that the problems between her and Hank were real.
"Yes we are having issues," wrote the personality, who married the former NFL star in 2009.
It appears as though some fans have taken issue with her reality show's change in tone over the years.
Kendra explained, "My show was a comedy and light hearted til sad times happened then we had to change my show from comedy to drama. Not what i wanted but was a part of my journey and story."
In 2014, Hank got involved in a sex scandal that nearly cost him his marriage. 
They have chronicled their marriage woes in several seasons.
Isaac Brekken/Getty Images for WE tv
But Kendra swears that they are still facing major obstacles in their union—and that those close to them are fully aware of the truth of what is going on between them.
The mother of two continued, "These issues Hank n I are having in our home which we are tryin to hard to over come, everyone knows about, including producers and network, friends and family."
She also said, "I love my job unfortunately these issues at home are affecting my decisions cuz the last thing i want to do is hurt Hank."
But the star also let her fans know that she wanted to get back to "the fun Kendra you all know" because she hates "drama."
The 32-year-old concluded the revealing post thanking fans for their support, writing, "Thank you all for your support and understanding me at this time. I've been in a lot of therapy lately n hope all gets resolved for me, Hank, kids and even for TV. Lol [sic]."
At least she has a good sense of humor about it!