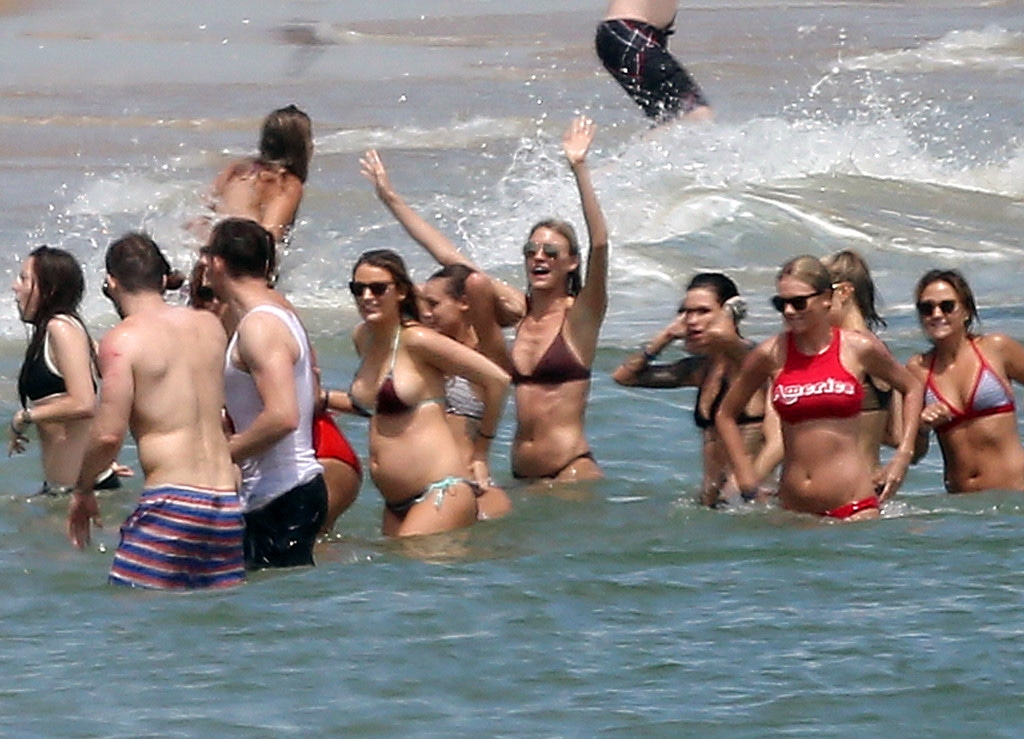 Splash News
Pregnant Blake Lively and husband Ryan Reynolds looked like they were having the time of their lives at Taylor Swift's star-studded Fourth of July beach party this weekend.
The 28-year-old actress, who is expecting the couple's second child, splashed around in the ocean with glee alongside the crew and wrapped her arms and legs around her hubby, 39, while wearing a maroon and white striped bikini with cyan blue strings.
It was revealed in April that Lively and Reynolds are expecting their second child. The two have been married since 2012 and are parents to a 1 and 1/2-year-old daughter, James.
Swift, who hung out with Lively in Australia last December, is known for her star-studded Fourth of July bashes. Other guests at her recent beach party, which took place just outside her Rhode Island home, included her veteran "squad" members Karlie Kloss, 23, Cara Delevingne, 23, and Gigi Hadid, 21, as well as Orange Is the New Black actress Uzo Aduba, 25, and co-star Ruby Rose, 30, who was seen getting cozy in the water with rumored girlfriend Harley Gusman.
Ryan Turgeon/ Splash News
As for Swift, 26, she got busy packing on the PDA with her new boyfriend, British Thor star Tom Hiddleston, 35. The two were spotted in an intimate embrace in the ocean and also walked hand-in-hand on the rocks. The actor even wore an "I ♥ T.S." tank top" and what appeared to be a temporary red heart tattoo on his bicep. Swift sported a red Forever 21 "America" tank bikini.
The pair are involved in a whirlwind, almost Bachelorette-style romance; A month after meeting and dancing together at the 2016 Met Gala and soon after it was revealed Calvin Harris broke up with her, Swift and Hiddleston made their public debut as a couple by being photographed kissing on the beach near her Rhode island home in June.
They were later spotted out together again and less than a week and a half after their smoochfest, they met each other's parents in Nashville and England. Swift and Hiddleston then jetted off for a romantic holiday in Rome.
Watch:
Blake Lively Talks Nasty Nose Injury