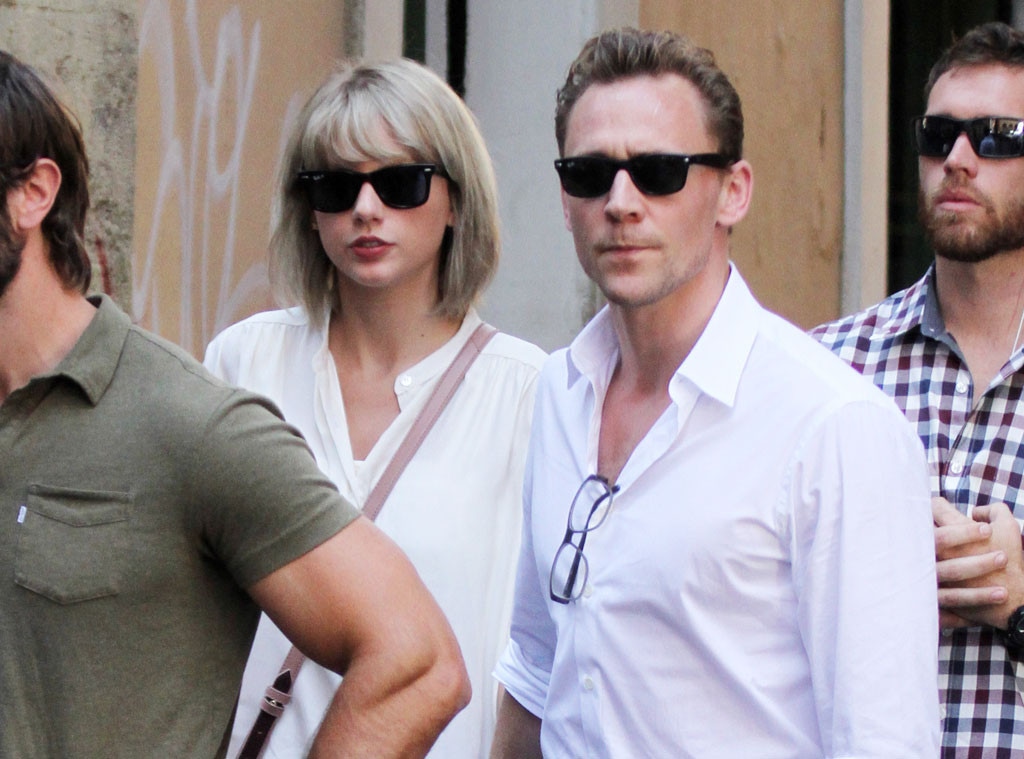 INFphoto.com
Taylor Swift said it best when she belted out the lyrics, "It's a love story, baby, just say yes."
I want to. I really want to say yes. I want to believe that Hiddleswift is a real-life fairy tale. But being the conspiracy theorist that I am, I can't help but think that maybe Taylor is pulling a fast one on all of us.
This has nothing to do with the fact that Taylor had just gotten out of what seemed to be a picture-perfect relationship with music producer Calvin Harris when photos surfaced of the 1989 artist and British actor Tom Hiddleston canoodling on the rocks on the coast of Rhode Island—a sight that looked straight out of a romantic comedy. What's that saying? "Happiness is the best revenge"?
But that's not the point. I believe in true love, love at first sight, all that mushy stuff. But, the wheels in my head started turning and there was no going back. What if this is all part of a romantic comedy, and the twist is yet to come?
So, I put on my detective hat and started to gather the evidence. Evidence that I believe is pretty convincing. Are Hiddleswift toying with our emotions? Is Taylor trying to prove just how crazy the media and the world in general can go over her relationships? (Mission accomplished, regardless.) Is she filming a music video or visual release to accompany her new album, à la Beyoncé's multimedia extravaganza Lemonade?  
Without further adieu, I present my case:
FameFlynetUK/FAMEFLYNET PICTURES
Exhibit A: The Photos
From the kisses on the beach to meeting Tom's mom to the tender moment Tom kissed Taylor's hand at lunch, the photo ops were just too cute. One could say that it's just the paps being paps and invading their privacy. That's certainly a thing. But is it in this case? The pics of their intercontinental adventures have mostly all been from the same photo agency that's been lucky enough to get so many exclusive shots.
theimagedirect.com / FameFlynet
Exhibit B: The Could-Be-Undercover Cameramen
When they are in public, they frequent tourist areas, so it'd be easy to have the cameramen disguise themselves as tourists. Everyone has a camera on his phone. If you saw a guy holding a phone at the Vatican you wouldn't think twice.
Exhibit C: Taylor Wore Heels to Tour the Colosseum in Rome
Kitten heels, but still! Who does that? Tourism 101. Plus, the all-white sneakers with sundresses are totally on trend these days. Just ask her squad.
FameFlynetUK/THE IMAGE DIRECT/FAMEFLYNET
Exhibit D: They're Traveling Via Taylor's Private Plane
Yes, if I had Taylor Swift's money I would have a personal jet whisking me to faraway lands with my boyfriend all the time. But still, she is footing the bill. Could it be that it's in his contract as the leading man of her new music video?
Exhibit F: Timing Is Everything
Taylor drops an album every two years, in the fall. We are coming up on the two-year anniversary of the release of 1989. Ticktock, ticktock...
Exhibit G: Single, Baby
Taylor's first single off of this phantom new album would come out around August/September-ish, given previous single releases (i.e. "Shake It Off"). Her first singles ahead of all of her previous albums were released in August or September. What else happens in September?
Exhibit H: The Emmys
With all the buzz around Tom's outstanding performance in The Night Manager, it's likely he'll be in attendance as a nominee at the Emmys in September. Hmmm, what great timing.  
Exhibit I: Photo No. 1
Here Taylor and Tom are at the Colosseum. But what is that they're looking at? Could that be a script or a notebook of storyboards? It could also be an educational book that they sell in the gift shop but let's pretend it's not.
Exhibit J: Photo No. 2
There are a lot of "security guards" holding multiple passports and rolled-up papers that could be for the disguised film crew.
We have seen this before. Remember when everyone thought Selena Gomez and music producer Zedd were dating? They went so far as to post sexy FaceTime snaps on their social media. Not long after the romance rumors started did their hit single "I Want You To Know" drop. Then there was Kylie Jenner and rapper PartyNextDoor. The E! star was seen getting close to the rapper and the next thing we know they're locking lips in PND's new music video. That looked like Kylie once again playing muse to a rapper boyfriend, but now she's back on with her longtime honey, Tyga.
Just this year, Taylor told Vogue about her relationship with Calvin, "I'm just taking things as they come. I'm in a magical relationship right now. And of course I want it to be ours, and low-key...this is the one thing that's been mine about my personal life."
Did she ditch that view as fast as she ditched her platinum-blond hair? Or perhaps Taylor Swift does still plan to keep her relationships private, and this is just another page from the brilliant playbook of Taylor Swift, pop superstar.