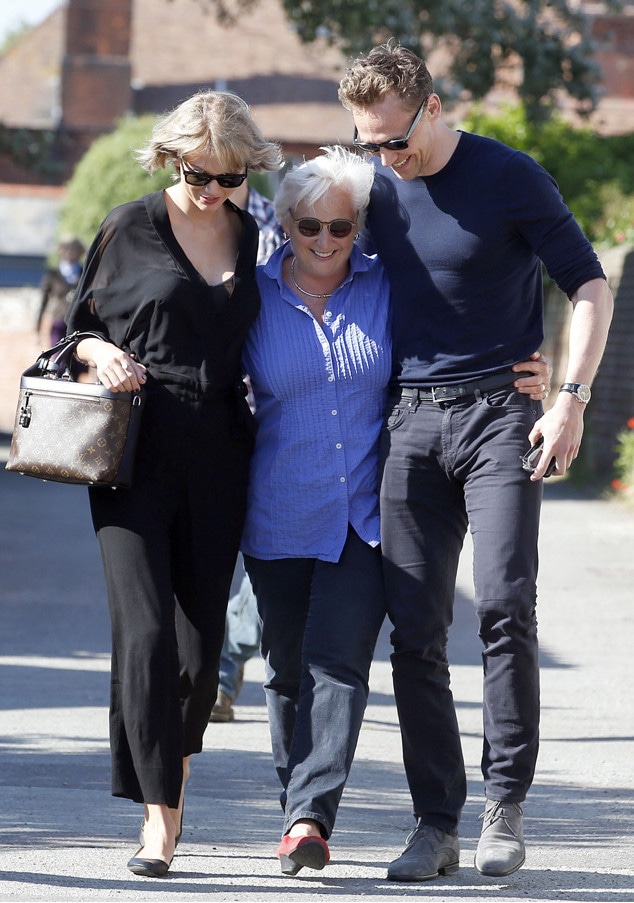 theimagedirect.com / FameFlynet
It's a full Meet the Parents week for Taylor Swift and Tom Hiddleston, as they continue their whirlwind romance.
The 26-year-old pop star jetted off with her new beau to his native England and the two met up with his mother, Diane Hiddleston. The three were photographed Friday walking together and smiling on a sidewalk in Suffolk, with the Thor actor's mom in the middle with her arms around both stars.
The two women both dressed casually, with Taylor in a flowing black jumpsuit and Diane in a blue button-down shirt and black pants. Tom wore a form-fitting black T-shirt with its long sleeves rolled up to his elbows and black jeans.
The three were also spotted strolling together that day on Aldeburgh beach. Taylor, bundled up in a gray and black striped fleece and blue skinny jeans, walked hand-in-hand with Tom, who wore a dark shirt and matching jacket and pants. His mom walked beside them, wearing a red winter vest over a long sleeve white shirt and black pants.
Tom had met Taylor's parents, Andrea Swift and Scott Swift, in Nashville Thursday.
theimagedirect.com / FameFlynet
He and Swift made their public debut as a couple a week and a half ago, when they were photographed kissing near her Rhode Island home. The two, who met at the 2016 Met Gala in May, have not commented about their relationship.
Swift, who previously dated stars such as Harry Styles and as recently as last month, Calvin Harris, has met her boyfriends' family members before but never in such a short period of time from the start of their relationships.
Also on Friday, Tom drove Taylor around Suffolk in a rented Jaguar. The actor is a previous celebrity spokesmodel for the luxury British car brand.
Several models have also been used in five James Bond movies, including the most recent, the 2015 film Spectre. Tom has for months been rumored to be in the running to be the next actor to play the title star in the hit spy movie franchise.